July 8, 2018
Roman Holiday Part 1
Aaah, Italy... You will forever have my heart.
I've been to Pisa, Florence and Venice. They've all been amazing but Rome... Rome is something else. I don't think it's fair to make any kind of comparison so instead, I am just going to tell you about our most recent Italian adventure.
Getting off the airport and stepping on the ground, nothing really says Rome other than some writing on the wall saying Benvenuto a Roma. That is, nothing feels Italian, or at least not yet. We get on the train, excited albeit a bit tired and try to make our way to the Airbnb. It's July and it's really hot
As soon as we get off the train the first thing we see is the glorious and rounded top of St Peters Basilica. Yes, we're finally here we say to each other. And you can rest assured that it feels very Italian indeed.
The walk from the train station to the Airbnb is a 5 mins picturesque stroll on a quiet cobbled street. We find the building, buzz the door and we're welcomed by a lovely albeit overly chatty host. Rosalba goes into great detail about what's available in the 1 bedroom flat, local amentities, makes a few restaurant recommendations and leaves. Before she goes, however, we ask about the rooftop (as we've seen pictures on the site) well, the photos just didn't do justice to what we found up there.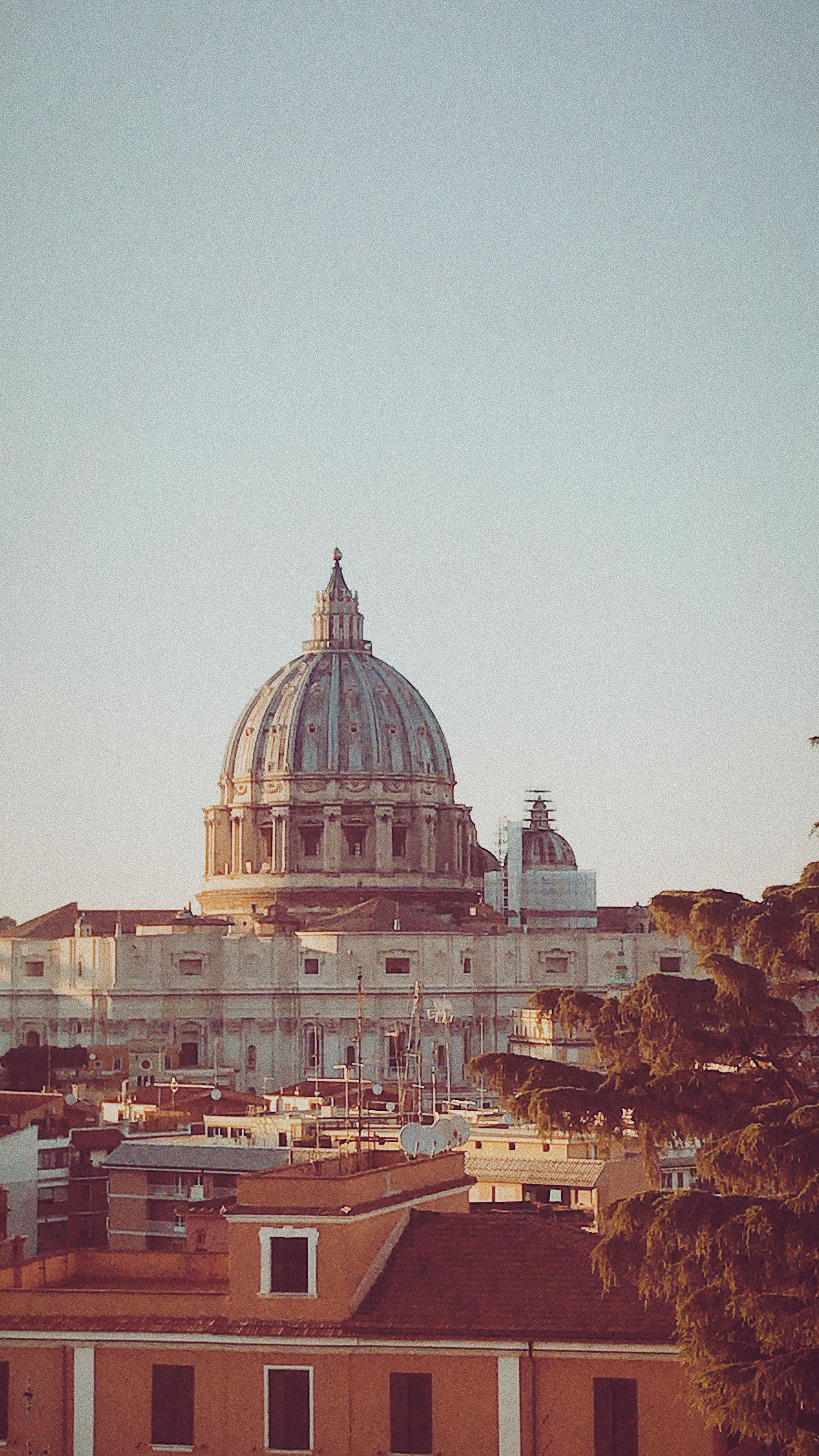 Not a bad few from the private roof top terrace, eh?
Can you tell how pleased we are? :P
We went and grabbed some supplies from a local shop (wine ofc), ordered some food and rested. After all, tomorrow was quite a big day.
DAY 1
Waking up to the cheerful chiming of St Peter's church bells is surreal. I let it sink in that I am here. I'm Rome and I feel extremely happy.
We make coffee and have breakfast before showering, getting dressed and going out.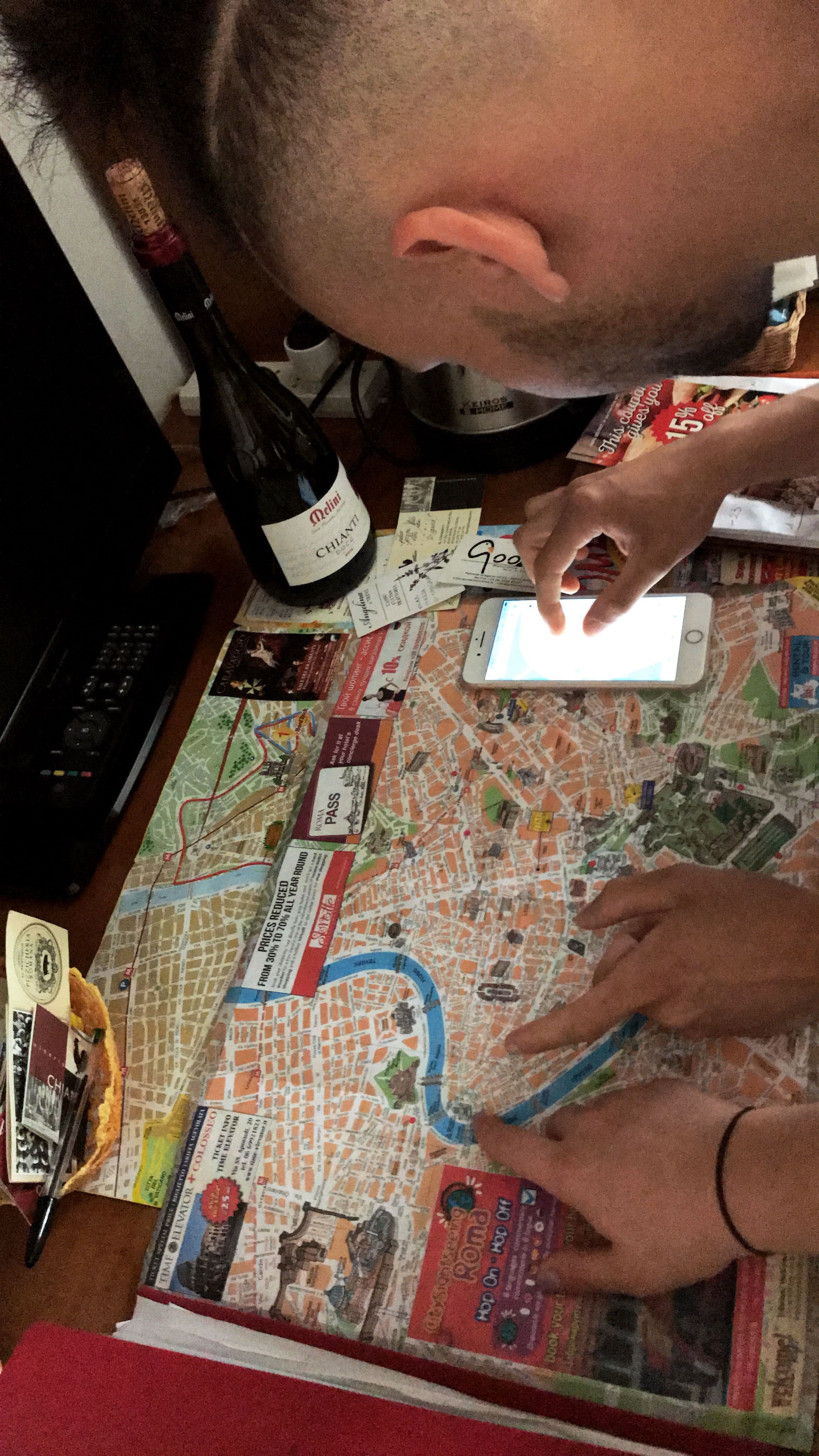 Planning our day and what to see first
We decide we want to go to the Spanish steps and see everything there is to see on the way there.
We walk through St. Peter's square which is packed. We'd later realise that this is the standard for any local attraction. A sea of people.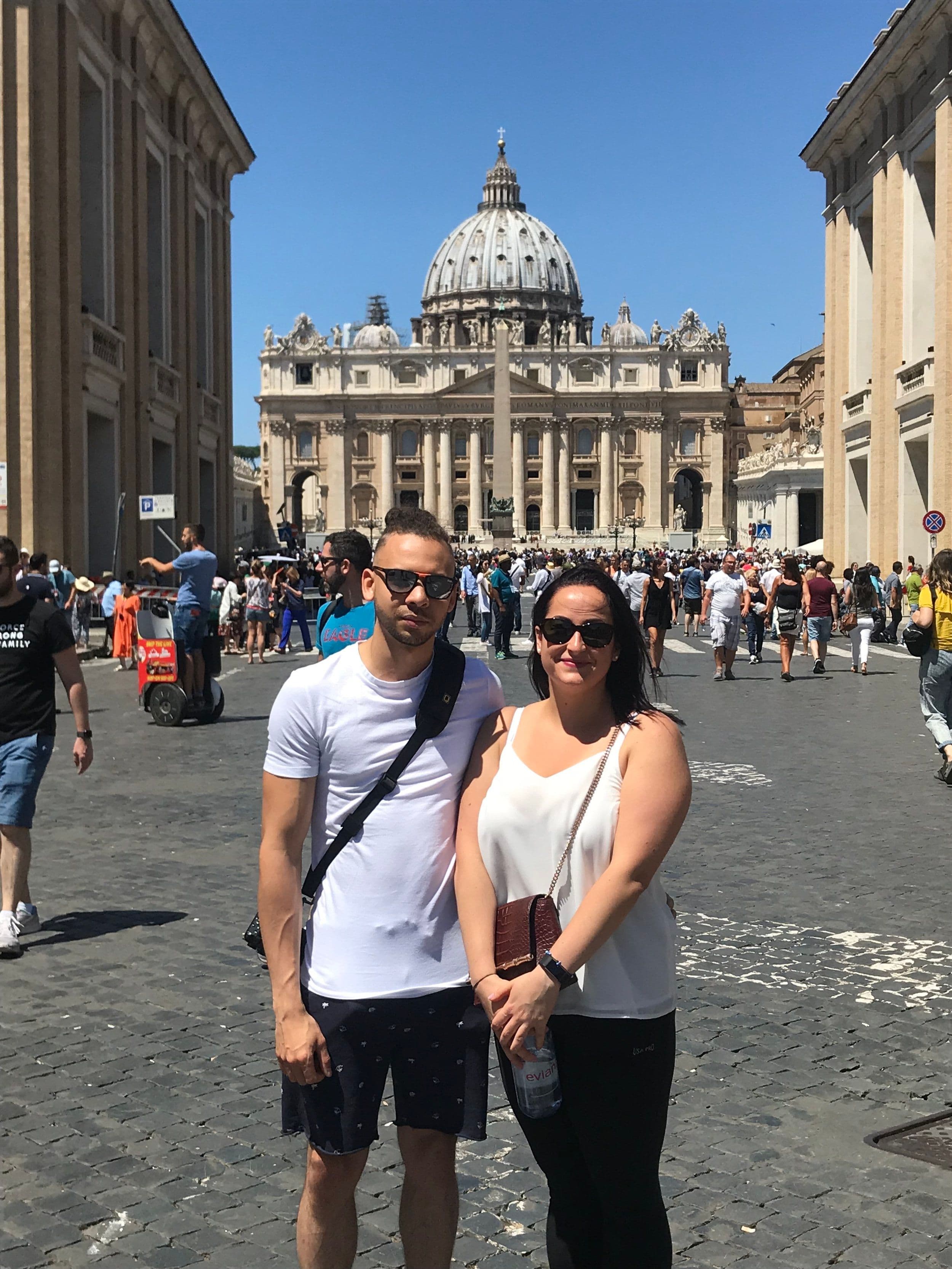 The obligatory touristy af photo :P
We walk down the Tiber to the Ponte de Castillo del Angelo was also packed. It was breathtaking. The grandeur of the building, the beautiful sculptures along the bridge.. it was magical. The magic was soon gone when someone tried to sell us bracelets. I said no. Guy said something to me under his breath (not in English) pretty sure he cursed me.
Some more walking in the blistering heat and we find ourselves at the Spanish's steps. As well as the beautiful architecture of the steps themselves, I also saw my first Egyptian obelisk. It is as impressive as it sounds.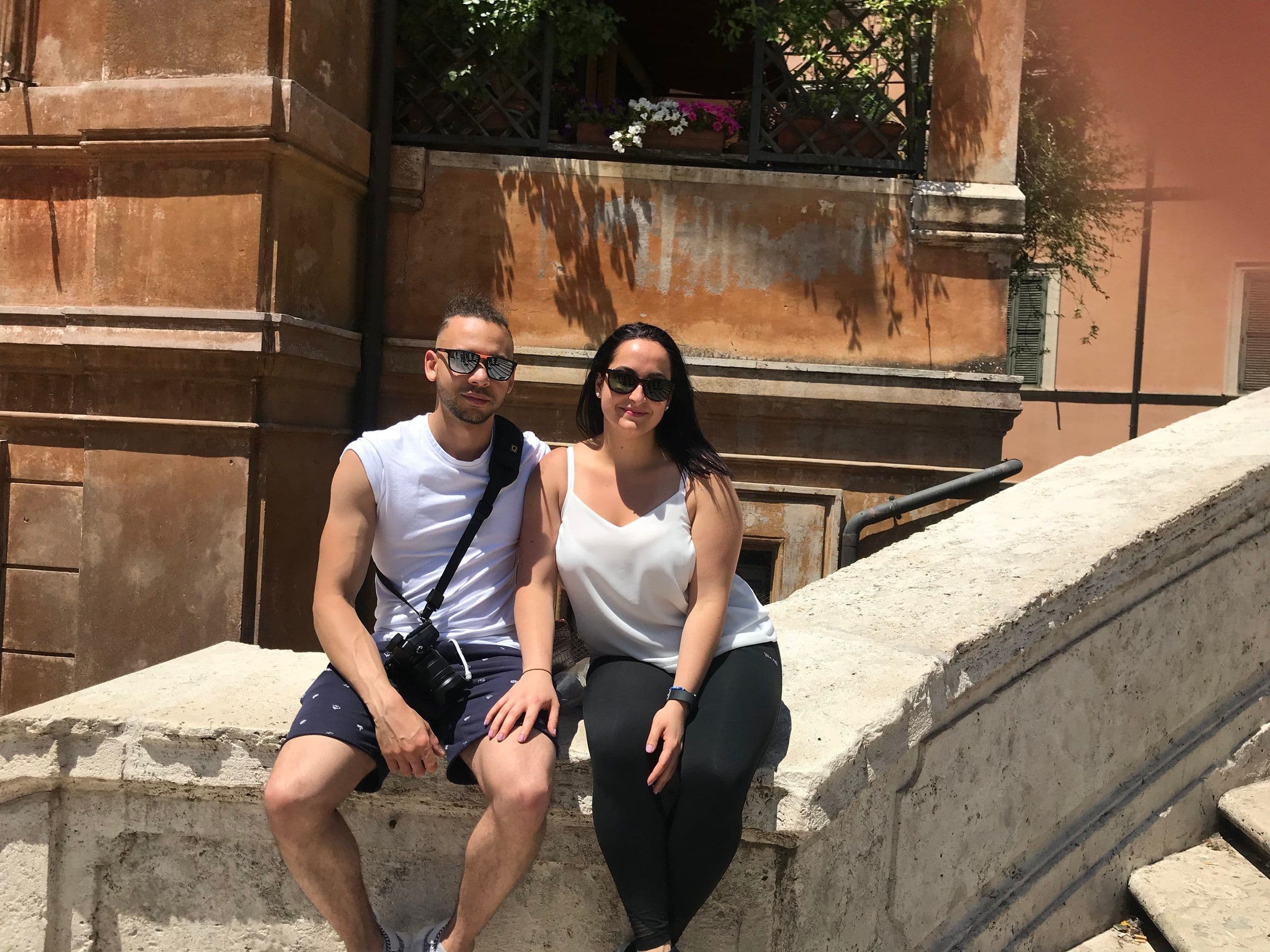 At the Spanish Steps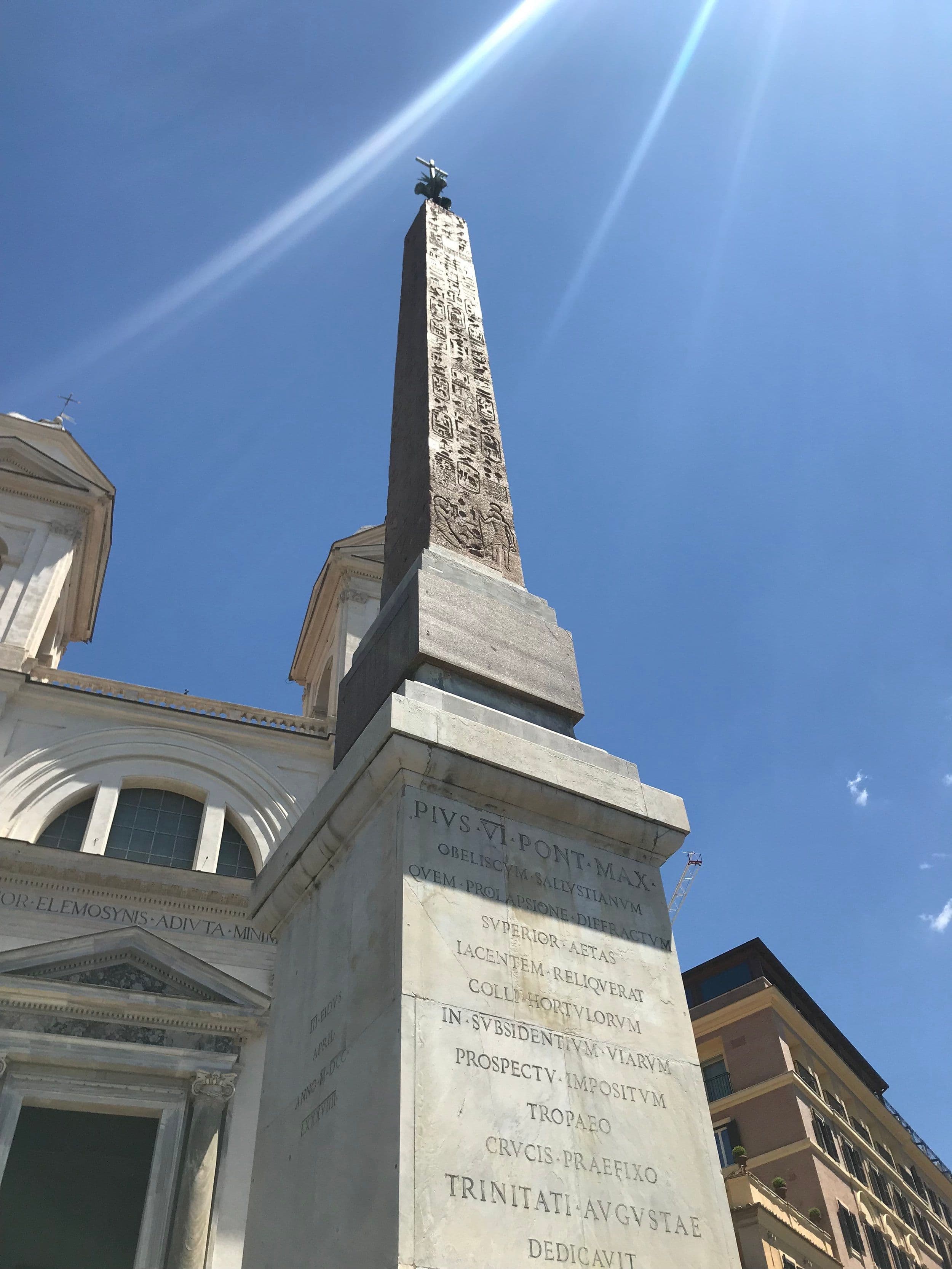 The obelisk at the top of the Spanish steps. Interesting fact: the 200-ton wonder was struck by lightning in May of 2002
GELATO BREAK
Axl takes me to Della Palma. A local geletaretia that offers 150 different flavours of gelato. 150. One hundred and bloody fifty!!! Do you know how many that is? A lot! There were the conventional flavours such as vanilla and strawberry but also 7 different types of chocolate (dark chocolate fondant, chocolate chilli to name a few), pesto, pana cota, rice pubbing... I was overwhelmed by the choice! I went for coconut, pana cota and mango. Axl chose cinnamon, latte, menta. It was delicious. It tasted light and refreshing yet decadent and super creamy. I would highly recommend you go there and have a taste for yourself.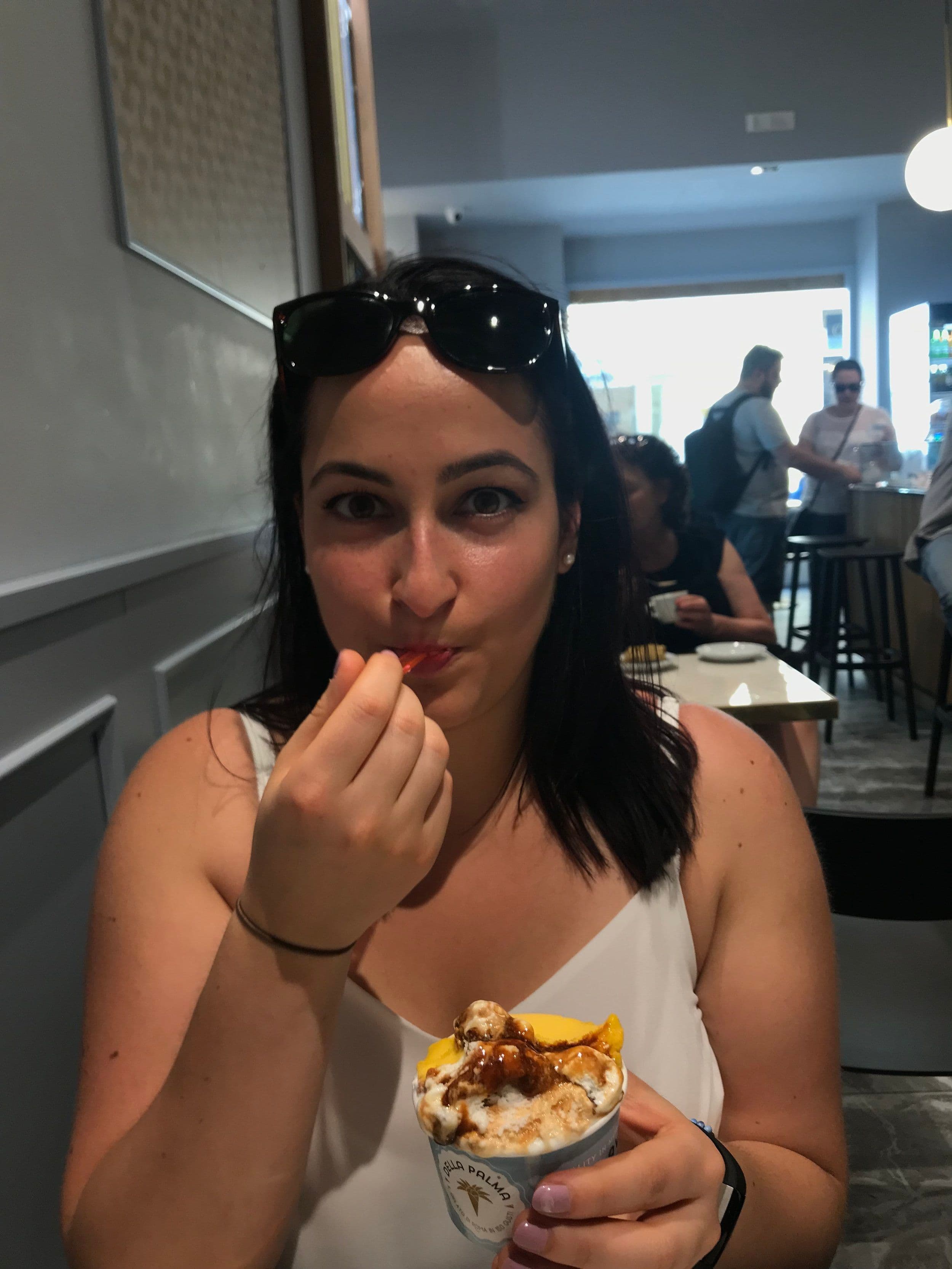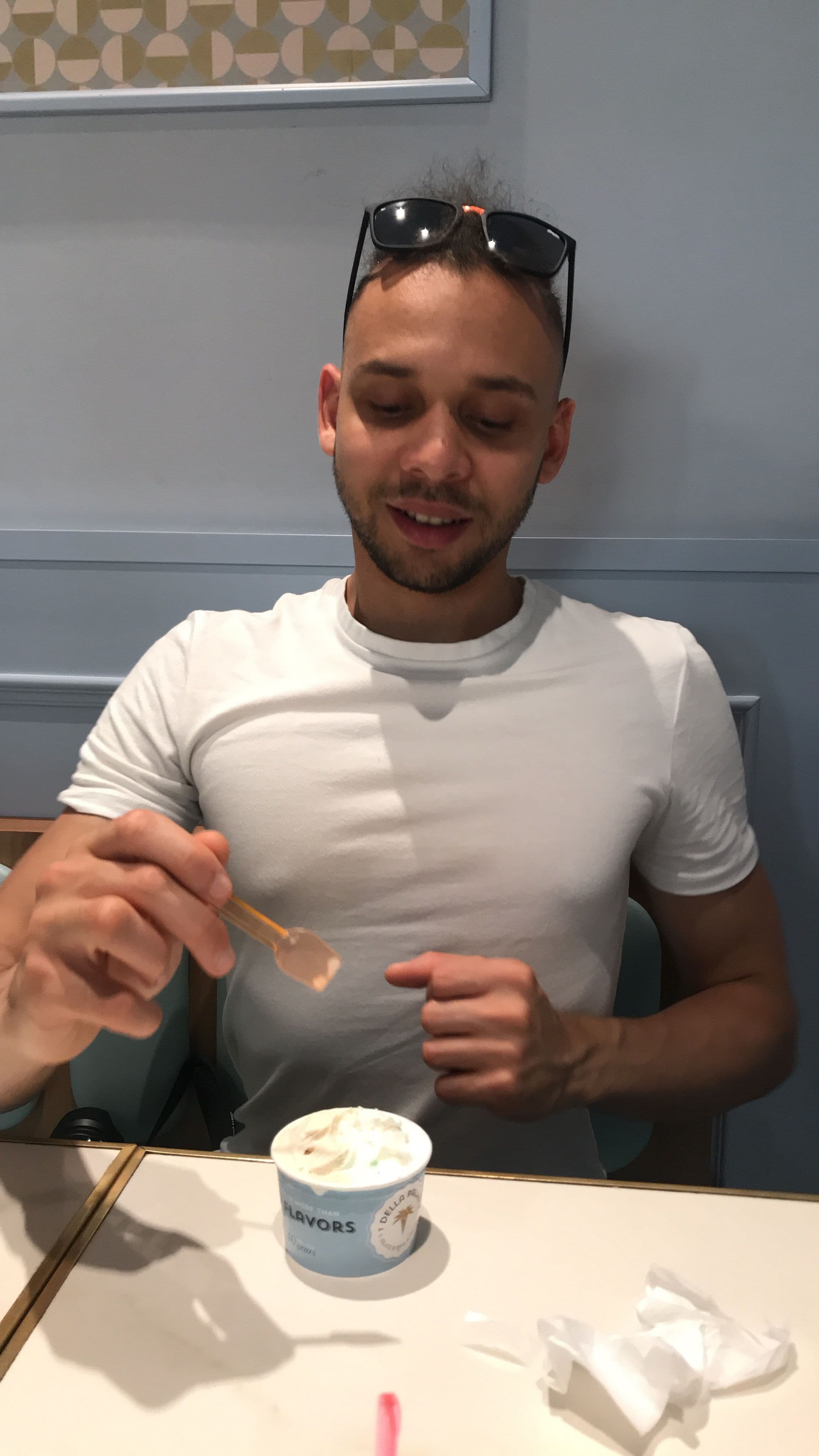 Refreshed and replenished, we make our way to the Pantheon. I've only ever seen pictures of it and didn't really think it was that spectacular until I was right there in front of its grandeur. Seeing the millennia-old roman numeral inscription, the massive slabs of marble... it just blew me away. It was glorious. So far the most beautiful building I've ever seen.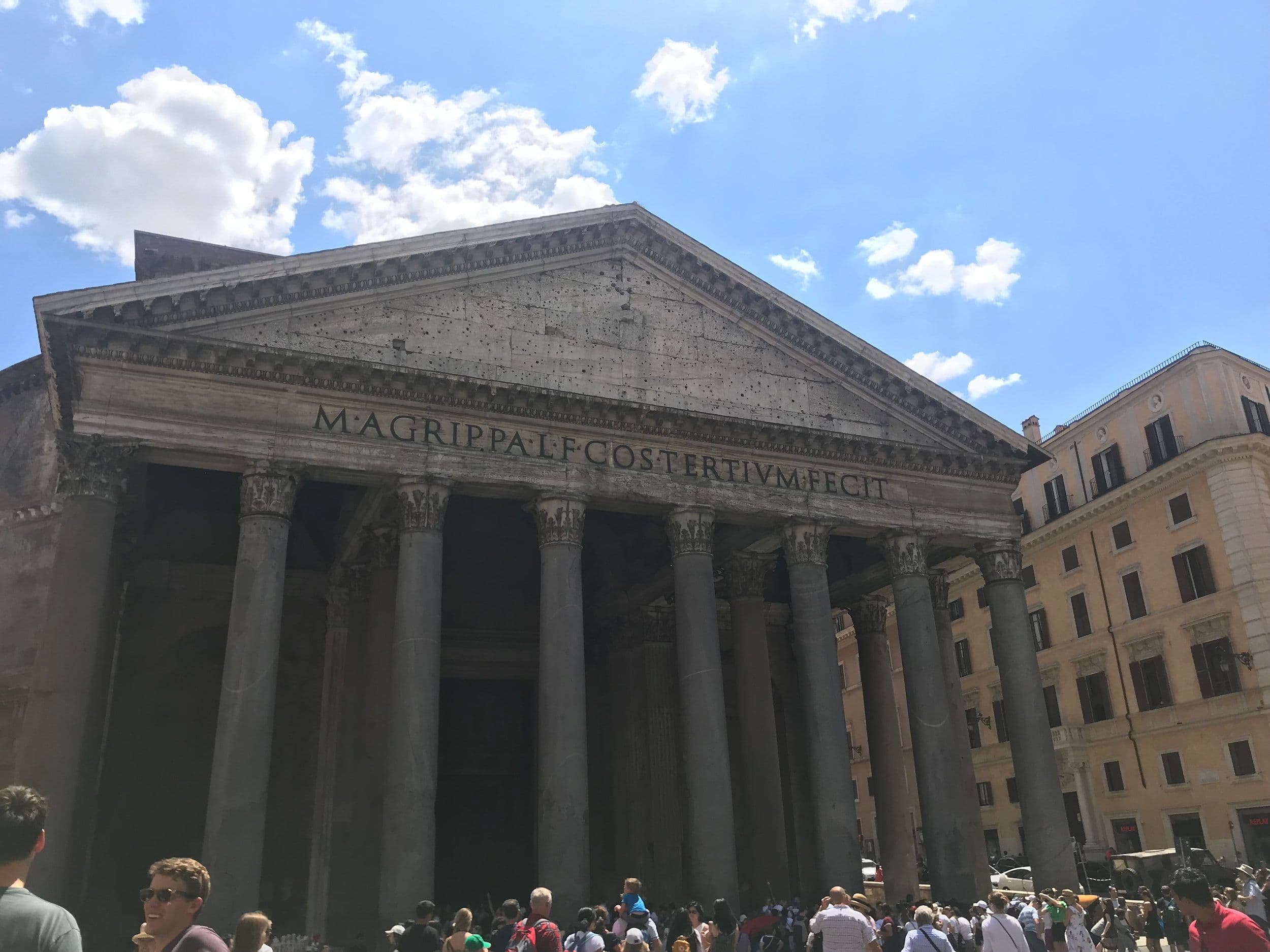 Marvel the glorious grandeur of this monument
We strall a bit further and decide to walk into the Sant'ignazio Basilica. So beautiful. The marble, the murals, the choir added to the ambience and atmosphere.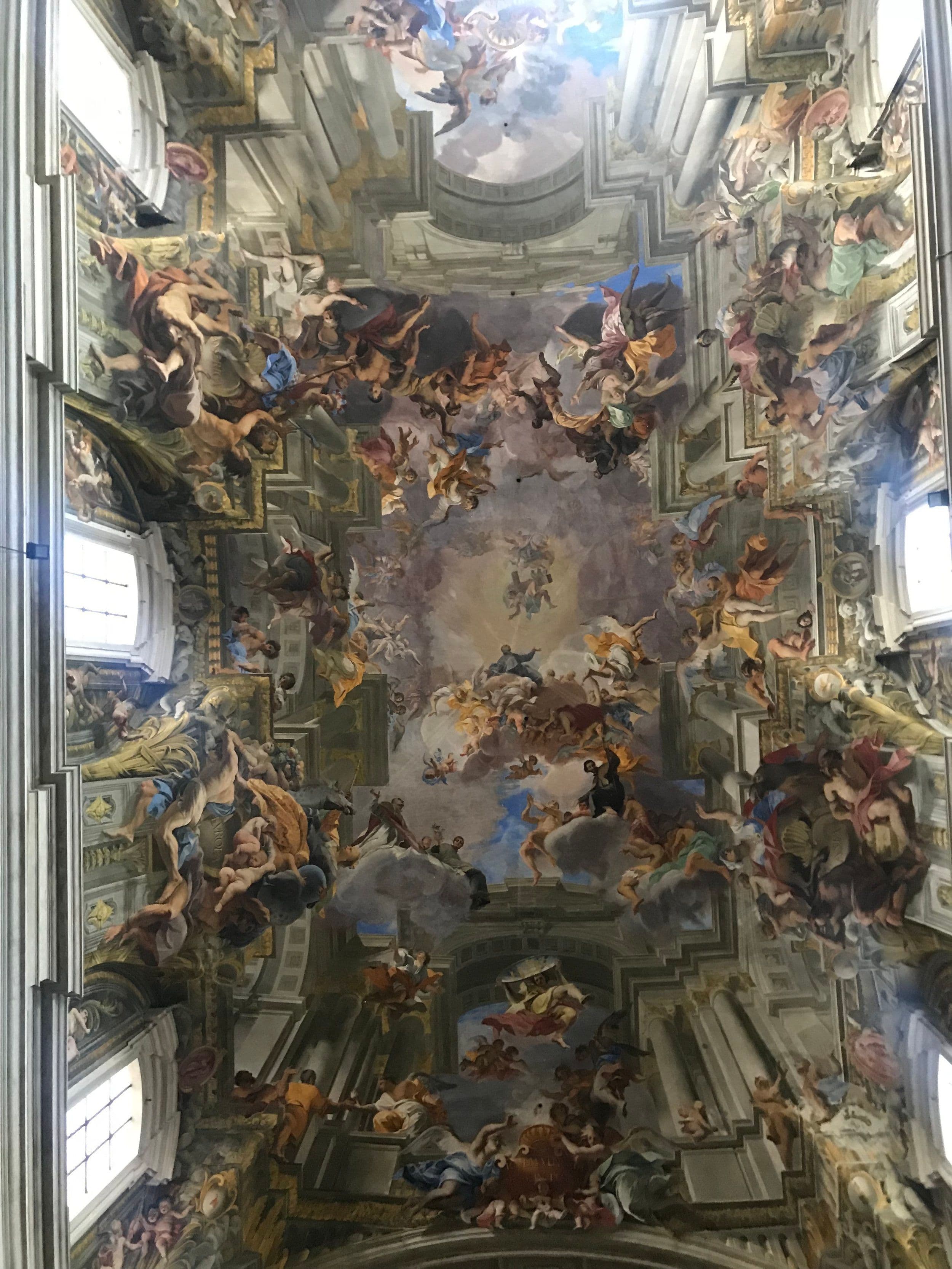 Ceiling in trompe l'oeil by andrea Pozzo in the church Sant'Ignazio in Rome, Italy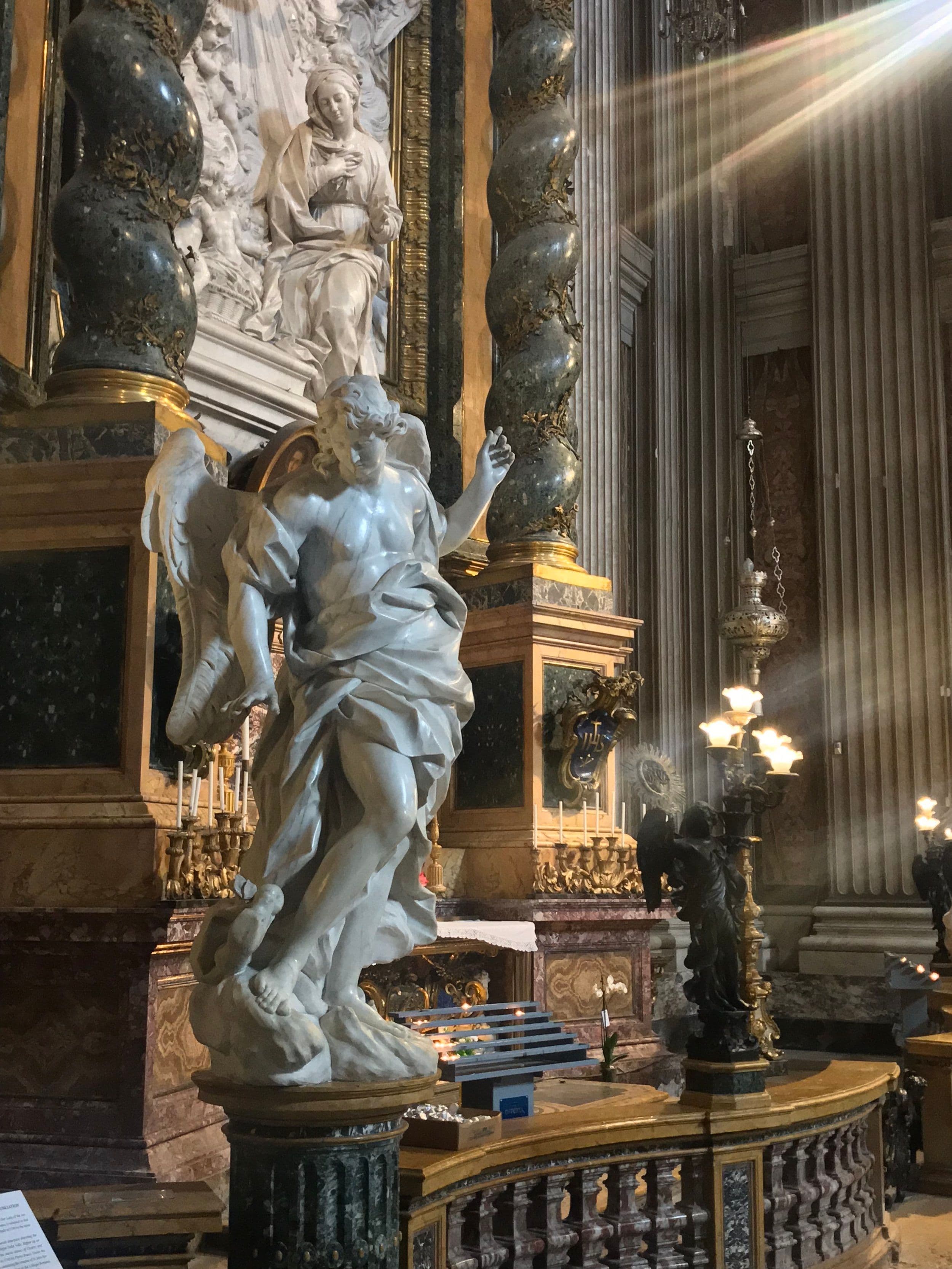 We then started feeling peckish so decided to look for a place to eat. While wndering we found ourselves at a murder scene. Nothing too gruesome though. We stumbled upon the site where Cesar was assasinated.
We then had some McDonalds. I know, I know, we're in the heart of the place that serves the best cuisine. We have a choice indulging into the best pasta and pizza. But we have this thing you see, that every new country we go to, we have one of the local McDonalds specials.
After having a bite and resting our feet for a moment we headed towards Treavi Fountain.
Let me tell you about Trevi Fountain. You know all those beautiful photos you see of the fountain itself? Yeah, what they don't show you is the sheer volume of tourists that are around it. There were good few hundred people there and unless you were somewhere high, you could not possibly get a photo of the fountain.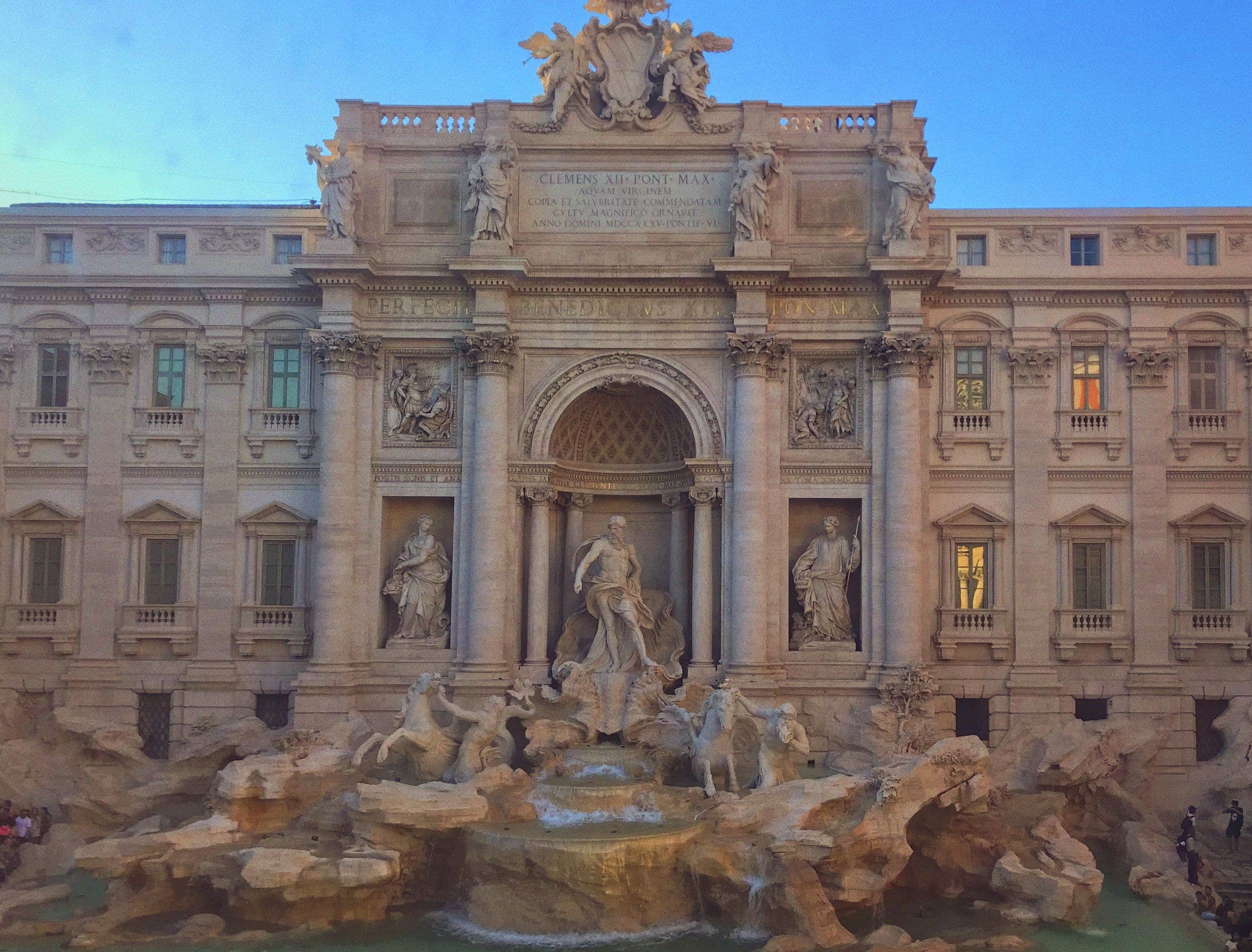 It's breath taking
Strolling on, we found ourselves outside Piazza Venezia where the temple of the Fatherland is. A grandiose marble palace that unlike all the other attractions we've seen that day, was surprisingly quiet and peaceful. There ewer people, no one trying to sell you a selfie stick or curse you in a foreign tongue because you refuse to buy a bracelet from them.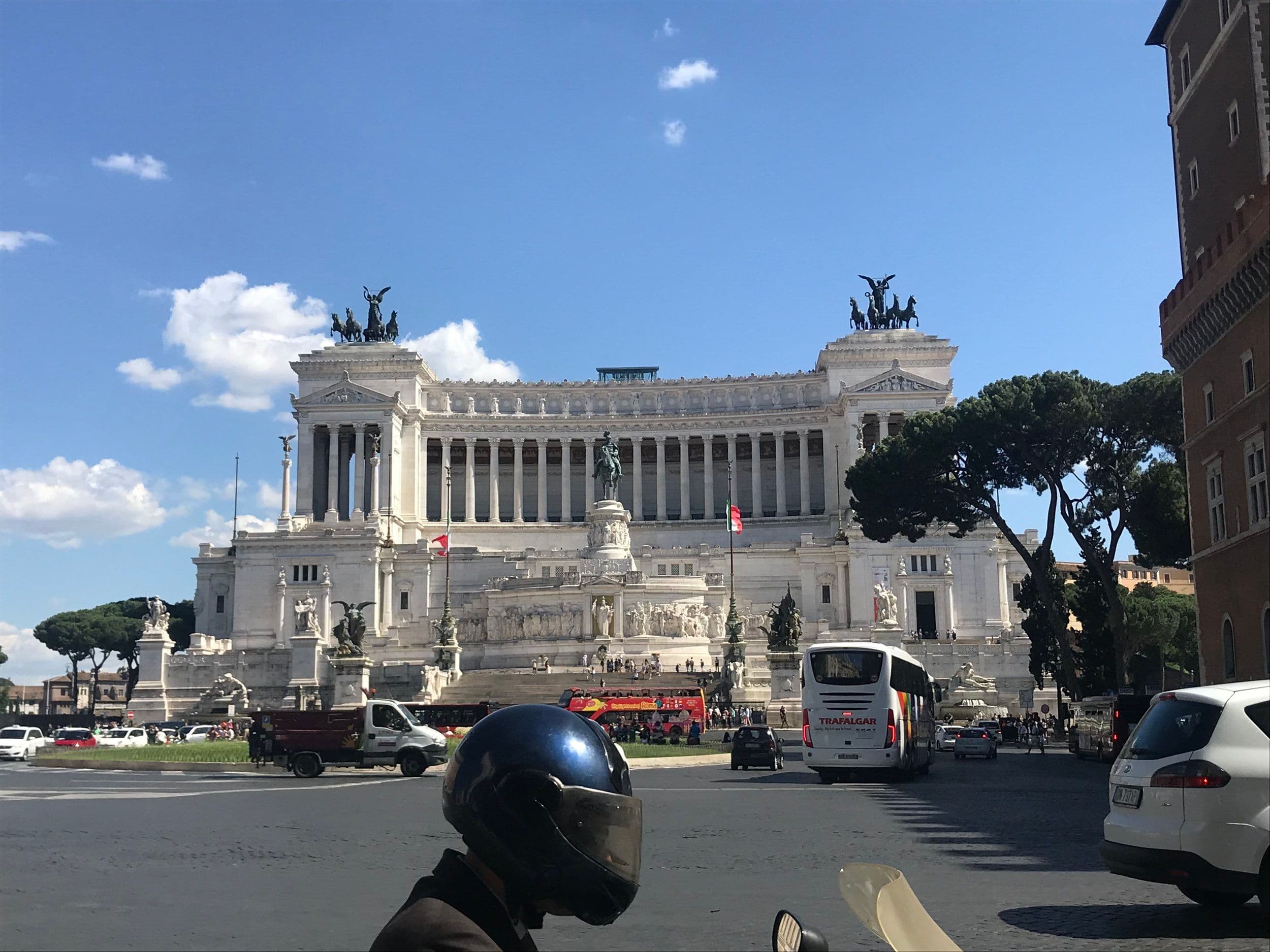 The palace from the distance aka the Temple of the Fatherland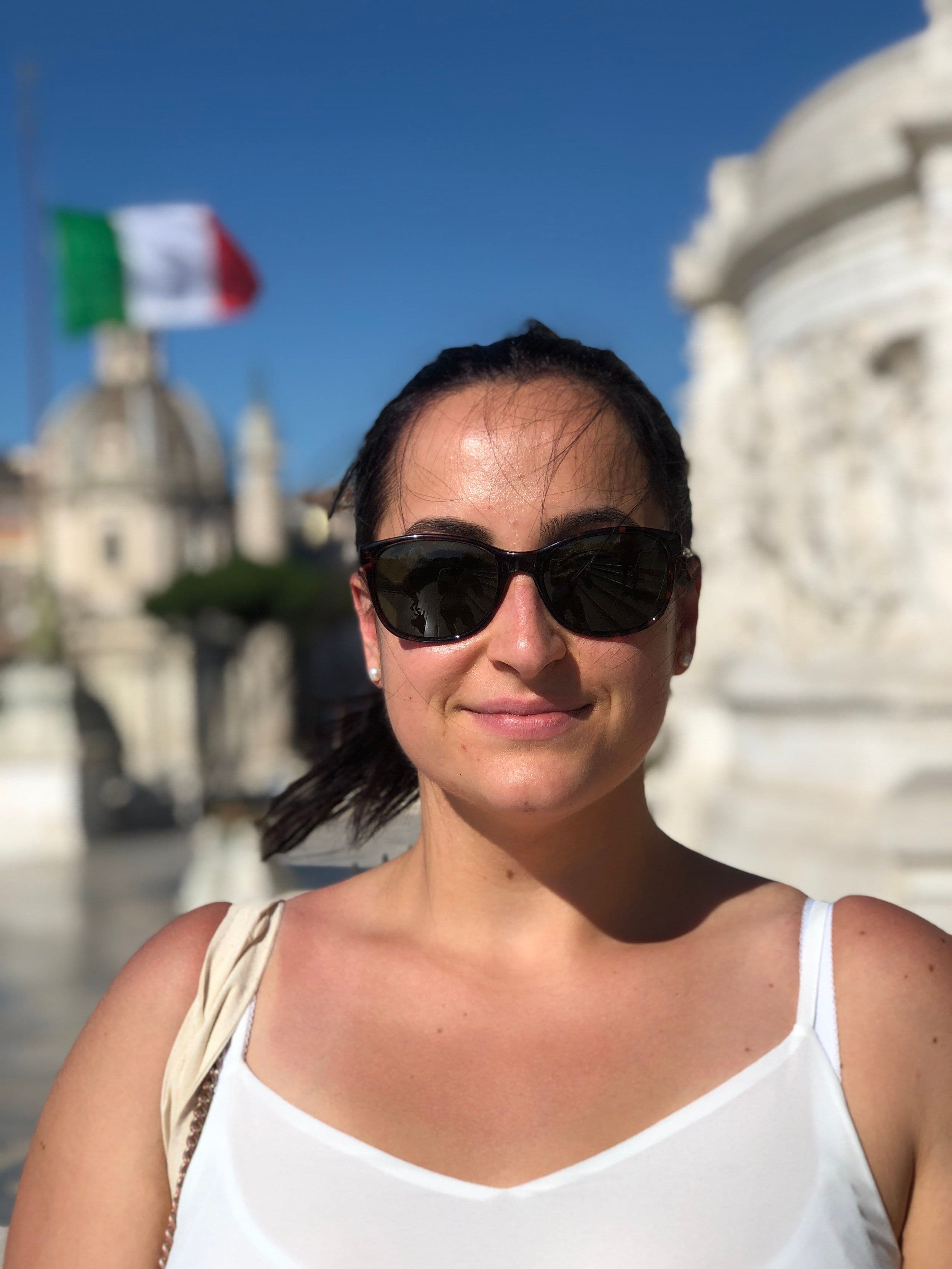 We went to the top, looking around and then bam. There it was in its glory and gorgeousness the Colosseum. I almost cried.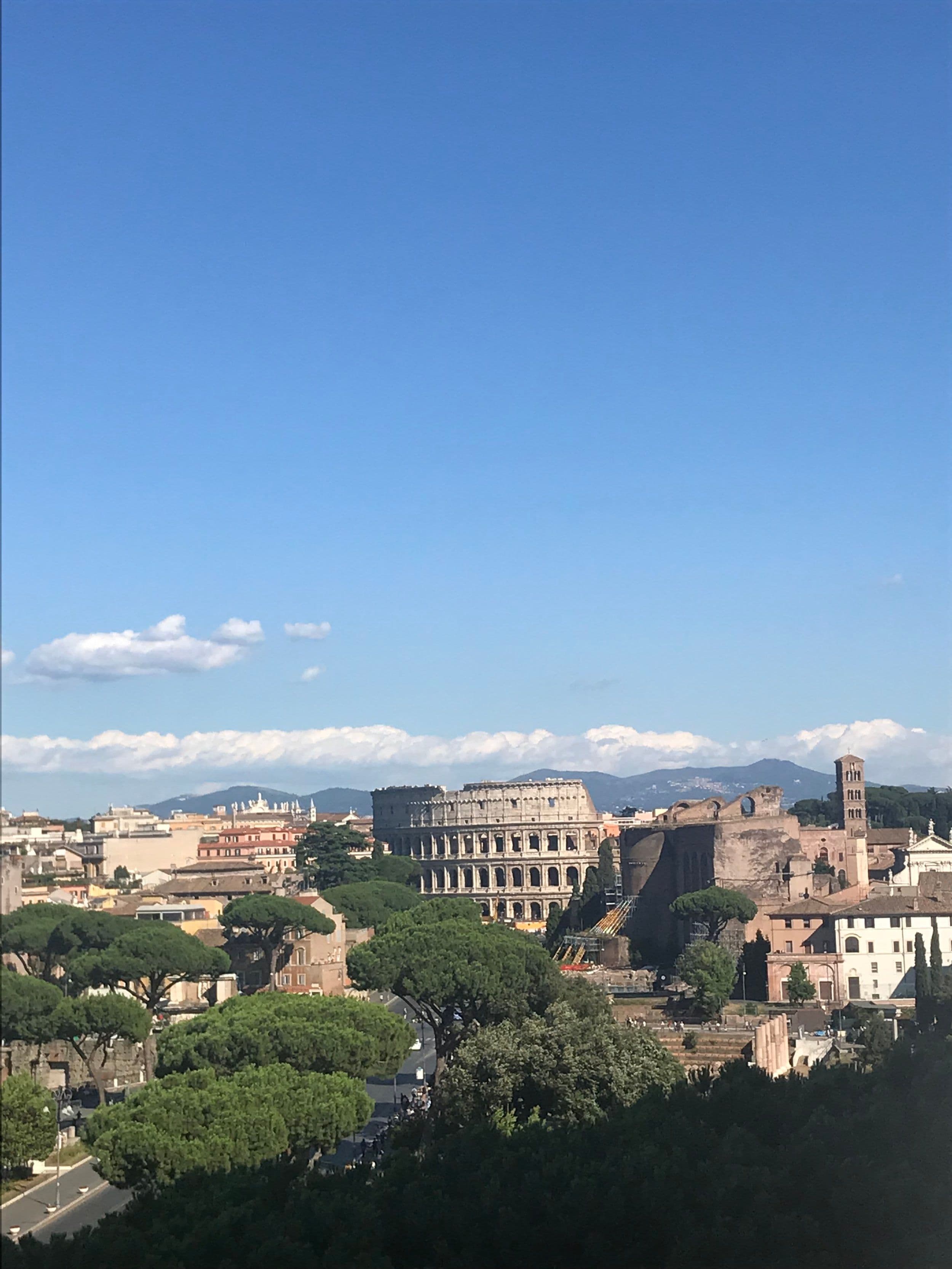 My first view of the Colosseum in the distance. It was a rather emotional experience
Then we walked through Capitol on hill. We sat down by the forum ruins and I let it sink in. Where I am, who I am with, the weather the settings. I felt complete. I felt at peace and o realised, this moment here in the ancient heart of the eternal city, sitting at the bottom of milenia old steps with my love, this moment here, I am truly happy.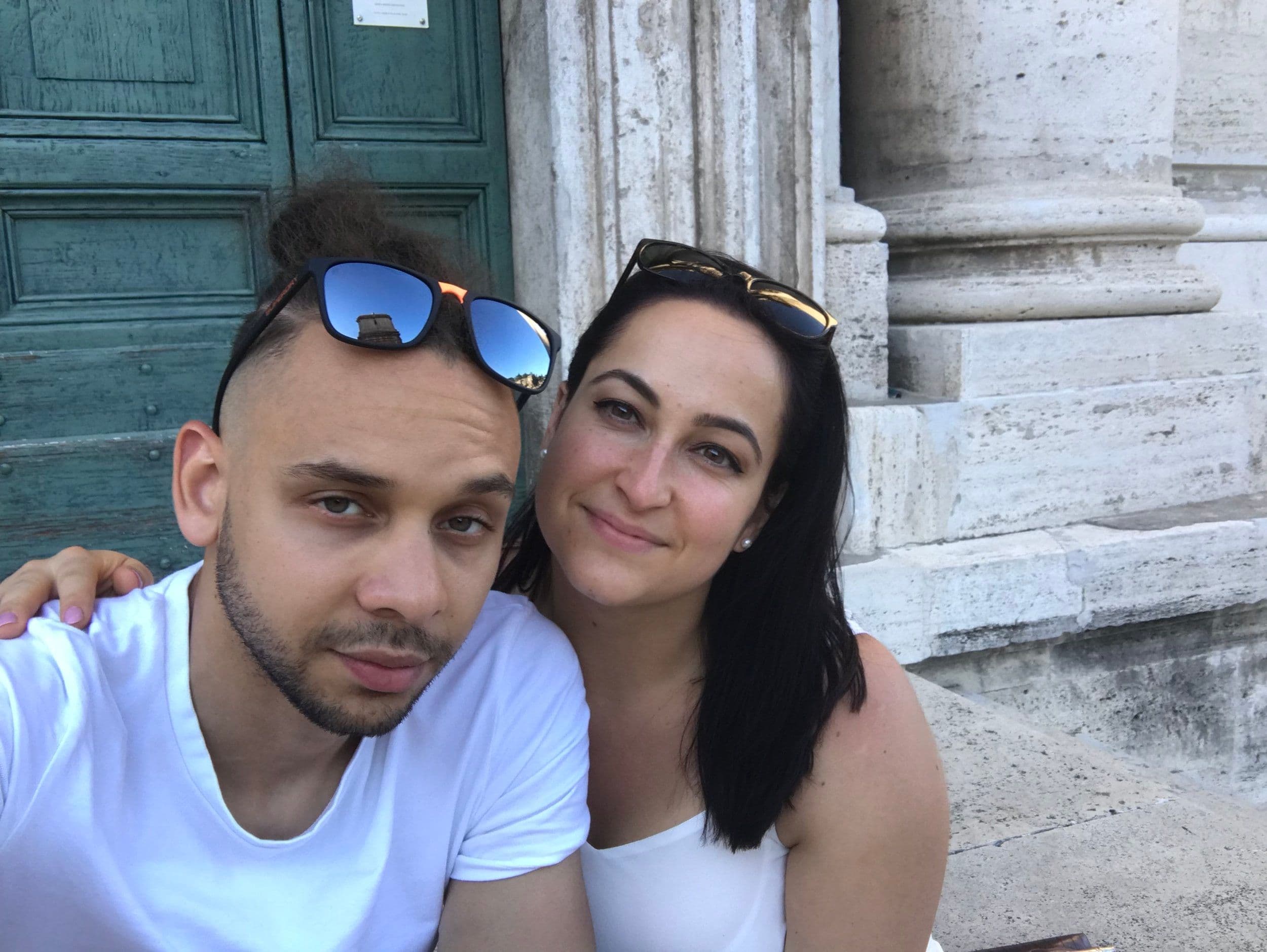 With my love, in one of the most beautiful places on this earth and all I can think about is how happy I am,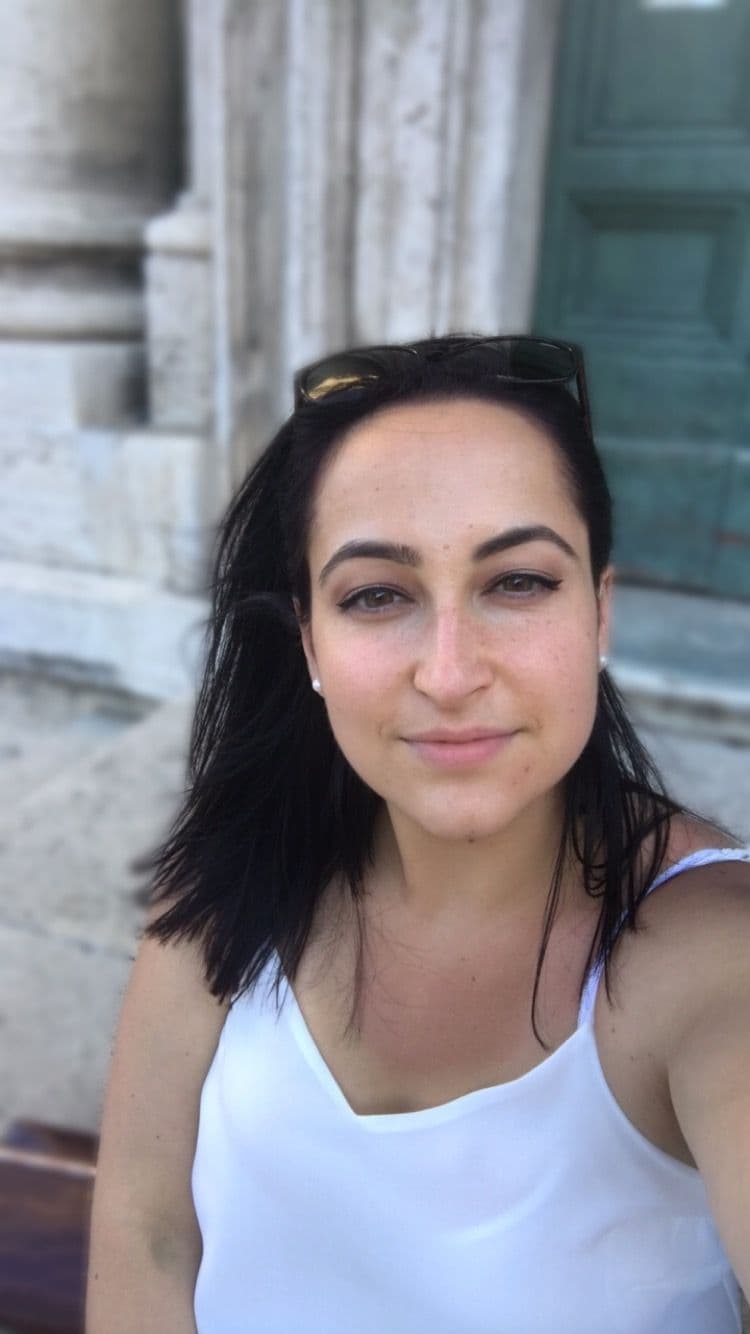 We took our tired asses home. Got some wine and fresh pasta, a big block of cheese and a sexy looking chunk of pancetta and we made the best pasta I've had in ages. Now it was time for some rest before we had another super tiring and super exciting day.