July 13, 2019
Lisbon - Europe's Hidden Gem
You don't hear many people rave about Lisbon. Rome, Paris, Barcelona, London…. these are some of the most popular European capitals and Lisbon very rarely, if ever, makes that list.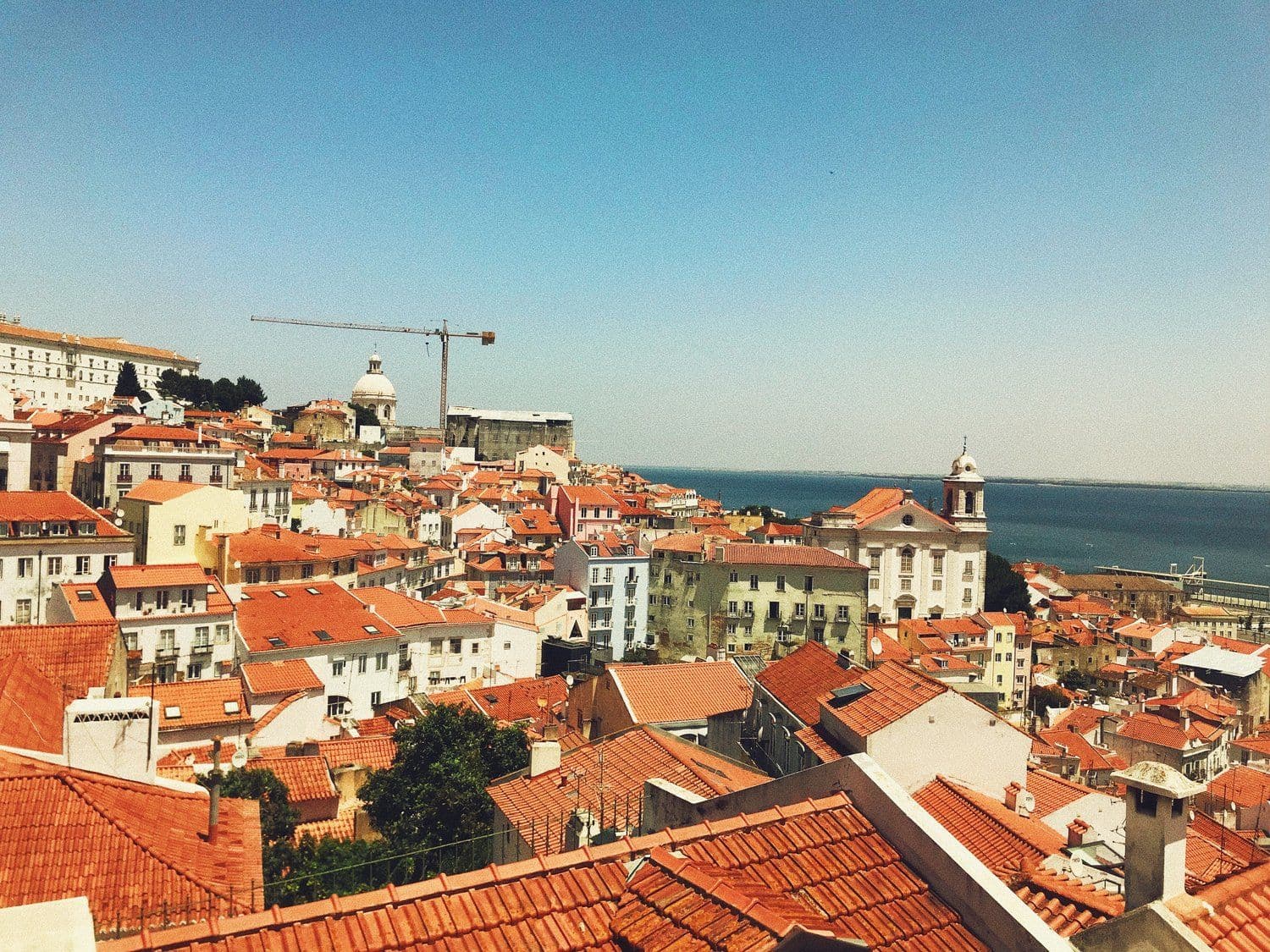 Lisbon in all its glory - the hilly, coastal capital city that not enough people talk about
Well, let me tell you this… Lisbon is a hidden gem. Nestled quietly in the south of Portugal, Lisbon is the picturesque and holy treasure that not many know about. From the pastel coloured buildings and colourful ceramic tiles to the breathtaking nature and friendly people, there is simply so much to love.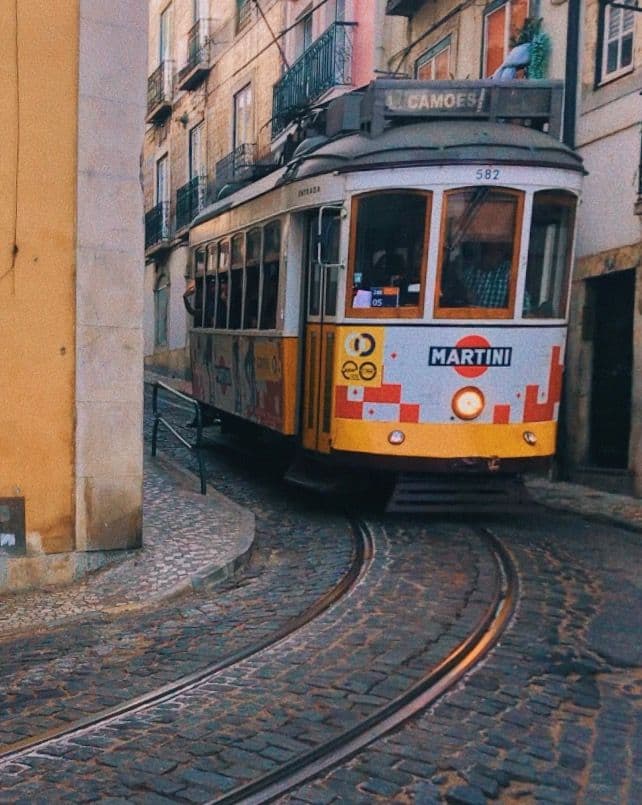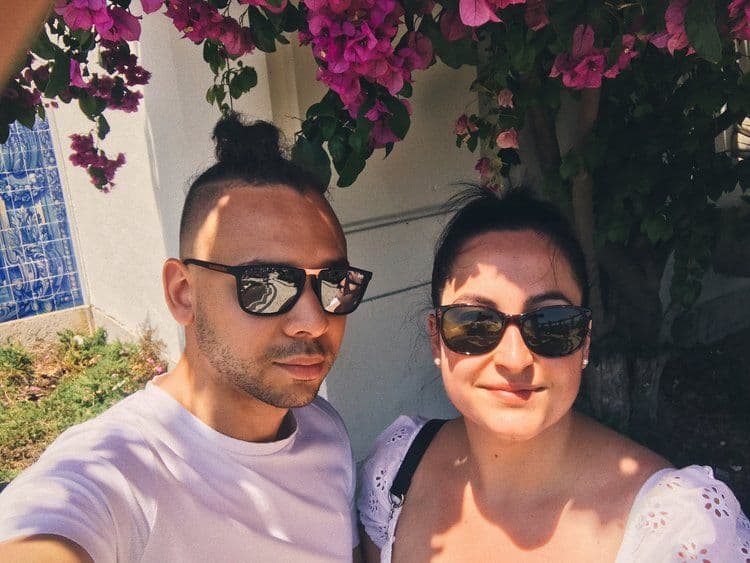 We arrive in Lisbon a bit later than expected. We were due to land at 11pm but our flight got delayed leaving Manchester (thanks for nothing Ryanair) so we didn't actually arrive till 3am the following mo
rning. We got an Uber straight to our Airbnb. As you can imagine, we were absolutely drained from the unexpectedly extended trip so we headed straight to bed.
We are starving in the morning so we decided to go out and try and find a shop of some sorts where we can buy stuff for breakfast. This is our first time actually walking around Alfama (the area where we stayed). Alfama is one of the oldest districts of Lisbon. It is a maze of narrow cobbled streets and steep hills.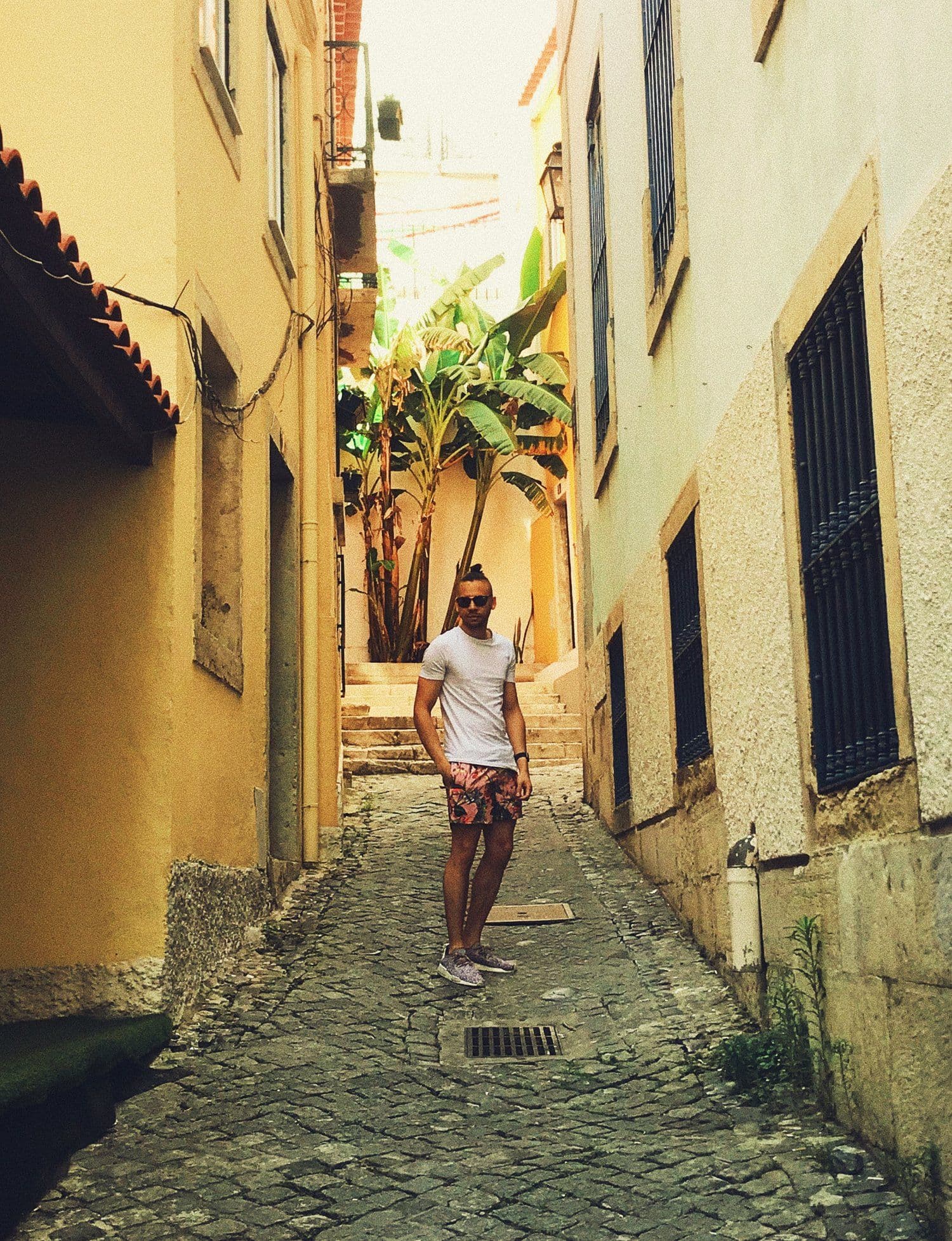 The little street leading up to our Airbnb
Shops around here are not like the shops back home. None of that Tesco or Sainsbury's stuff. Instead the shop is essentially a tiny little room with fresh fruit and veg and some other essentials crammed inside. We grab some fresh bread, eggs and bacon and head back to cook ourselves a hearty breakfast.
Once we're properly fuelled for the day, we' re off exploring…
I am not going to break down what we did day by day, instead I will give you the highlights with some recommendations if you ever find yourself in picturesque Lisbon.
PLACES TO VISIT:
Walking around and getting lost is enough of an experience to be perfectly honest. The narrow streets, the abundant gardens, the freshly washed laundry hanging from windows… it's all perfect! But there are some pretty cool places you should see:
Castelo de S. Jorge - The castle is perched on top of one of the highest hills in Lisbon so it offers a unique birds eye view of the city. It used to be a seat of power for over 400 years and today is one of the most popular destinations. It's a bit of a maze exploring all the walls and towers but it's well worth it, if not for the views go for the peacocks. There's tens of them just casually wandering around including little peacock chicks and some of them are even up in trees. Have you seen a peacock in a tree? It's a sight worth seeing! (Tickets are €10 per person)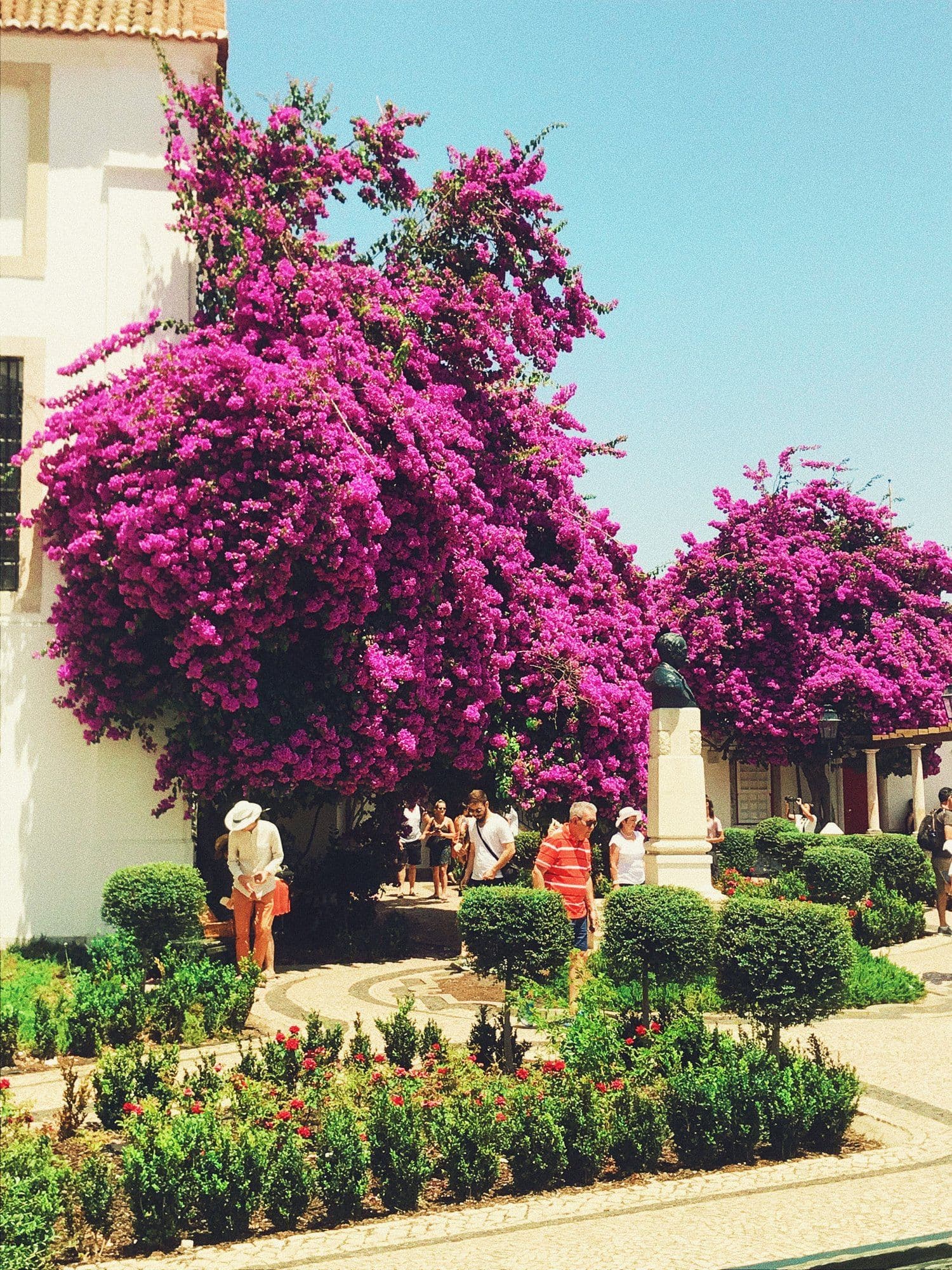 Praça do Comércio - Main square is right next to the Tagus river which runs through the city. It is big, it is beautiful and it's a great location to access the rest of the city.
MAAT Museum - Museum of Modern Art €5, we didn't actually see any of the exhibitions but the outside of the museum is impressive modern architecture. I'd say hire a bike or a scooter and get there by simply along the river bank.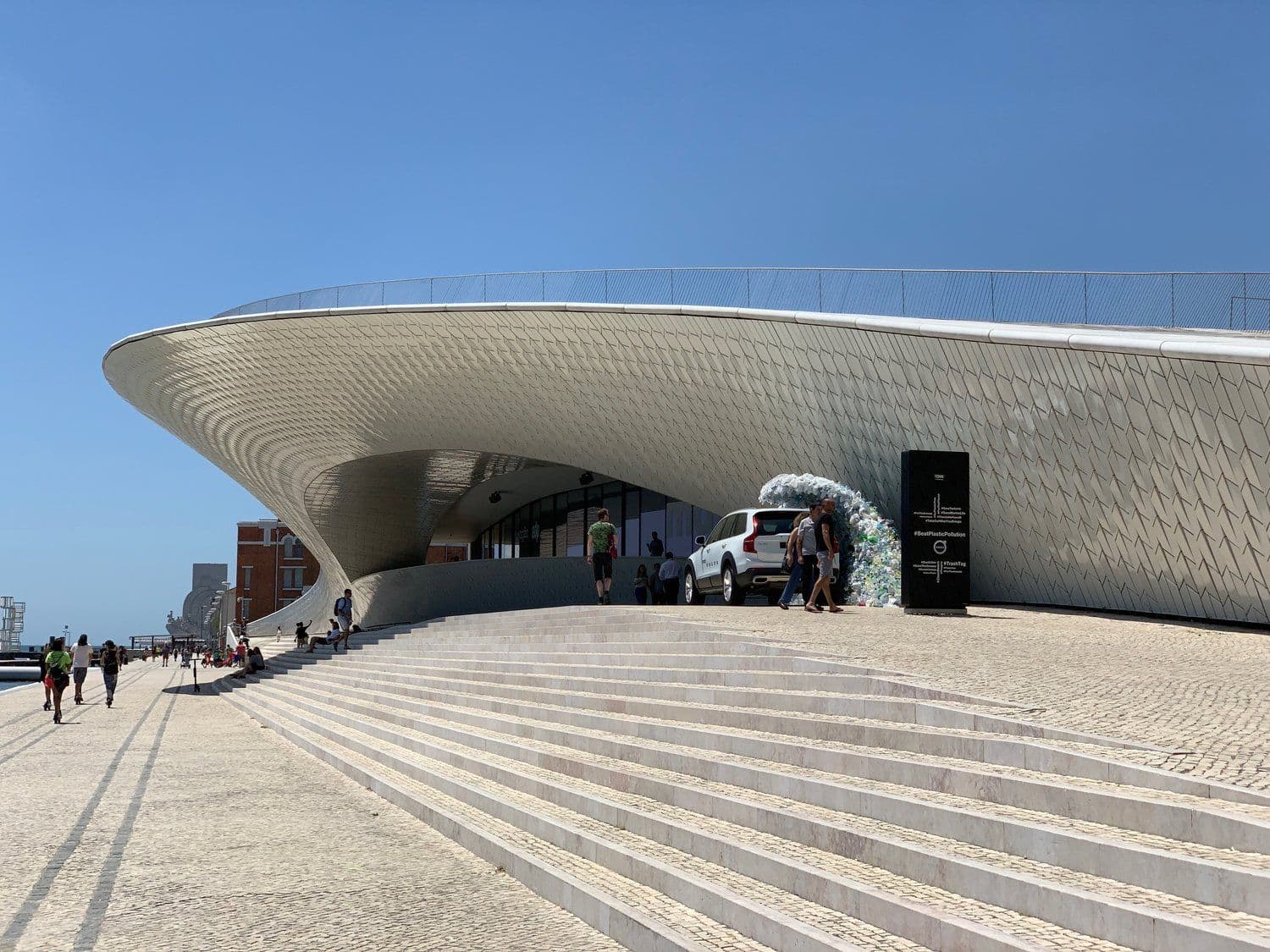 25 de Abril Bridge - This is essentially a scaled down copy of the Golden Gate bridge. It was in fact build by the very same people who build the famous San Francisco bridge. Since the Golden Gate was such a huge success, the Portuguese decided that that team is the best in the world so they hired them to build this bridge too. Hence the similarity! It is literally built by the same people. Unlike the Golden Gate though you can't walk on it however there is a train that goes through the lower level of the bridge. It's gorgeous and well worth the up close view.
Vasco da Gama bridge - This is the second longest bridge in Europe. You can't walk on it, but if you happen to drive, make sure you go on it. Word of advise, look out for the flamingoes by the salt lakes ;)
Sintra - make a day trip to this neighbouring town that has about 5 or 6 castles. There's simply too much to see in one day but if I had to make a recommendation I'd say definitely check out Quinta da Regaleria.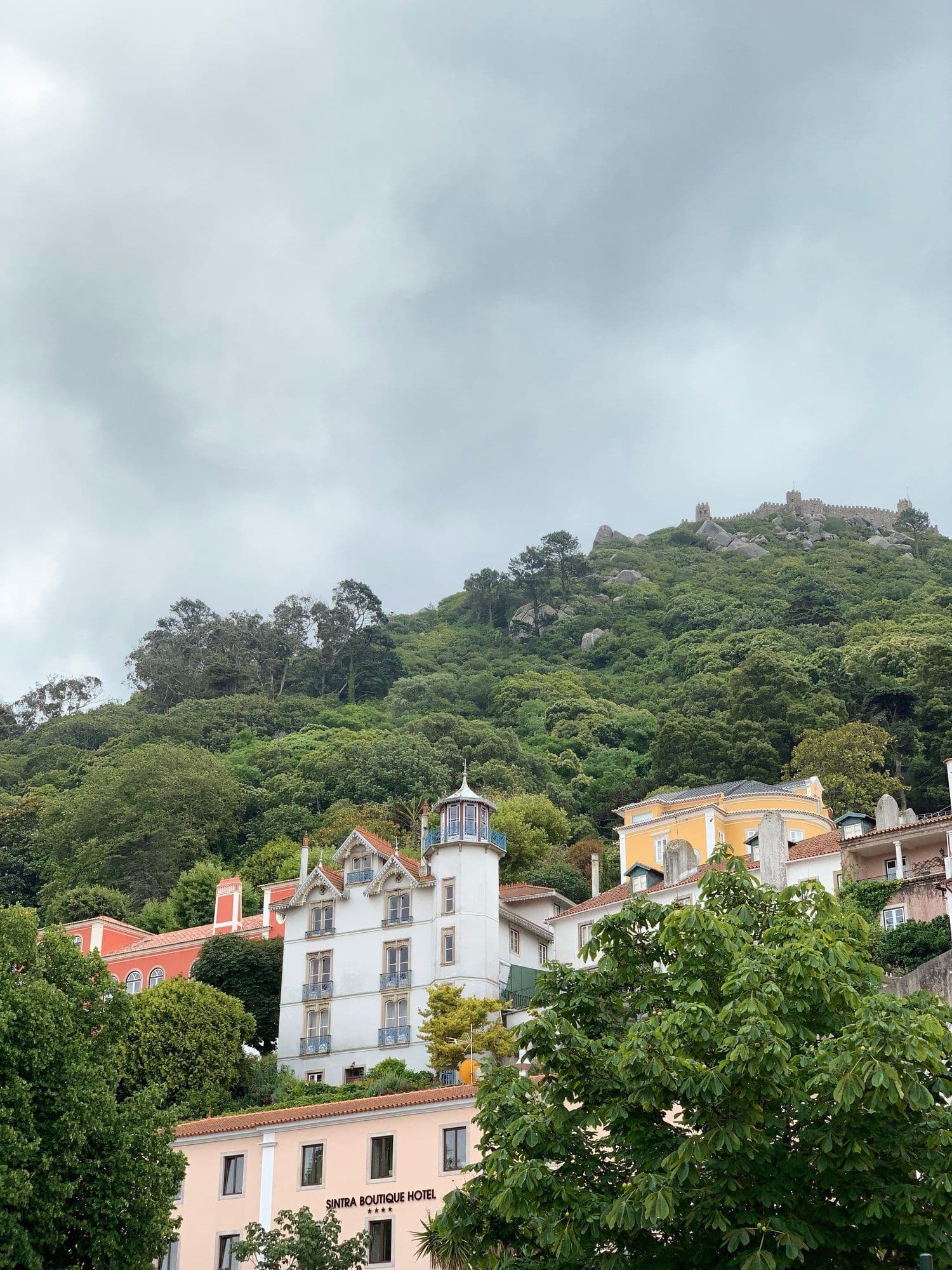 Quinta da Regaleria - is like nothing you'd expect to find in Europe. The castle and the castle grounds have been greatly influenced by the millennia long Arabic presence from the past. The grand house is split over five floors and has an ornate gothic façade, but the real attraction is to the rear with the enchanting gardens. The gardens of the Quinta da Regaleira were styled to represent ancient secret orders, with hidden tunnels and concealed symbolism. There's so much greek and arabic influence mixed with renaissance architecture and asian mosaics. The initiation well is a partciularly interesting. A spiral staircase that seems to go down in the ground forever! Tickets cost €12 but honestly, even if it cost twice that much I'd still think they were underselling it.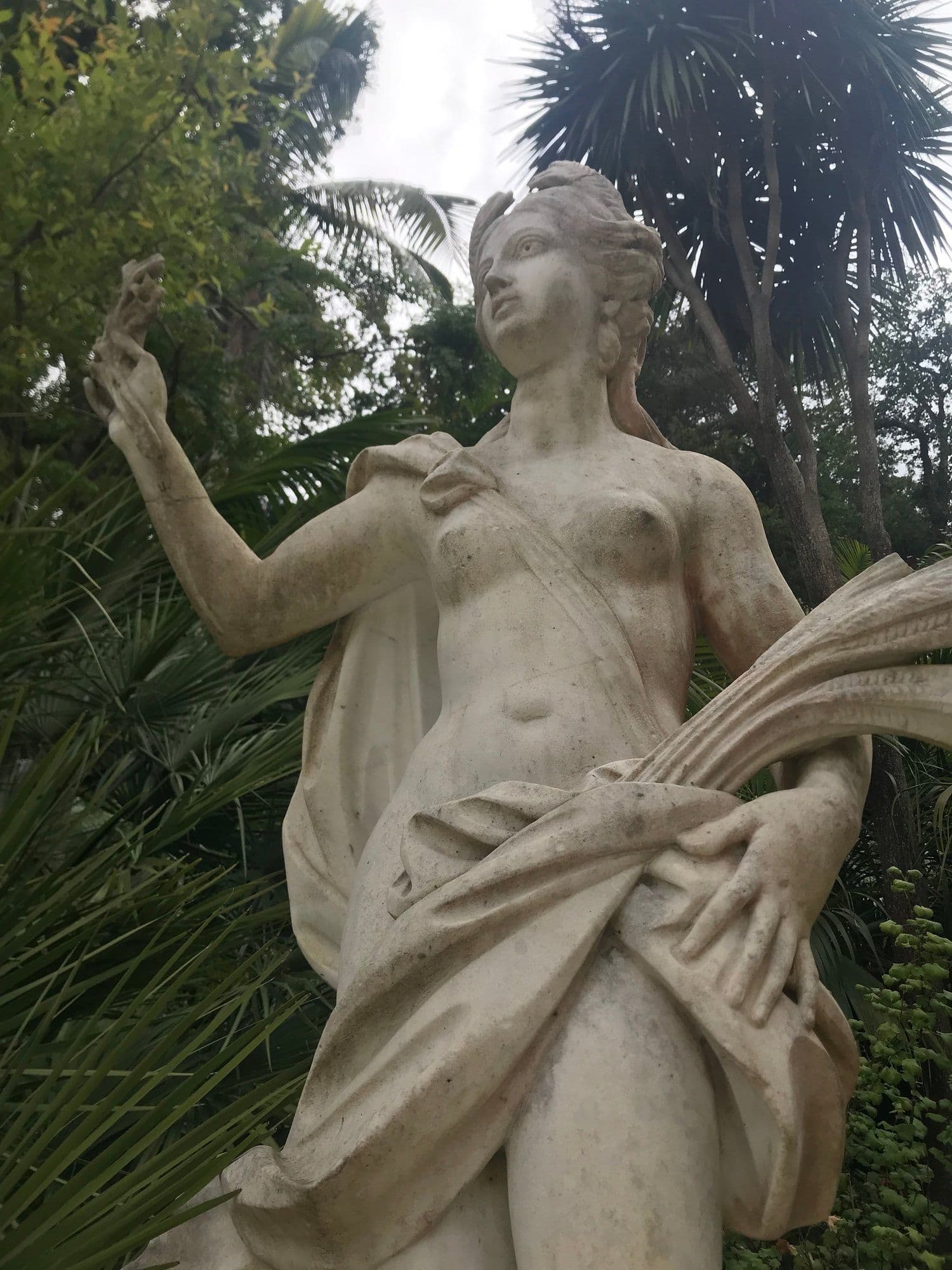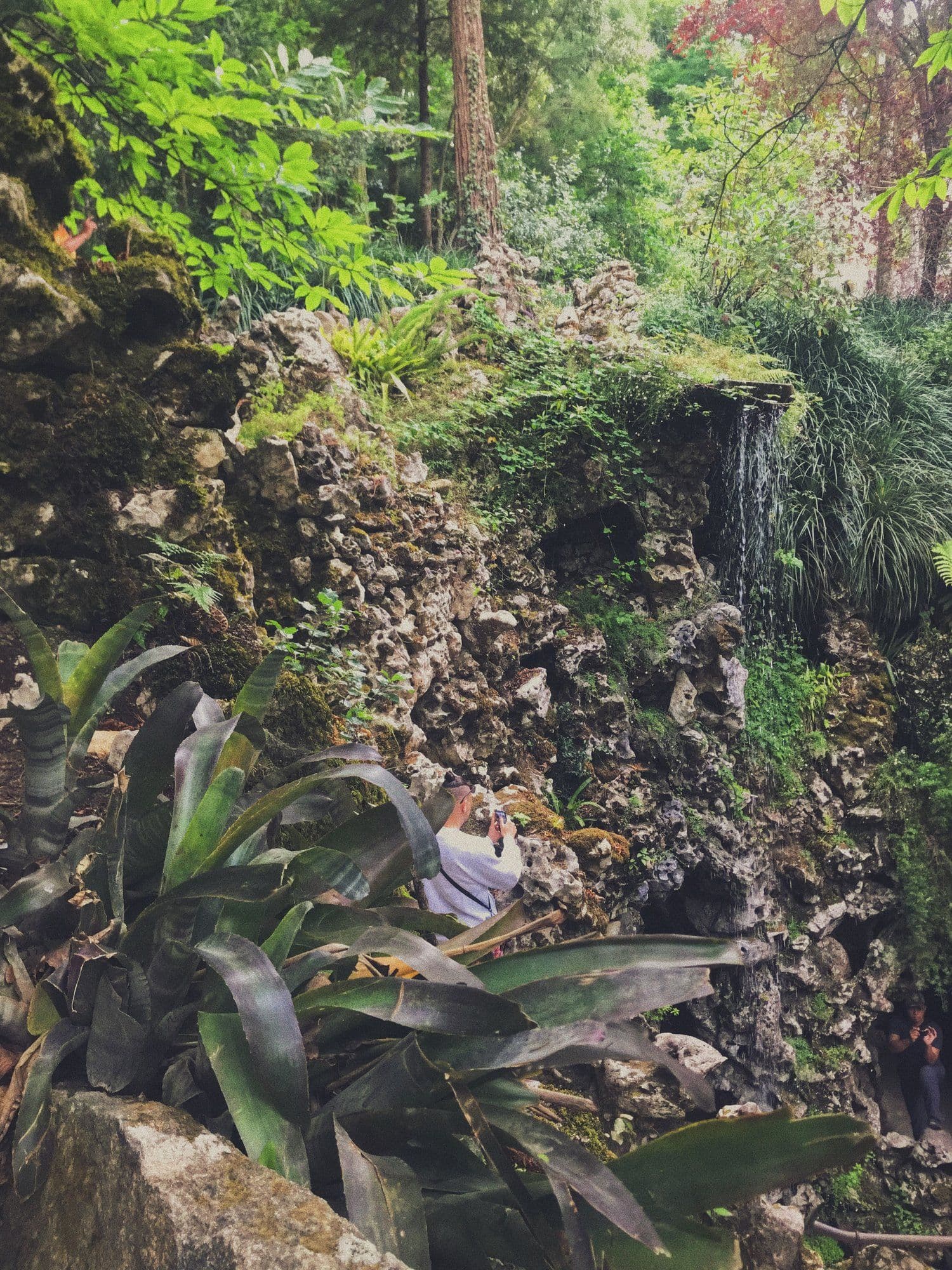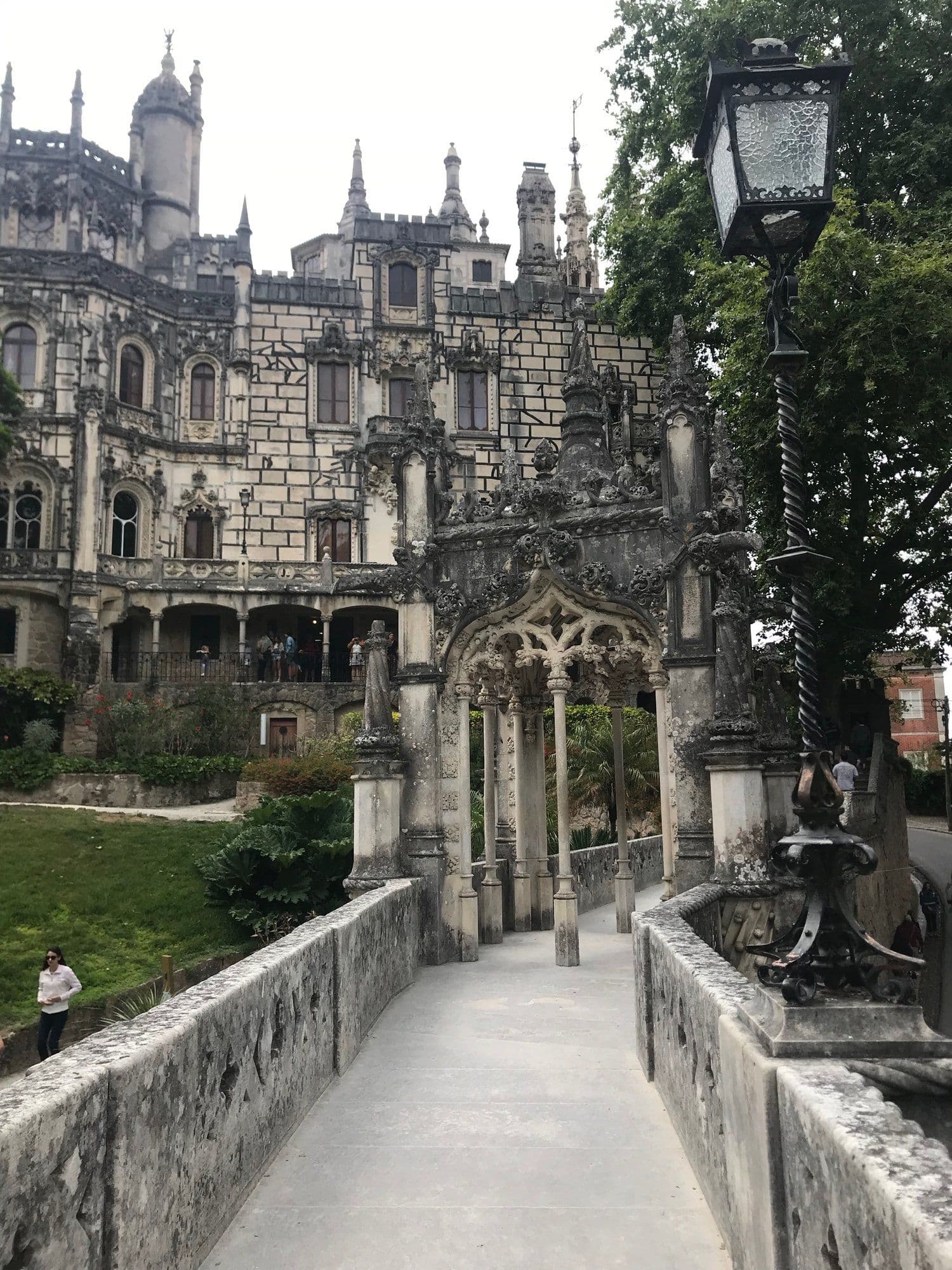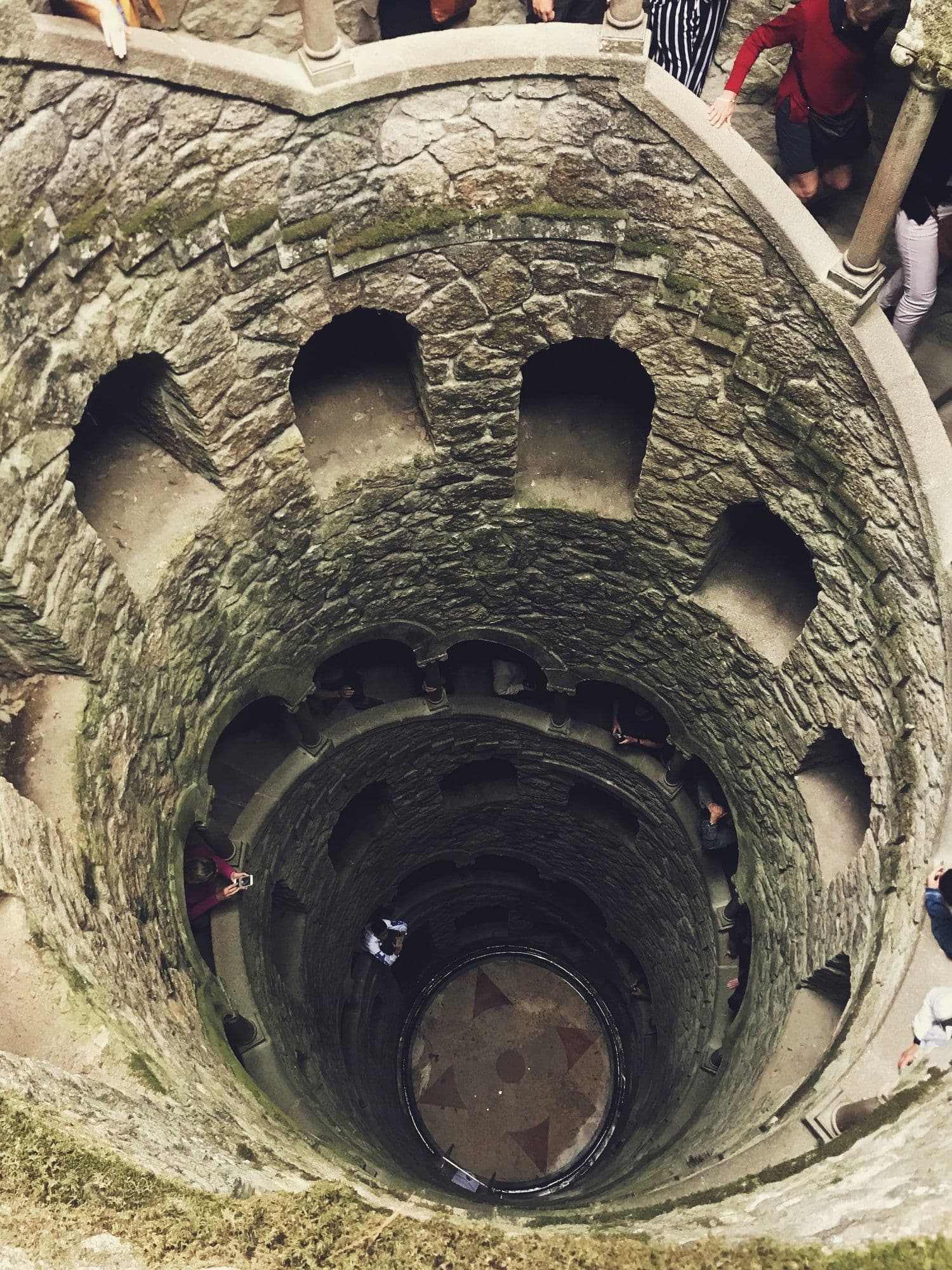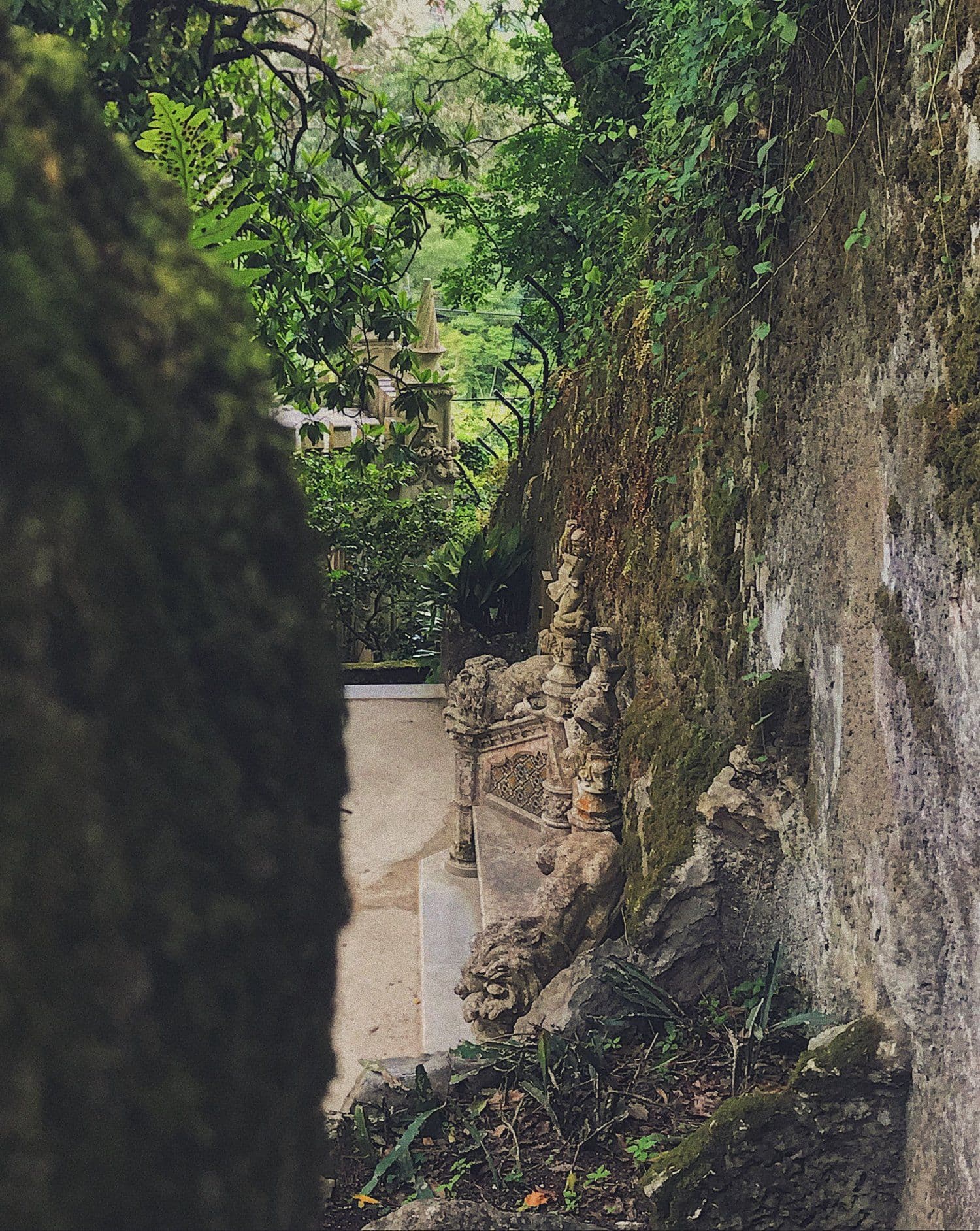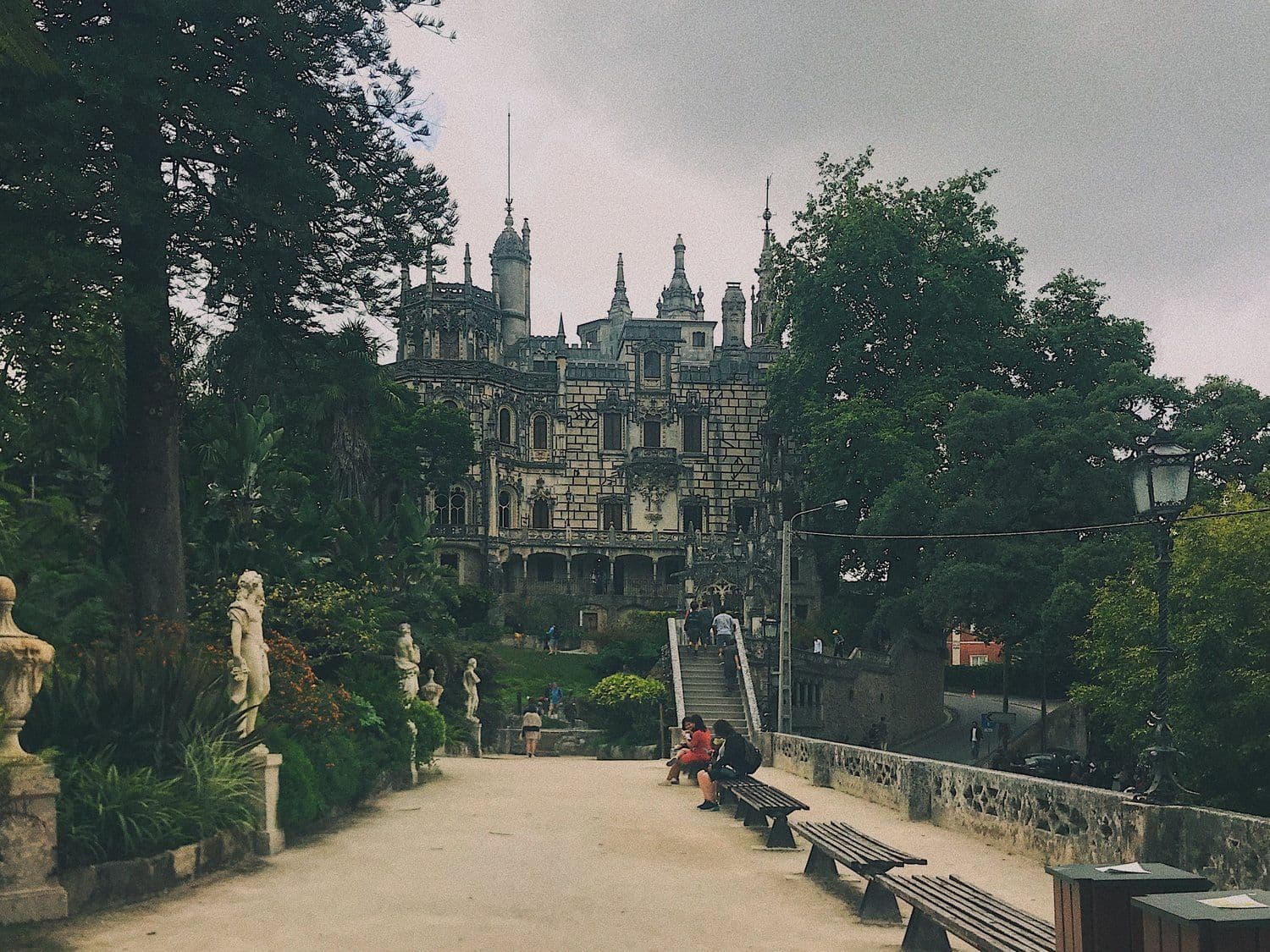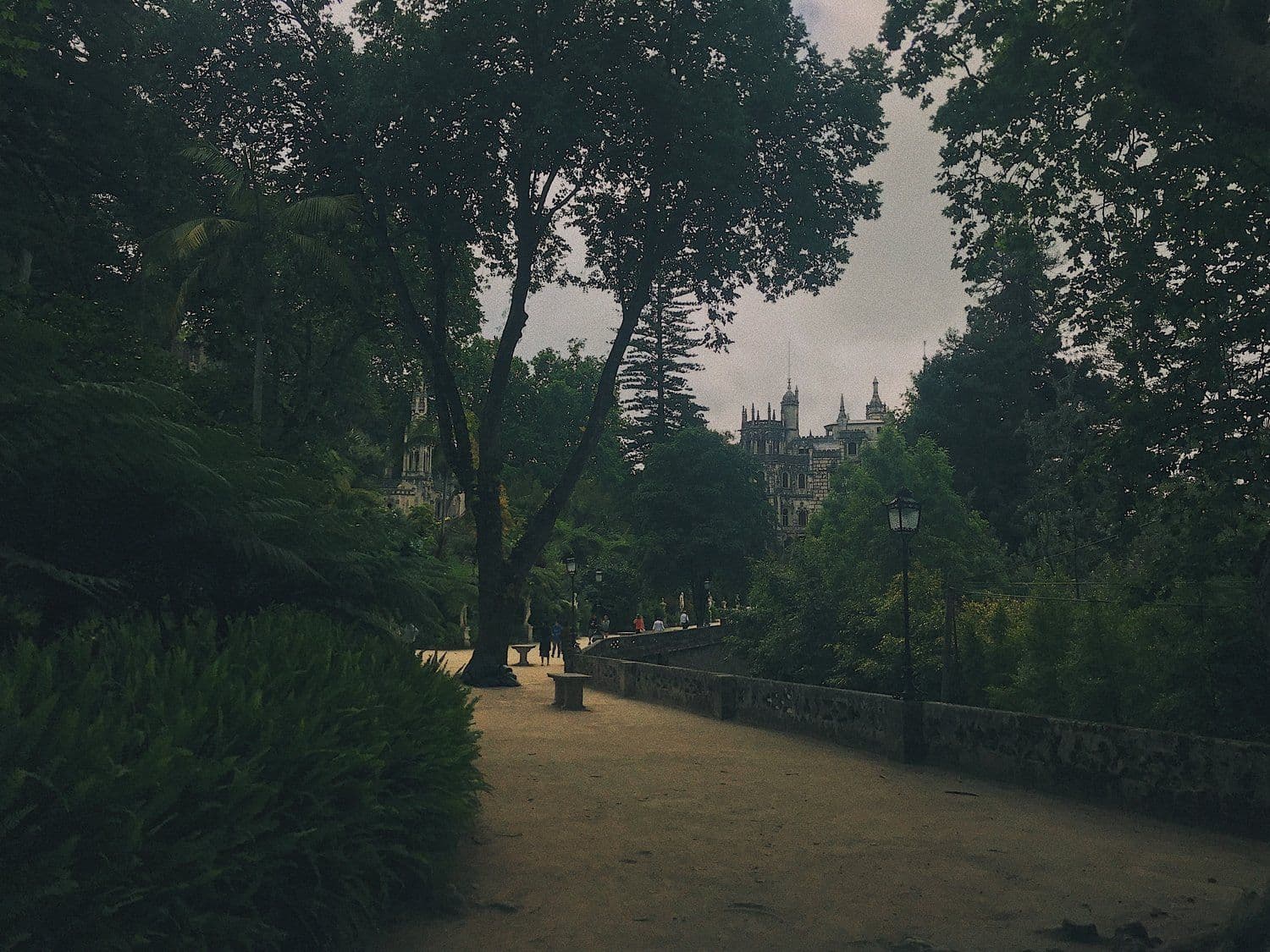 Arrabida Natural Park - Amidst the deep blue sea and the green of the hills, you can find this gem of a natural park. It's 40mins drive down from Lisbon and is the perfect way to escape the hustle and bustle of the city. The nature is magnificent, the beaches are world renowned and you can see and learn a lot about the precious cork trees that grow exclusively in Portugal. We booked ourselves an amazing adventure experience through Airbnb with a chap called Joao (link to the adventure here) and I can honestly say that this was one of the best days in my life and THE best way to explore the area. If you fancy something different, definitely book yourself on this experience or at the very least go to park and discover what it has to offer for yourself.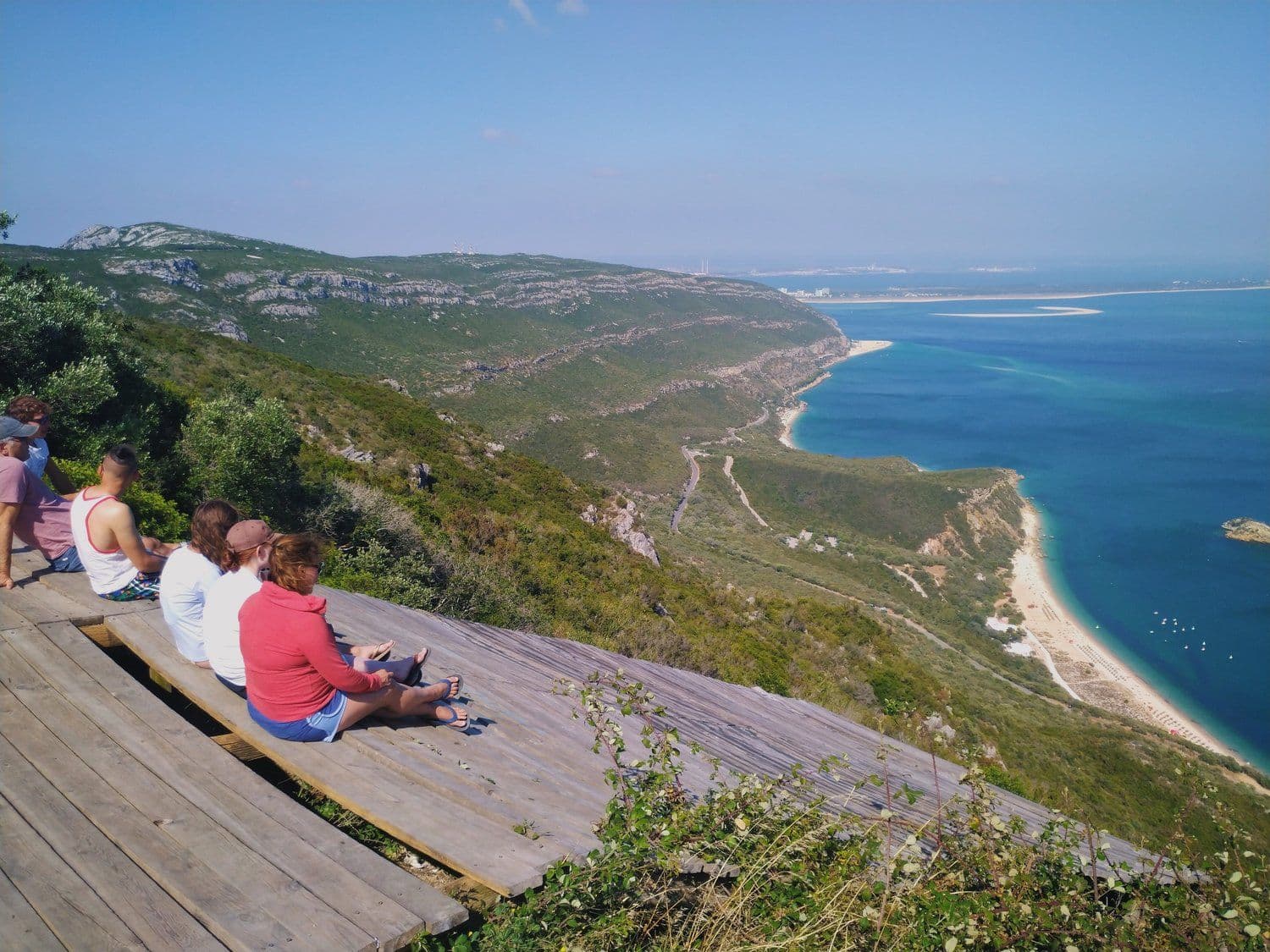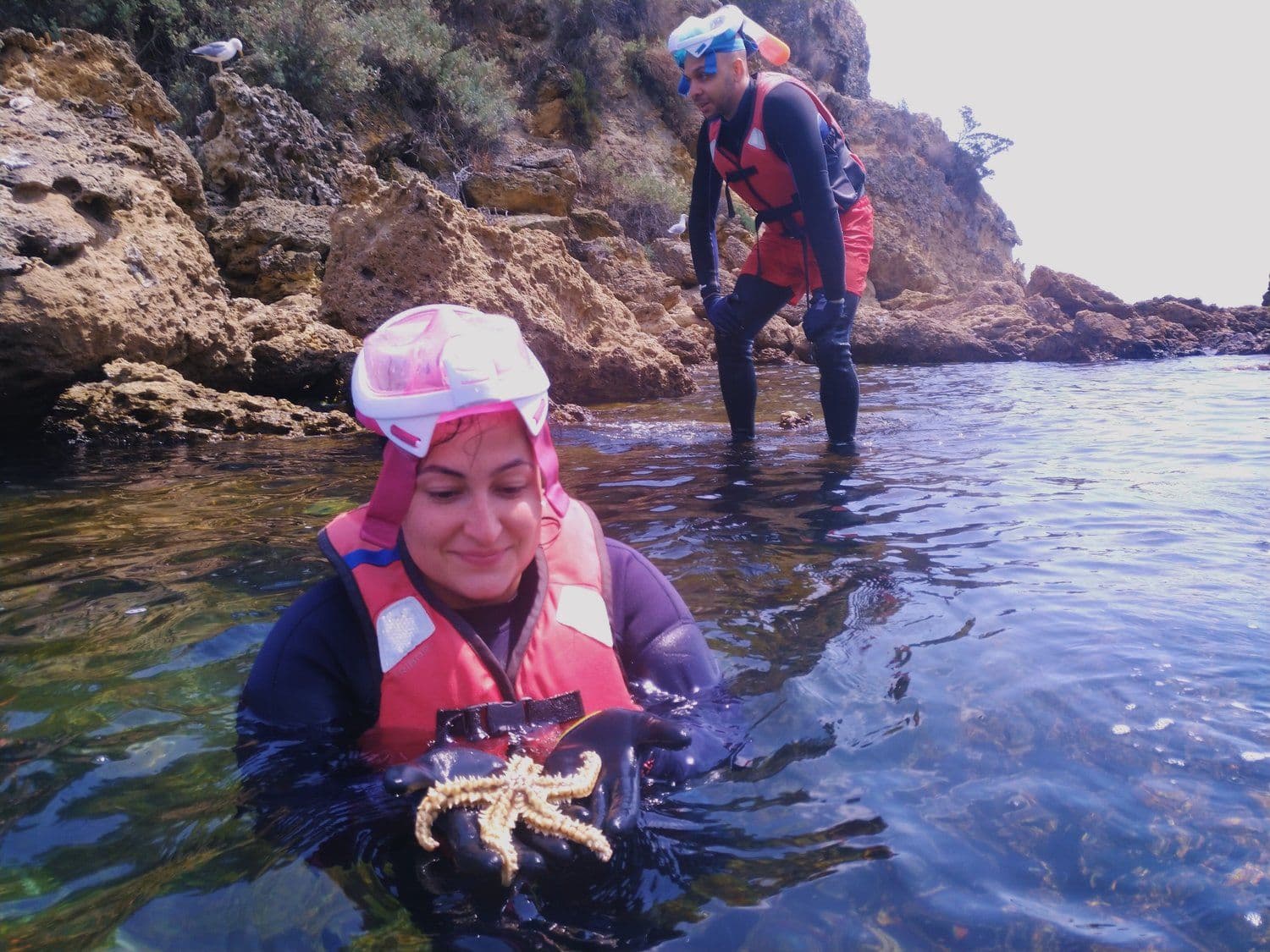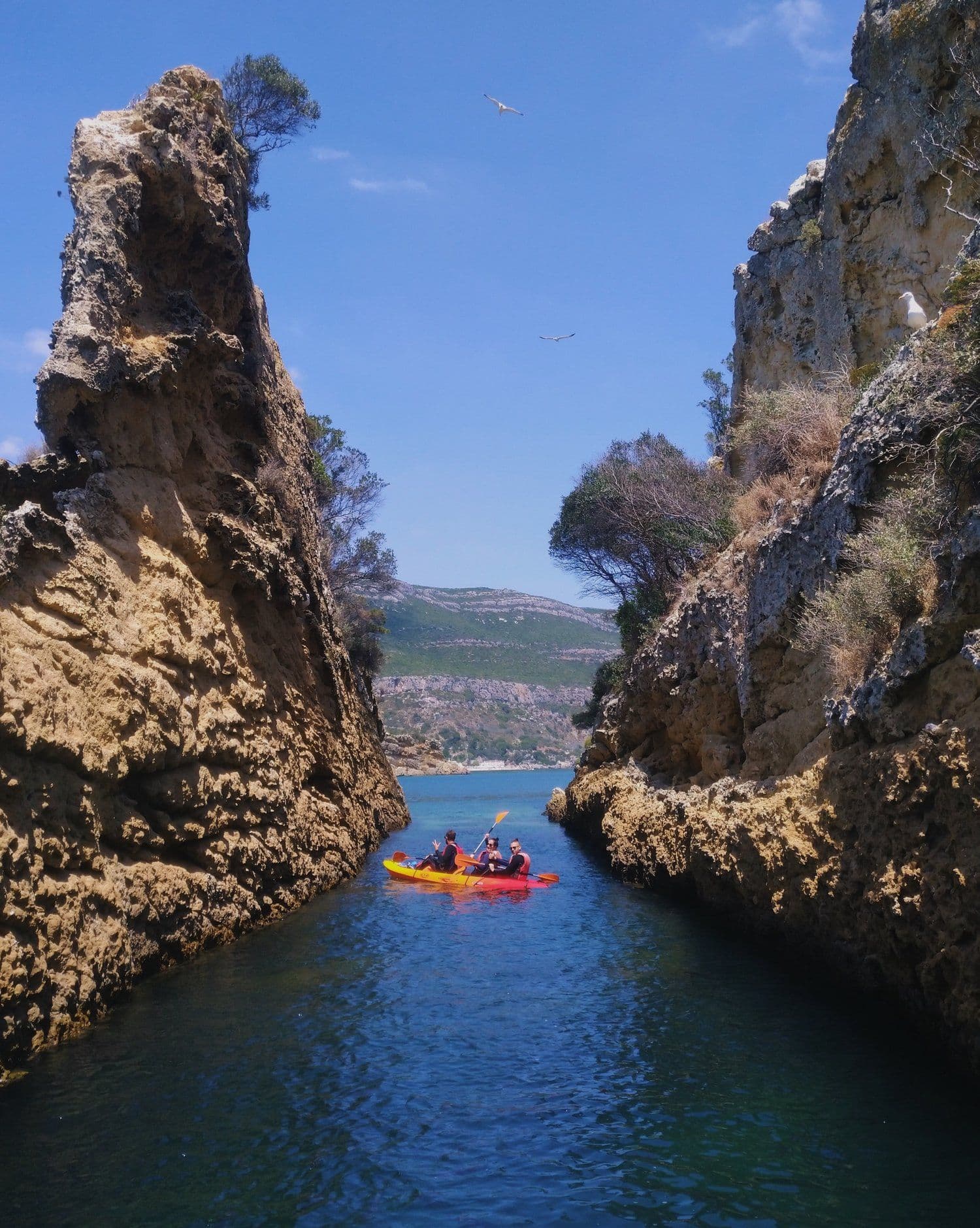 FOOD & DRINK
If you're a bit of a gastronome, like we' are, then Portugal will be right up your alley. The food is simple but oh so delicious! Everything we had, from eggs, milk and fruit from the local shop to meals out in restaurants, tasted locally sourced or home made.
Pastel de Nata - is hands down the most famous Portuguese pastry. It is essentially a custard tart in in crispy paster served. Best consumed warm with a generous dusting of powdered sugar and canella (cinnamon). You can't go to Lisbon and not get these from Pastéis de Belém. This backery has been going strong since 1837 and have maintained the same recipe and equipment making there pasteis the most authentic in the whole of Portugal. You can get one for €1.50 but I'd recommend grabbing 6 for €6.50. You can sit down in the coffee shop and enjoy the treats with a hit cup of coffee or go to the nearby park and sit at a bench. Whatever you do, make sure you eat them straight away while still warm and crispy. Make sure to have a little wander through the actual bakery. If you're lucky enough you can actually have a peek in the kitchen and see them being prepared.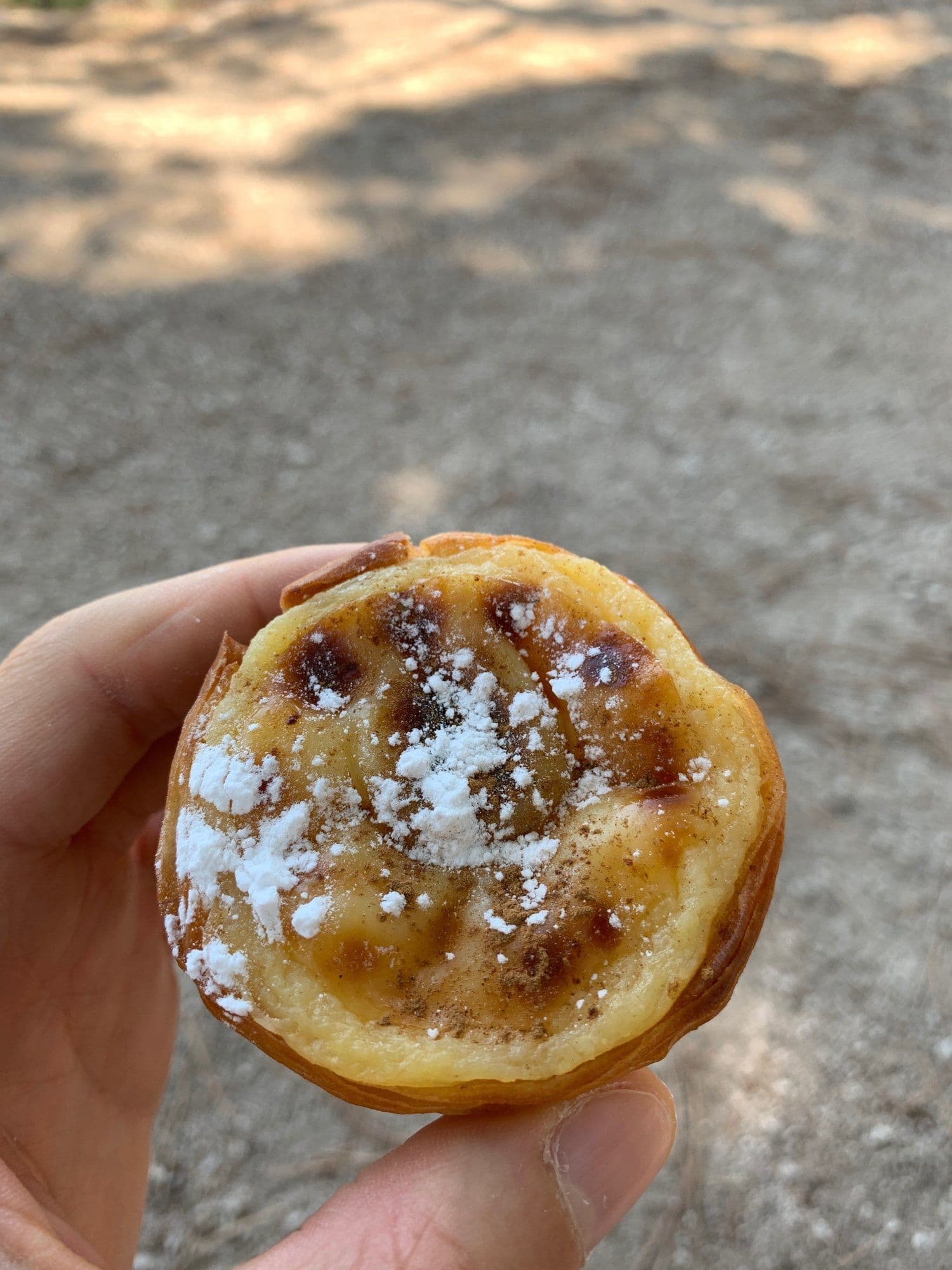 A fresh-out-of-the-oven crispy nada with a generous dusting of sweet cinnamon and a dusting of powdered sugar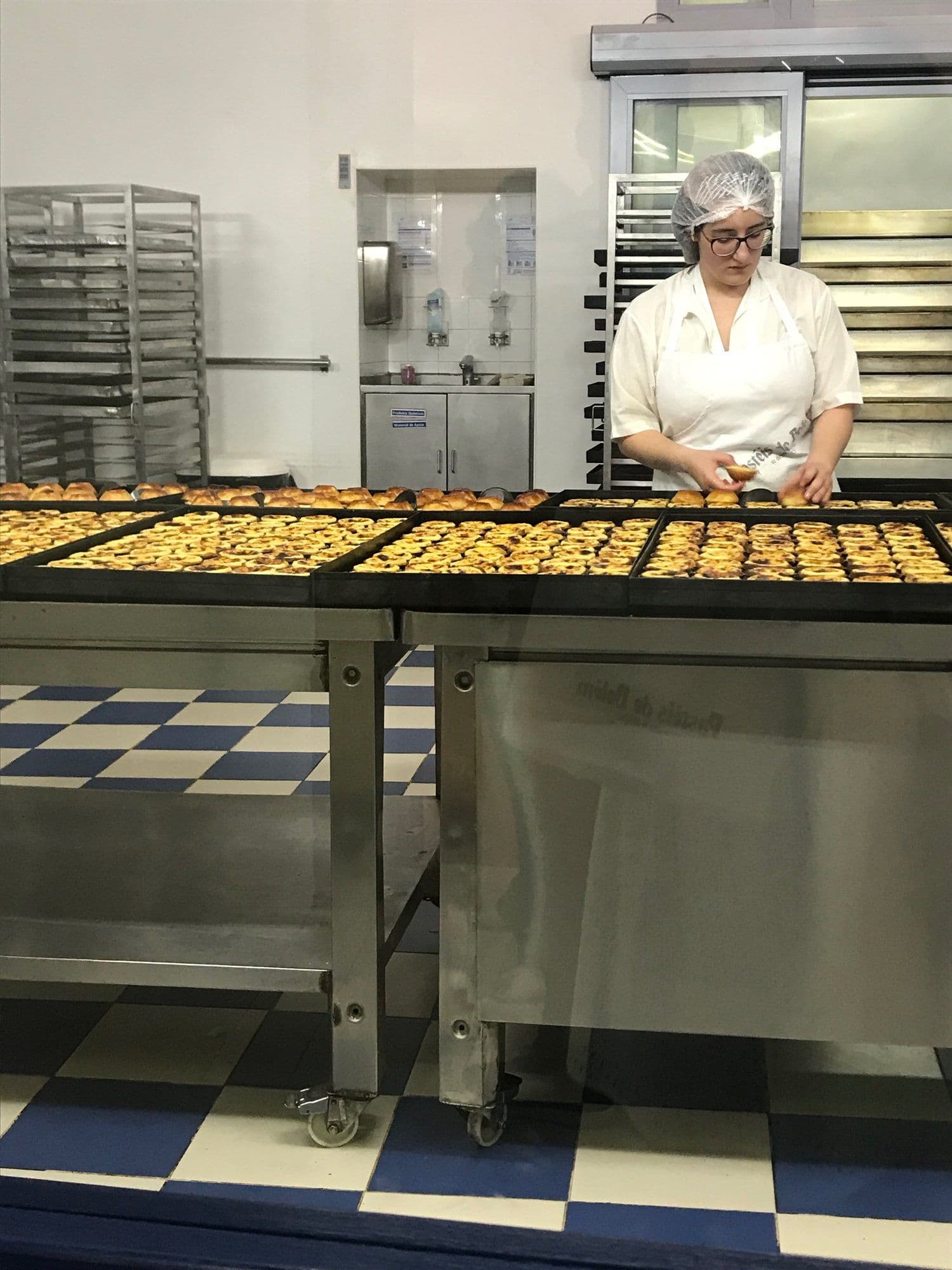 Sneak peak in the Belem kitchen where the world's most famous natal are prepared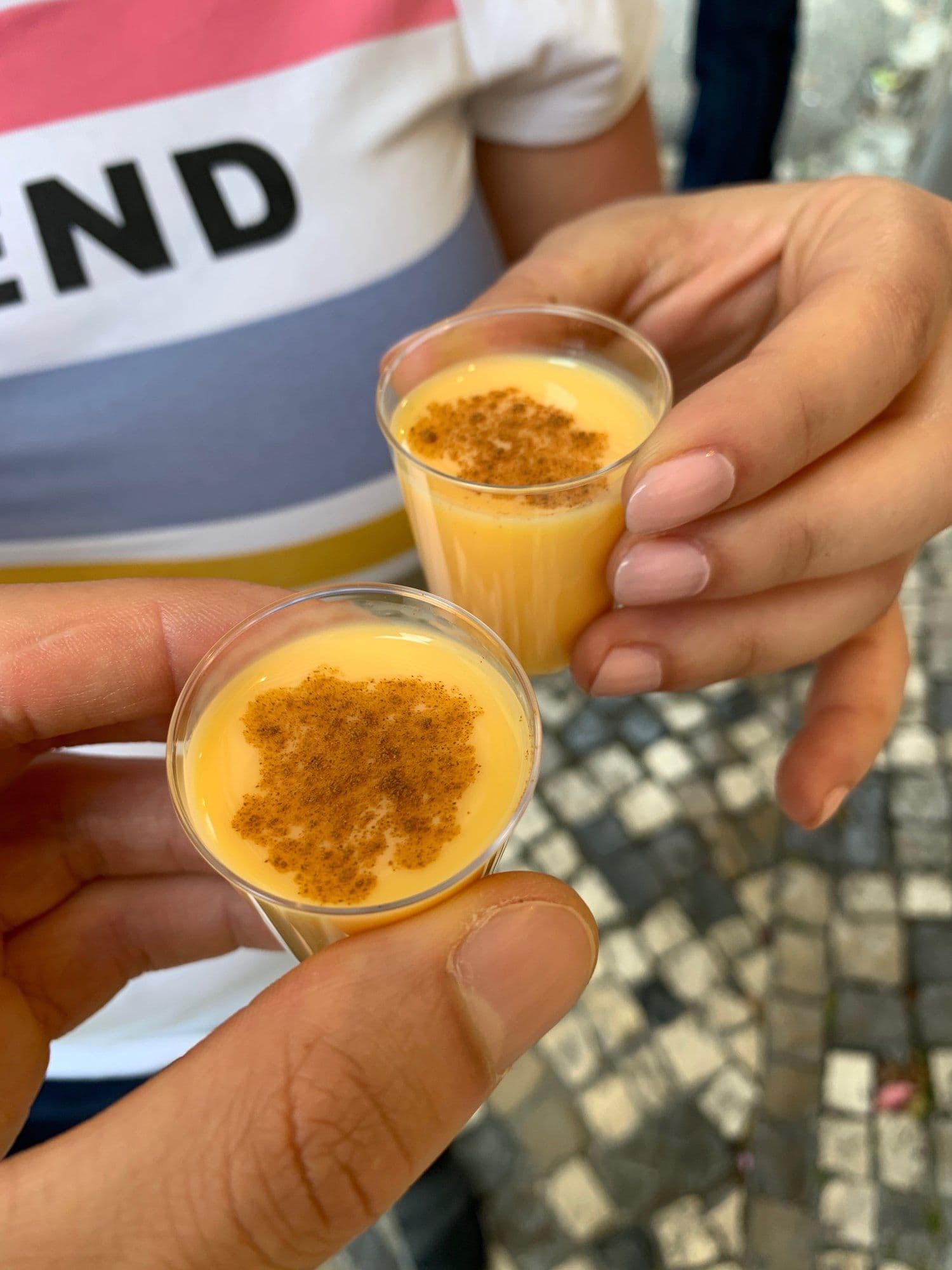 You can also get your hands on data flavoured liquor for €1
Seafood - Lisbon is famous for its seafood, From prawns and lobsters, to cockles and sardines. Whatever you go for, you'd be quite pleased. Everything tastes so much better! Even the simple prawn is taken to another level! Grilled sardines on bread is another must-try!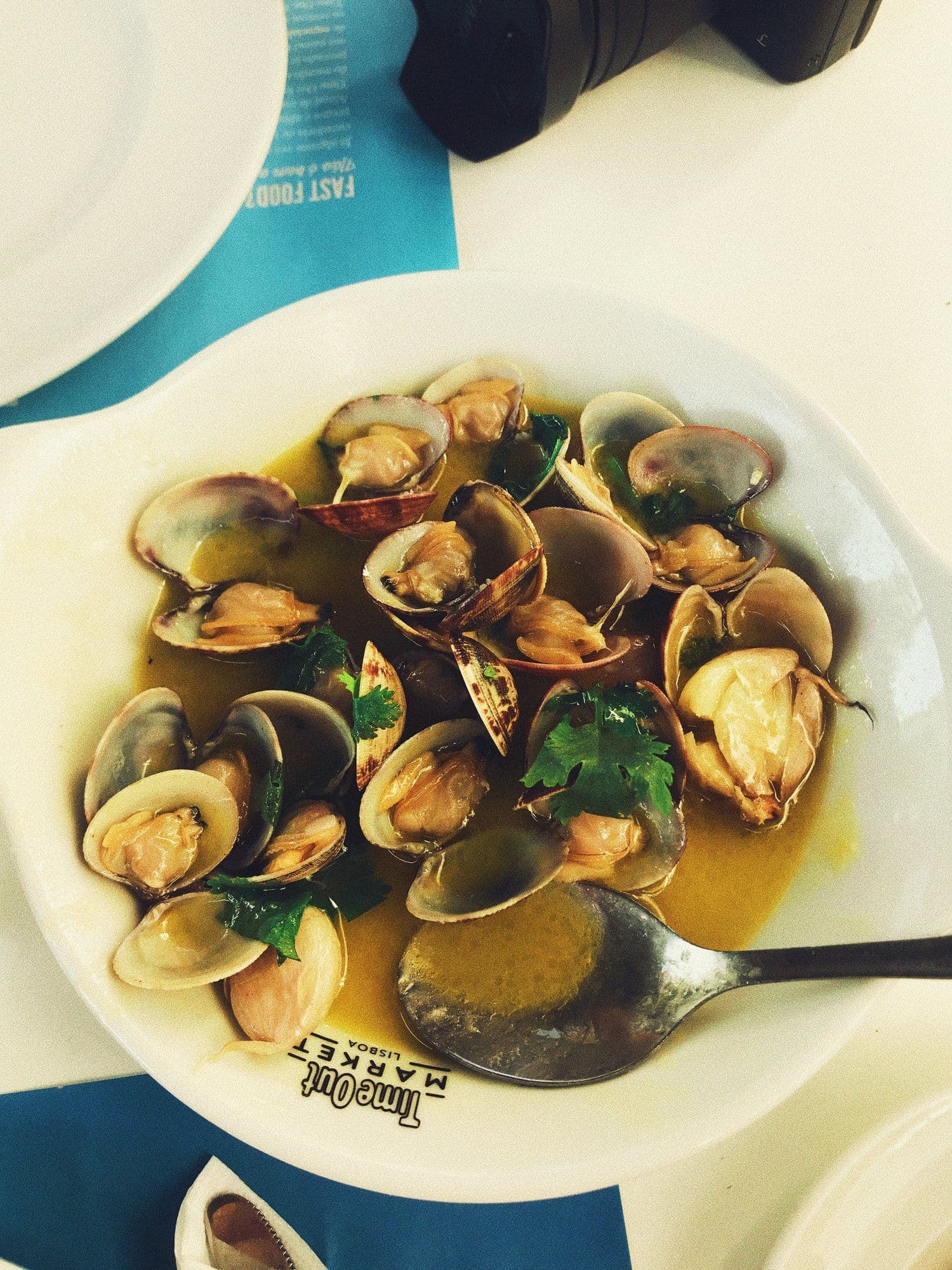 Cockles in white wine sauce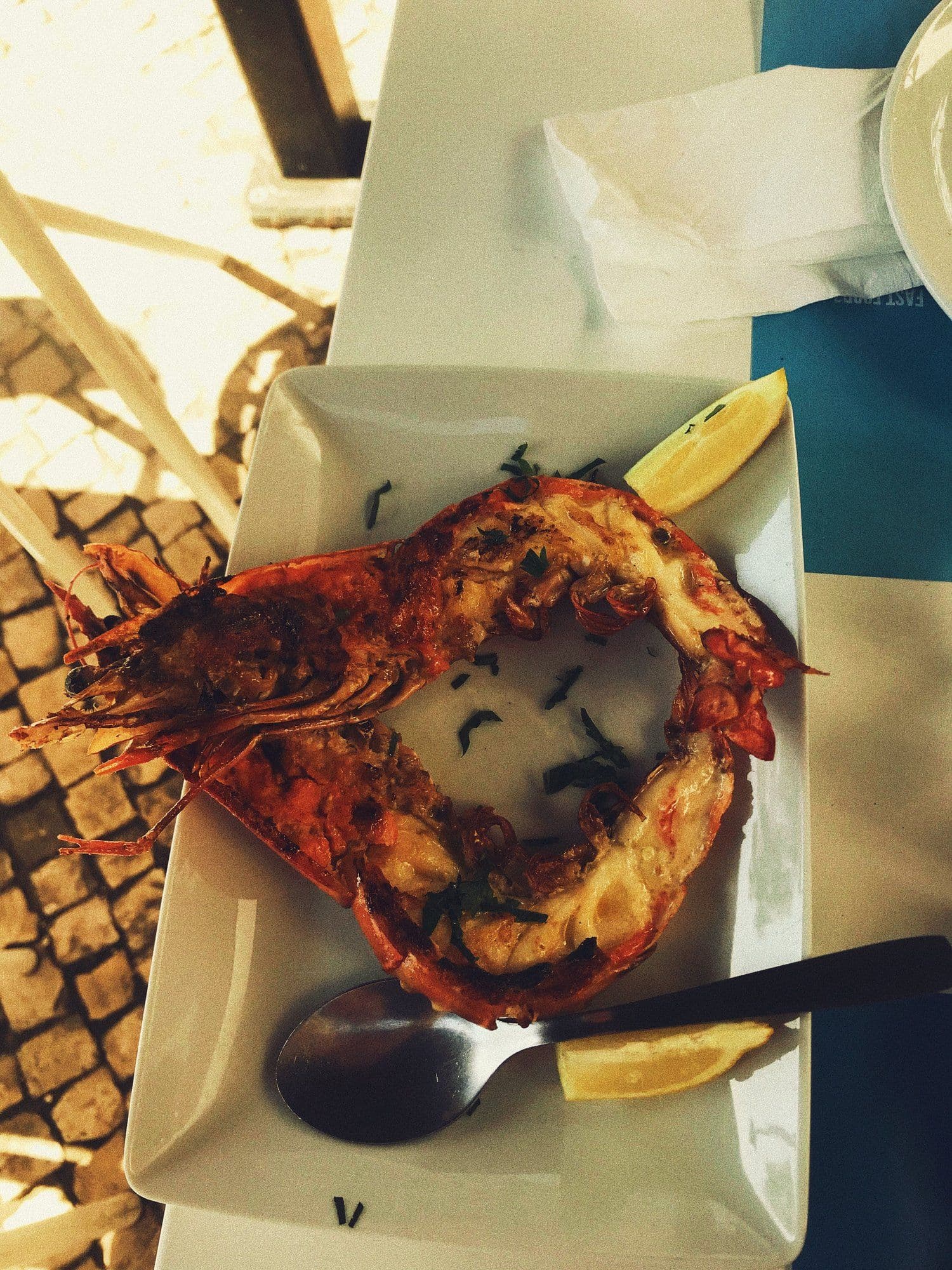 Tiger prawns like you've never imagined them
Canned fish - from spicy tuna, to skinless and boneless sardines and horse mackerel in olive oil and lemon juice, there's something for everyone. We are not huge on canned fish but this is a must try. There are so many different brands, all of which come in cute little paper packaging that makes for a perfect gift. If you find yourself in the Time Out Market, make sure you grab a pack from the stall there. This is one of the oldest establishments and the fish is divine!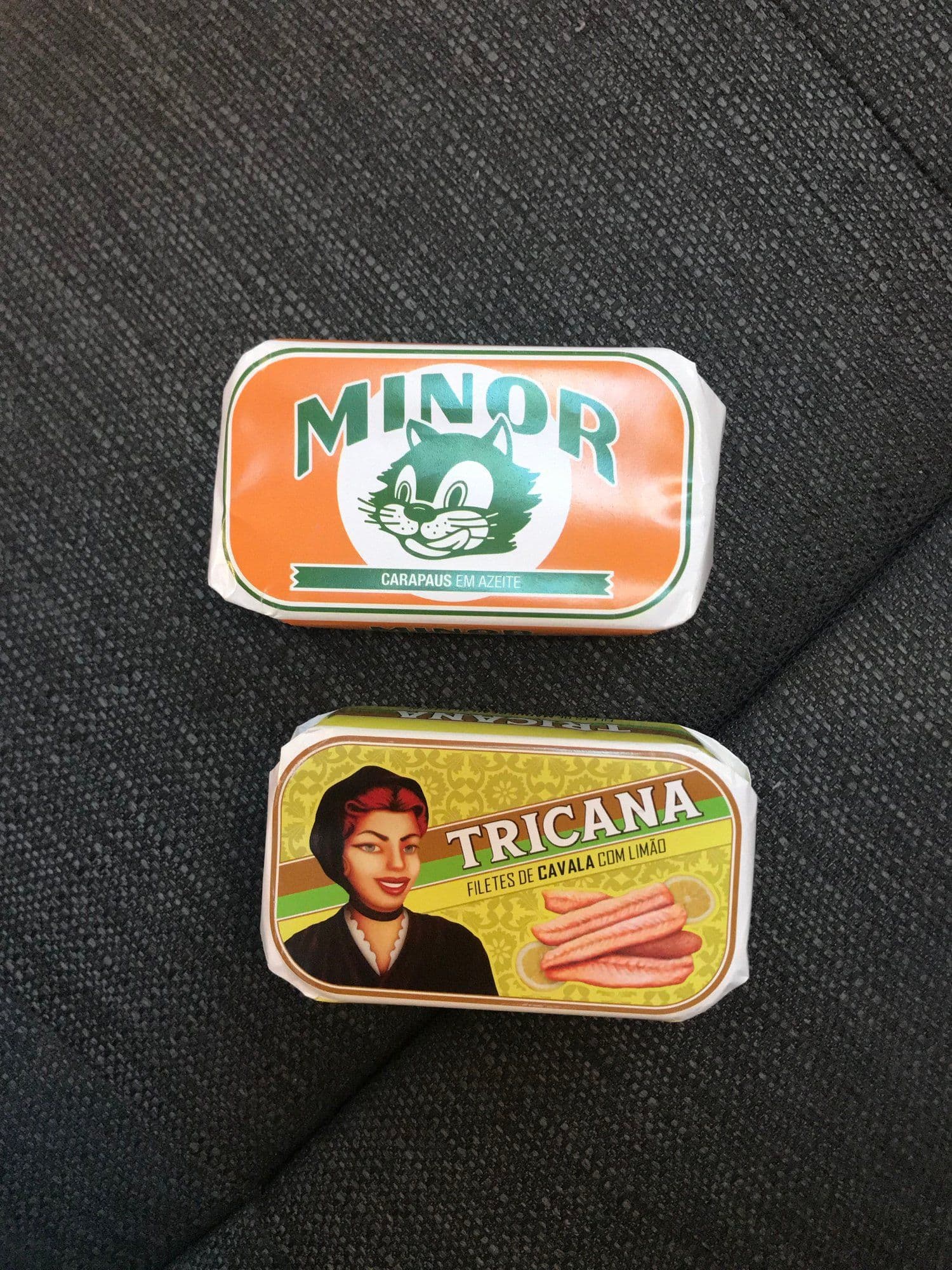 Port - Port wine originally comes from Porto but you can get your hands on the real thing from pretty much anywhere in Portugal. You can go for tasting in a shop, order some in restaurants or get a shot from a street vendor. It's thicker and sweeter than wine and ON MY GOD does it hit the right spot. It's delicious and I highly recommend you try some
Ginja - It's a delicious cherry liquor with a hint of cinnamon that you drink in shots. It tastes like if Dissarono and sour cherries had a baby. I cannot even put into words how good it tastes! You can get a shot of ginja from pretty much anywhere. There are people selling it from stalls for as little as €1 per shot. I would recommend you go to A Ginjinha one of the oldest ginja producers and sellers in the country. It's a good old "hole in the wall" shop. No seating, no fuss. Push your way to the front of the counter order your shot (with or without cherries), hand over your 1.4 euro and enjoy. You can thank me later.
Vinho verde - It's a crips and refreshing white wine with the most gentle of bubbles. It is a perfect way to cool down on a hot summer evening. You can get some pretty good ones from your local store for as little as €5 per bottle. This one is my favourite and I am simply too embarrassed to admit how many bottles we went through in a week!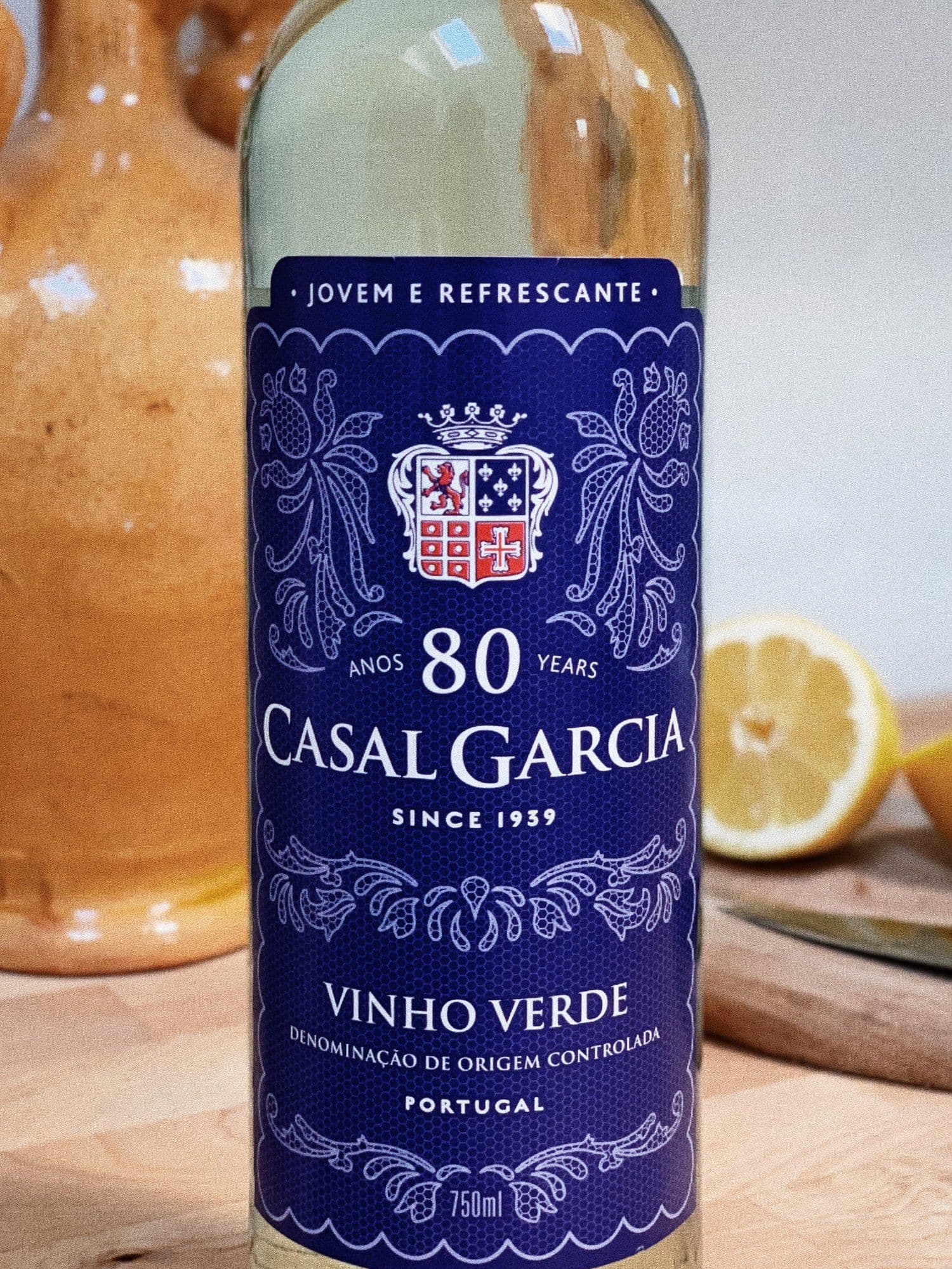 Loved this particular vinho verde! It's super cheap €5, sweet, crispy and refreshing
GET AROUND
Scooter or bike - for short trips, I'd recommend hiring a bike or a scooter. We went for the latter! Simply download an app, scan the QR code and you're good to go. This is a great way to get around even if you're a bit nervous on the road, like I am. There are designated bike lanes that run through the entire city which makes it both a save and convenient way to travel.
Metro - €1.50 for a single journey or €6.50 for a day ticket. The metro is quite good as it connects the city very well and it runs quite frequently.
Train - If you want to go to Sintra for a day trip.
All in all, this was one of the best trips Axl and I have been on. It has equal parts city charm, historic importance, spectacular nature, great food and great people. It is indeed a hidden gem and I even feel guilty writing about it because I selfishly want it all to myself. I am afraid that an influx of people would ruin its charm but I also think that this was too good of an experience not to share. If you get a chance to go to Lisbon, embrace it! I know I will most definitely be going back!