July 10, 2018
A Guide to the Best Food in Rome: Pasta Edition
I am a foodie.
I love good, flavoursome food that nourishes both your body and soul. Beng the brave optimist that I am means that I am also quite adventurous with my meals. Sure, every now and then I come across a meal that doesn't quite hit the mark but more often than not I discover new and amazing dishes. One of my favourite things to do at home but even more so when travelling is to try new dishes, new spices and new combinations. And what better place to indulge in some quality grub than Italy.
I don't need to tell you that the Mediterranean cuisine is incredibly rich in flavours and ingredients. The seafood, the vegetables, the meats... it's all good stuff, incredibly well prepared and mostly local sources which is superb. This is why I am more than excited to share some of my favourite meals and food stops in Rome.
When I first sat down to write about the amazing food I experienced while in the eternal city, the post turned out to be waaayy too long. So to save you the trouble of scrolling for ages, I've split this up into chapters. This first chapter, is all about one of the if not THE staple of Italian cuisine - pasta.
Pasta dishes are an integral part of Italian life. I am yet to have a pasta dish in Italy that hasn't been incredibly delicious, beautifully seasoned and perfectly executed. Locals manage to create meals that taste rustic and home made while also deserving of a Michelin star. Whether you have it with a rich and creamy sauce, meat and vegetables or a simple serving of fresh pasta with a drizzle of olive oil, chances are you're in for a treat.
The star of any pasta dish is of course the pasta itself. Italians know that less is more so a few quality ingredients is all it takes for the base of any amazing meal. Most pasta in Italy is made from 3 simple ingredients: eggs, flour and semolina. You can then combine this with any other ingredients to get an amazing meal.
My absolute favourite pasta dish while in Rome was from a small restaurant called Osteria di Umberto. A traditional, very busy restaurant with great atmosphere, freindly staff and even friendlier patrons.
I've been listening to Axl rave about this restaurant and more specifically their carbonara for about 2 years. In fact he confidently calls it 'the best carbonara ever' and I must admit that after indulging in some, I wholeheartedly agree. I cannot even begin to explain how perfect the food in that restaurant was. No wonder there were always people outside queuing for hour to get in. All the food we tried was absolutely scrumptious but the carbonara… that was otherworldly.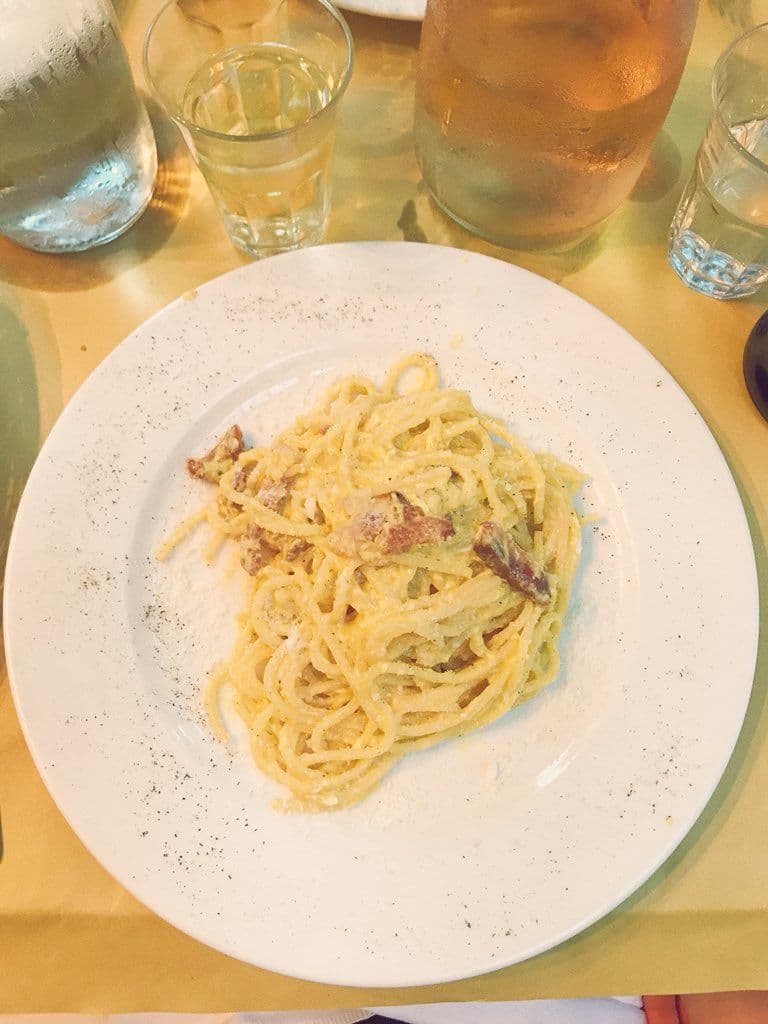 The best spaghetti alla carbonara money can buy. That is a fact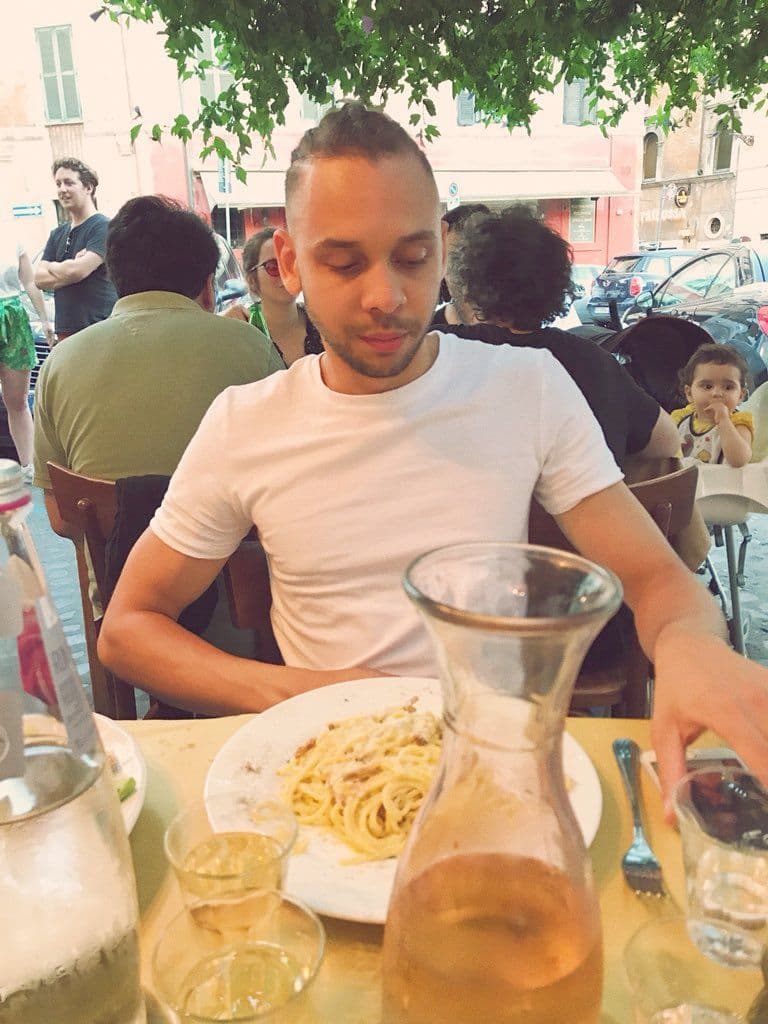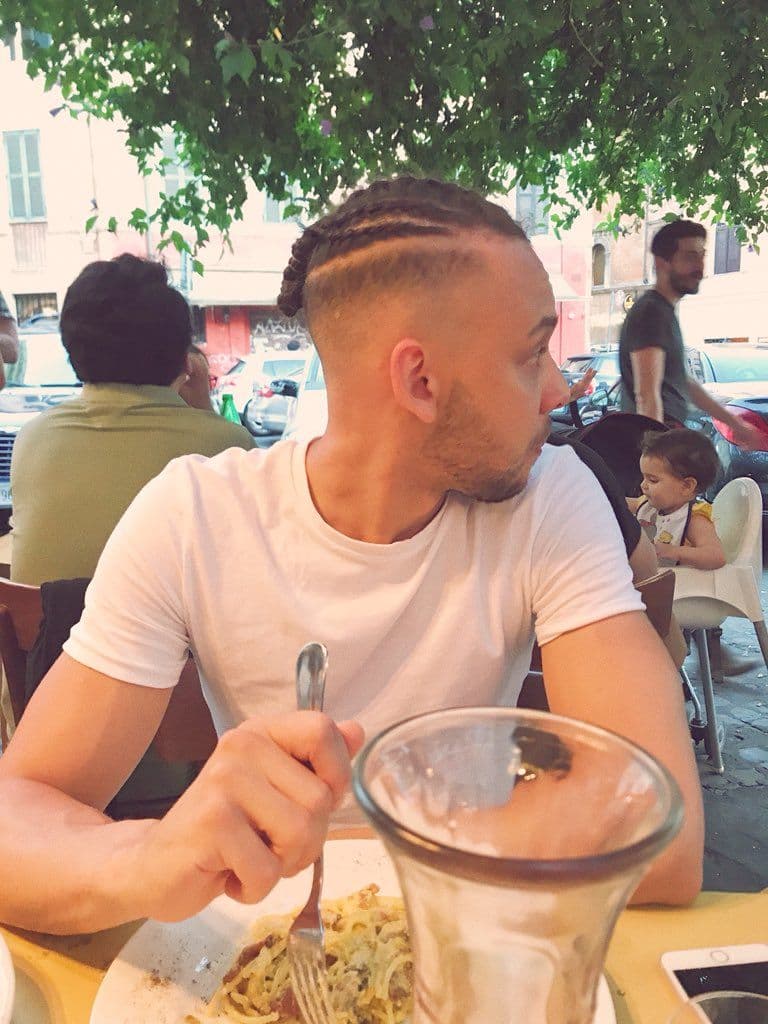 Priced at a very humble €8 per portion, the dish was absolutely amazing. The pasta was delicious and cooked to the perfect al dente, the sauce was creamy, the meat was smokey and perfectly salty… Combine with a crisp white wine and you'll be blown away.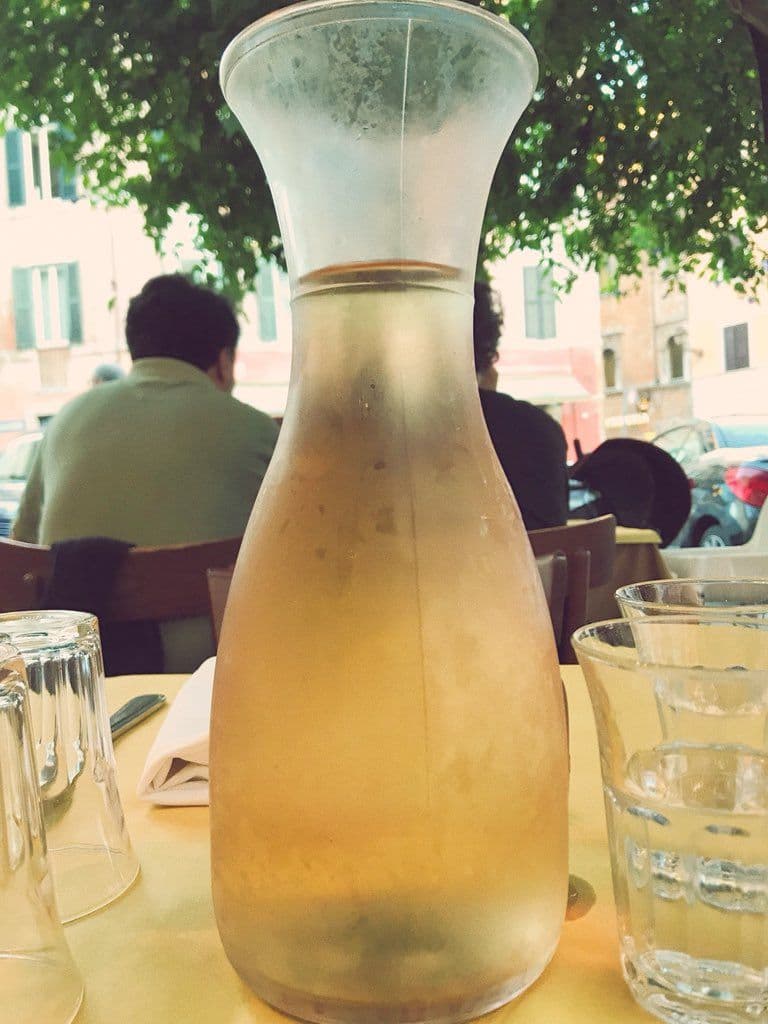 A litre of the house white wine goes down like a treat when combined with this meal
My mouth is watering just thinking about it. I cannot recommend this restaurant and more specifically this dish.
A bit closer to home (that is closer to where we were staying in Quartiere Aurelio) was a small little restaurant called Ristorante Le Fornaci. I went for my go to pasta dish - tagliatelli ai frutti di mare. This combines perfectly my love for good pasta and good seafood.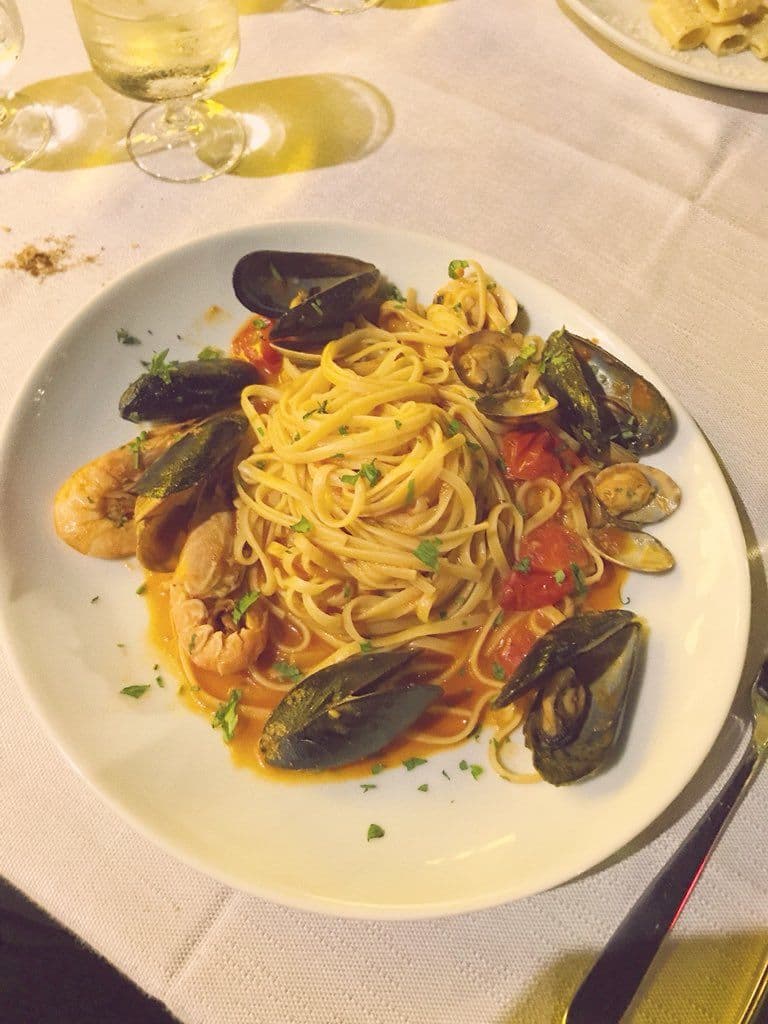 Incredibly delicious pasta. Great choice if you fancy something a bit lighter
It was a rather generous serving and I enjoyed every single mouthful.
Finally, my last pasta recommendation is for a humble home prepared meal. Since we had an entire Airbnb flat to ourselves we had the luxury of staying home and just cooking some of the evenings. We got some fresh pasta from the local Carrefour and oh my days was it delicious. This really reinforces my point that you can get good pasta virtually anywhere in rome. We prepared with with some good smoked cheese and some smoked pancetta. The result - a super affordable and hearty meal. Eating well in Italy doesn't need to cost a fortune!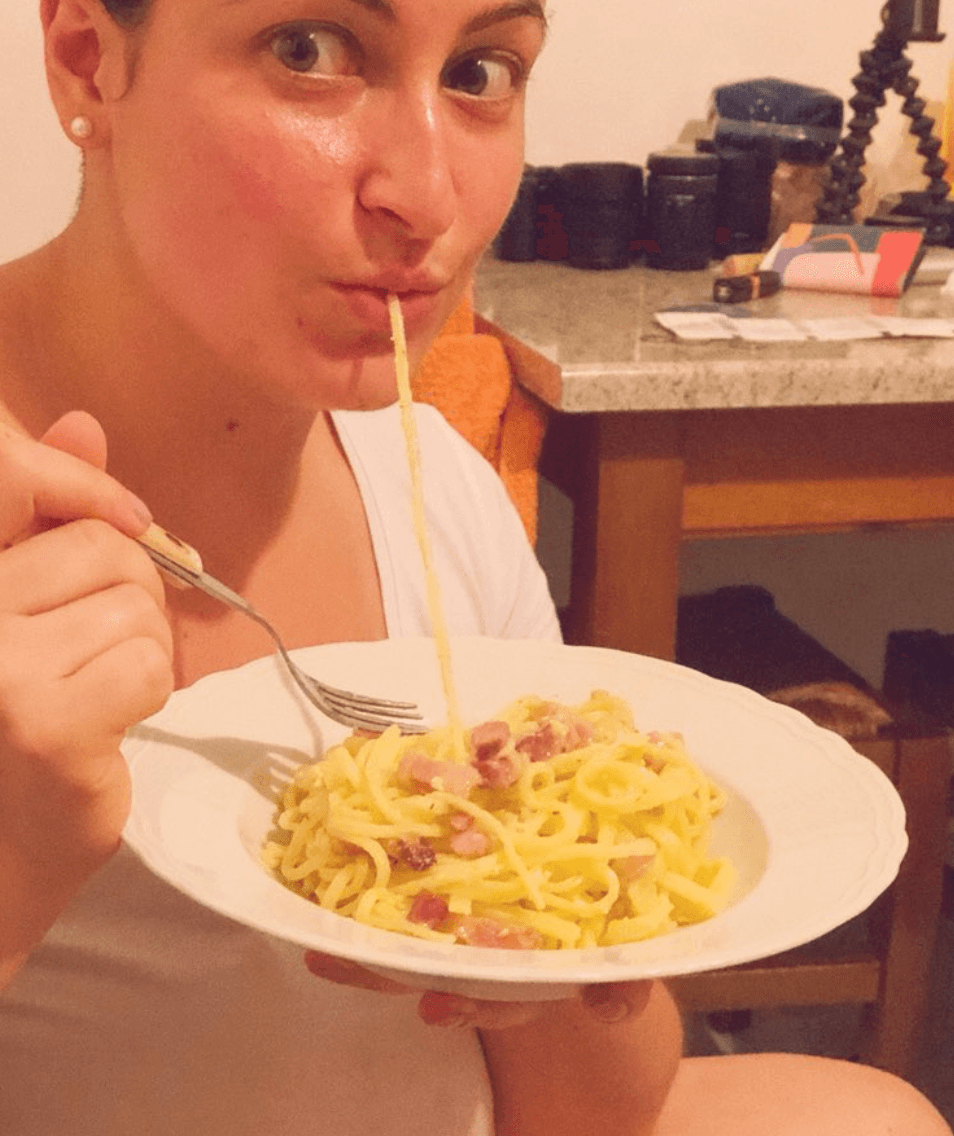 Freshly showered munching on some home prepared pasta (kind of alla carbonara)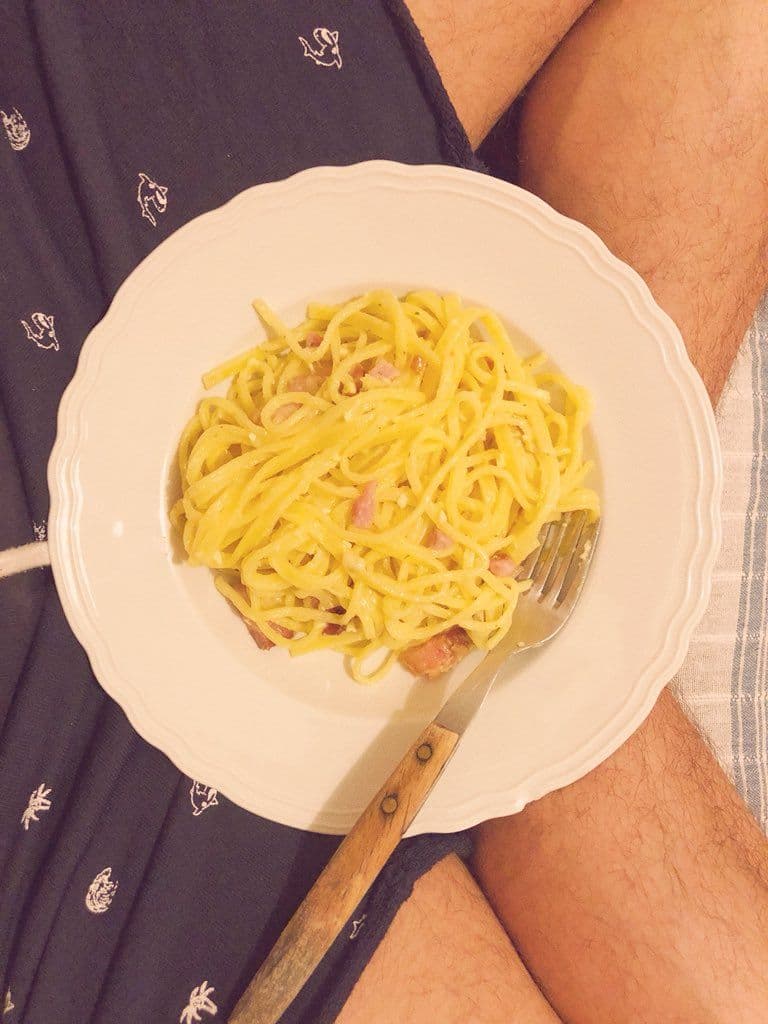 Delicious! (For the record these hairy legs are Axl's not mine)
Pasta is delicious and one of my favourite things to have. Unlike what you may think, munching on huge amounts of carbs didn't actually result in me ballooning to the size of a whale. Quite the oposite! I've never felt so cofmortable and confident in my skin. I don't know if it was the air, the locally sourced ingredients, the huge amounts of walking we did during the day or just pure damn luck but I didn't put on any weight while away. In fact, forgetting about calories and not thinking about how carbs are the enemy allowed me to enjoy every mouthful of food. As a result I was feeling nourished but also happy.
There you have it, my top 3 pasta recommendations for Rome. So if you find yourslef in the eternal city and you fancy some good food, make sure to check out these options. You can tahnk me later!