January 18, 2018
Trip to Italy Part 1: Landing in Pisa and Pasta
Day one – Pisa and Florence
A dream of mine came true!
Italy has always been quite high up on my travel wish list so when an opportunity presented itself earlier this year to book a little getaway to the land of food, art and wine, I naturally seized it.
The trip itself was full of surprises (more details in the blog posts to come) but one of the first little mix-ups we had is arriving in the country itself. You see, the trip we booked was for a few days in Florence followed by a few days in Venice. So I assumed the flight was booked from London to Florence. That assumption was the first of many I made during that trip that made an ass-out-of-you-and-me. As it turned out we were landing in Pisa and we had to make our own way to Florence.
This added an additional leg (and cost) to our initial plan, but as they say, every cloud has a silver lining and for us the silver lining was… well… Pisa.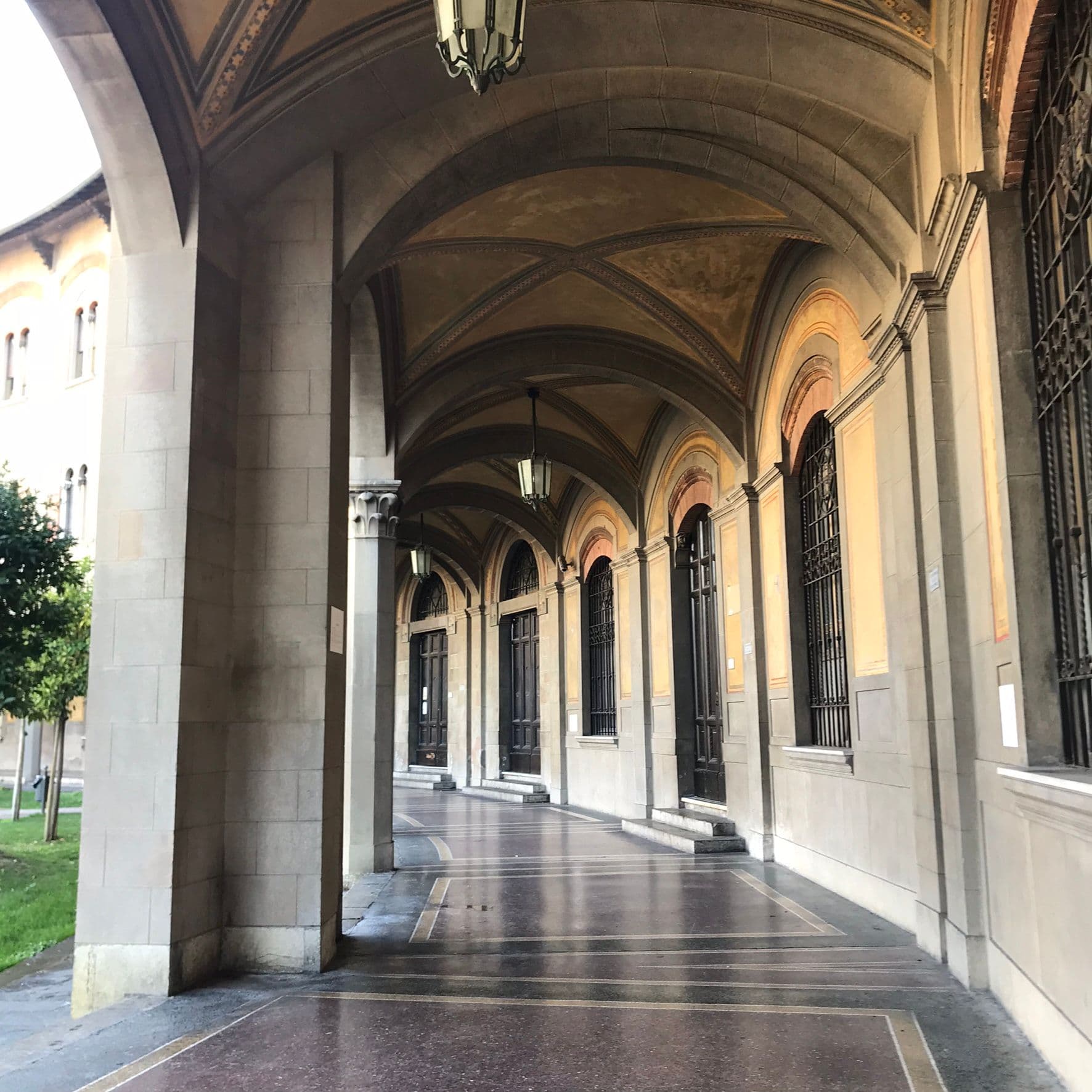 An iconic city on its own, I never even considered visiting it until I actually found myself there. Since we landed quite early in the day, the weather was nice and we were in the 'let's explore new places' mood we decided to venture from the airport, into the city and go and see what that leaning tower is all about.
To town, itself felt very cosy. Quiet, somewhat tucked away, with its traditional Italian architecture and beautiful cobbled streets.
Anyways, on to the main event - The Leaning Tower Of Pisa.
The tower is situated on Piazza del Duomo, which is a short twenty-minute walk from the train station. We were walking down this beautiful road when in the distance I spotted a bunch of people with their hands up. 'We're here' I thought to myself.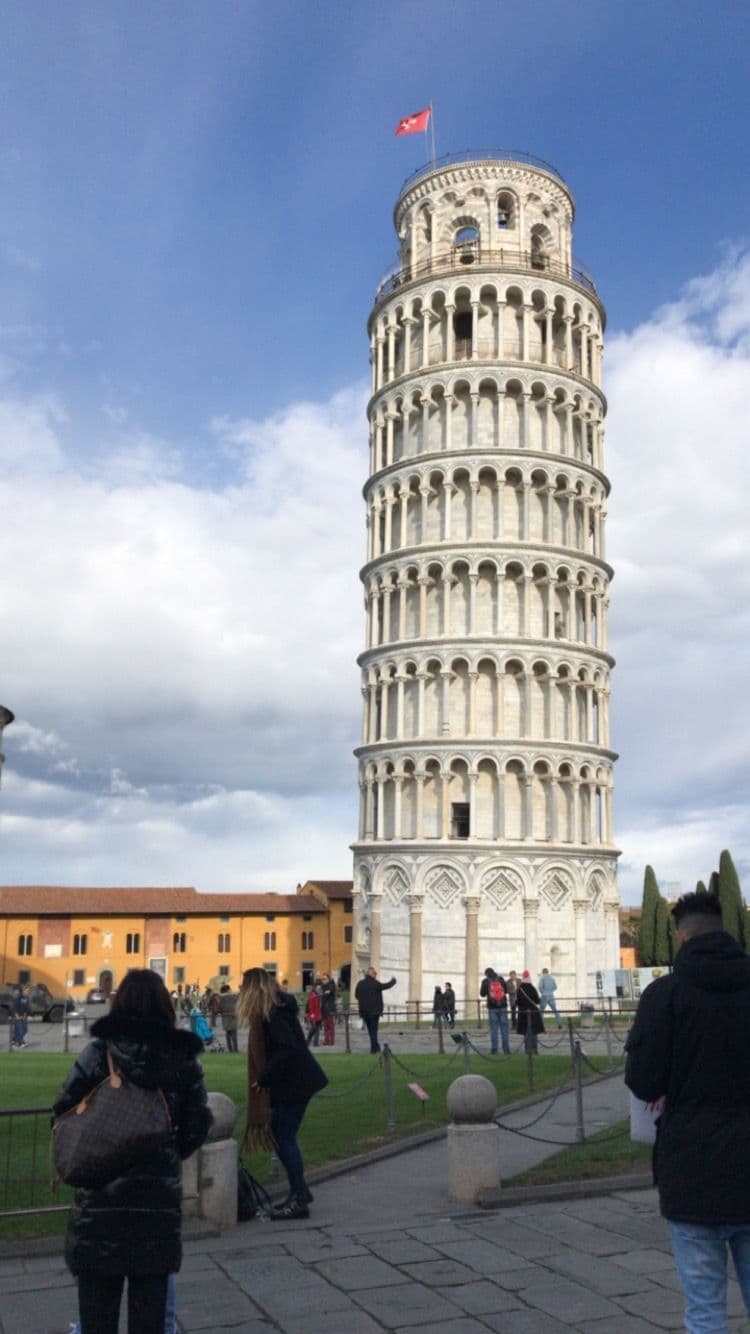 The tower looked otherworldly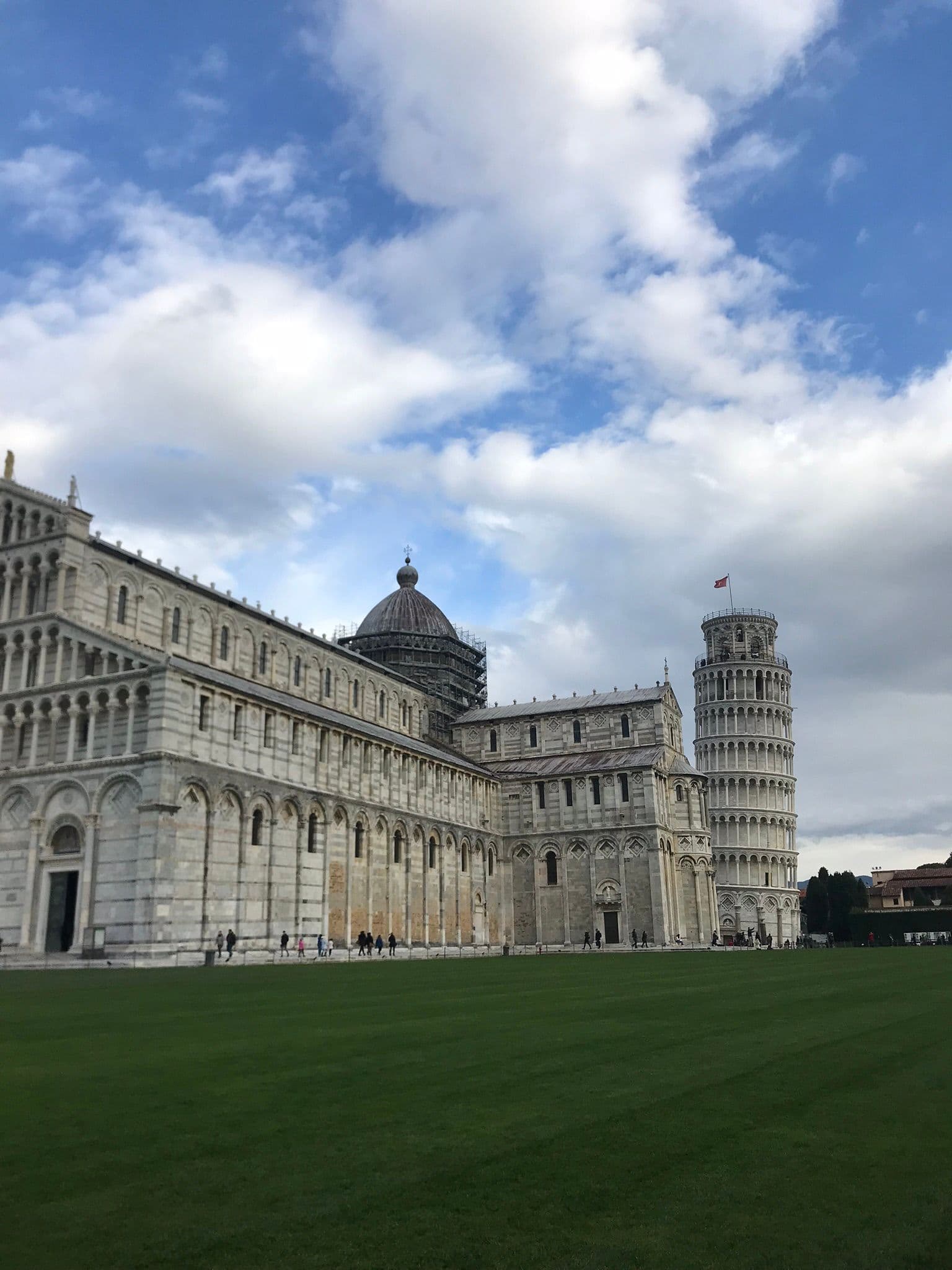 Walking around the grounds is free (yay!) so you can pose for all your cheesy pictures. I was adamant I will not be caught dead with my hands up pretending to prop the tower. Well… you know the saying 'When in Rome'…. When in Pisa, you just take the damned picture. So I did. And I loved it :P
As you can see form the massive grin on myself, I really hated every moment :P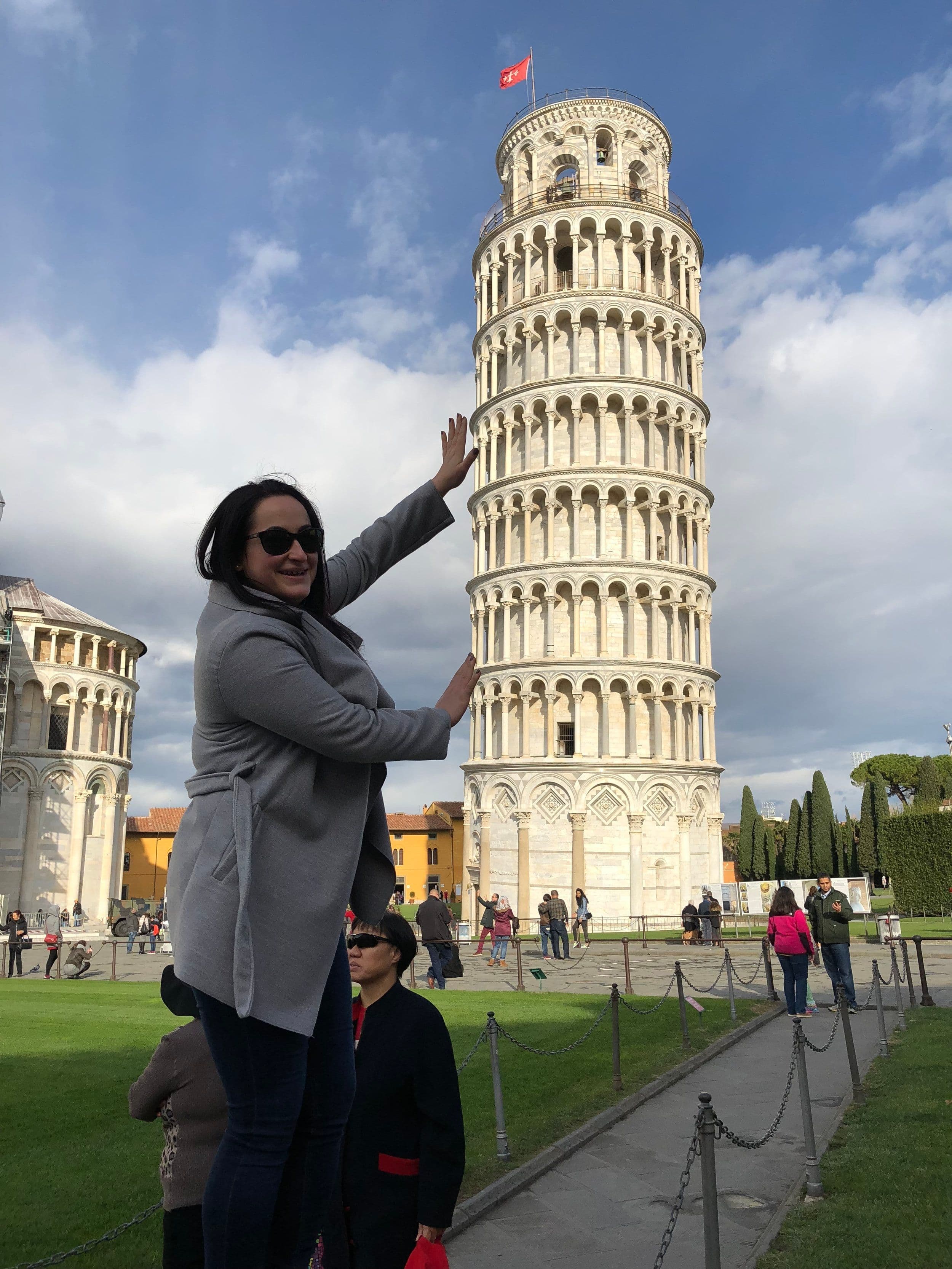 Not wanting to miss the opportunity of a lifetime (and with a bit of peer pressure from me) Axl decided to strike the infamous pose as well.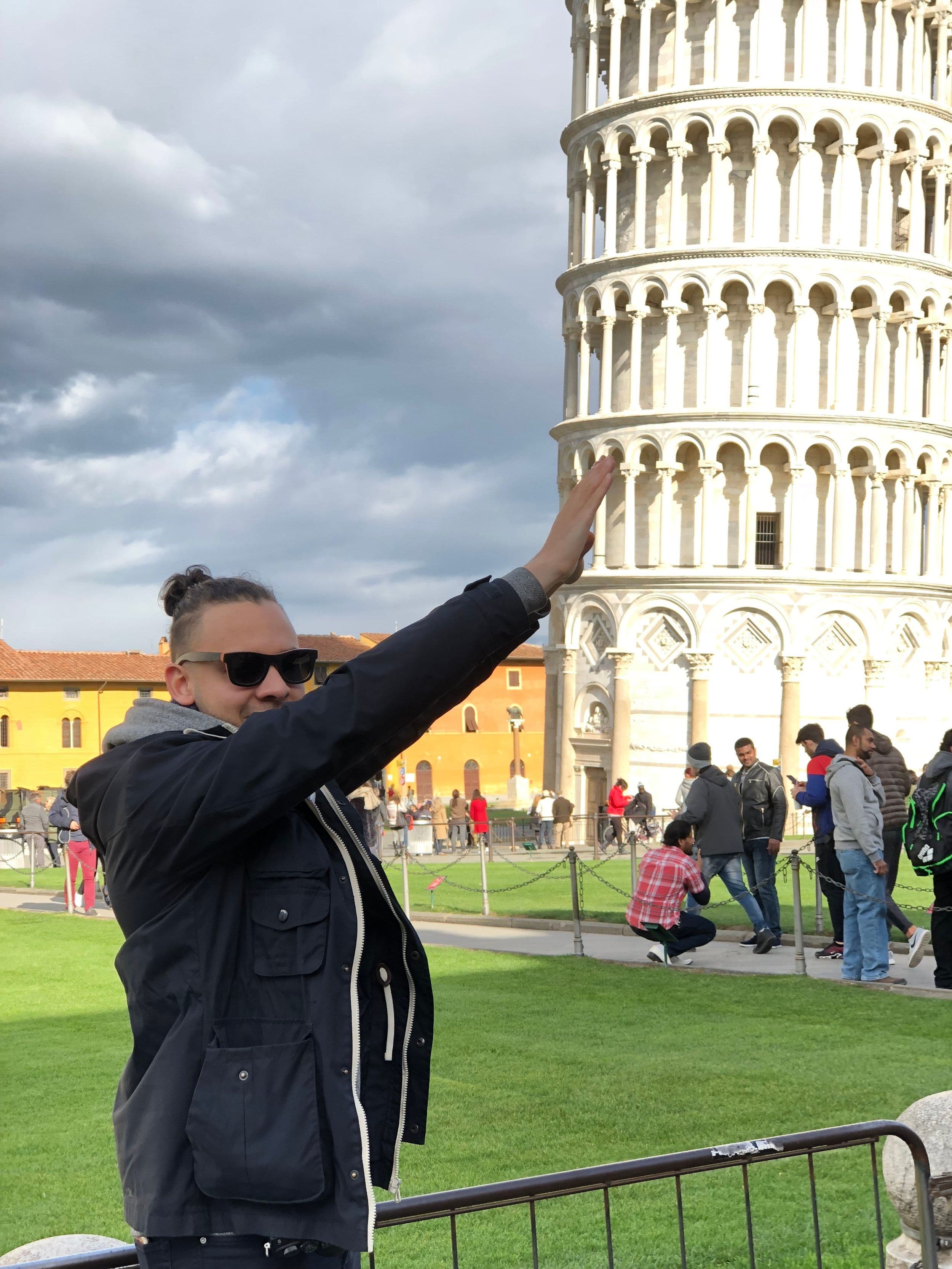 My picture taking skills are appalling. After 10mins of posing we ended up with this picture. Sorry :D
A bit of history for ya'll; the tower was built in 3 stages in about 200 years and began sinking while it was still under construction due to the soil not being stable.
We also walked around the Baptistery and the Pisa Cathedral which were as grandiose as you can imagine.
After a short coffee break, we decided to make our way back to the train station and then to Florence. We got a little bit agitated at the train station. So many beggars asking for money. There were signs advising to be aware of pickpocketers as well. Even the ticket machines warned against speaking to anyone who isn't staff.
We were weary but everything was fine at the end. We got on our double-decker train and off to Florence.
We arrived just under 2 hours later and OH MY GOD! I was blown away from the moment I stepped out of the train station and laid my eyes on the beautiful architecture and the old buildings. The whole city just had this vibe that took my breath away.
We were quite exhausted from all the travelling and it was getting late by this point so we decided to make our way to the hotel straight away. Just one small stop before that. The Ponte Vecchio – a gorgeous medieval bridge (the oldest one in the whole of Florence actually) that has shops dotted all over it as they were back in the olden days.
By night, the bridge looks even more impressive with the wooden shutters of the shops creating a look like a wooden treasure chest. Ponte Vecchio is a very romantic spot in Florence, with its great views over the river and of the bridge itself. We just had to stop for a moment and take it all in. I'm pretty sure I had a ridiculously big grin on myself the whole time we were on it.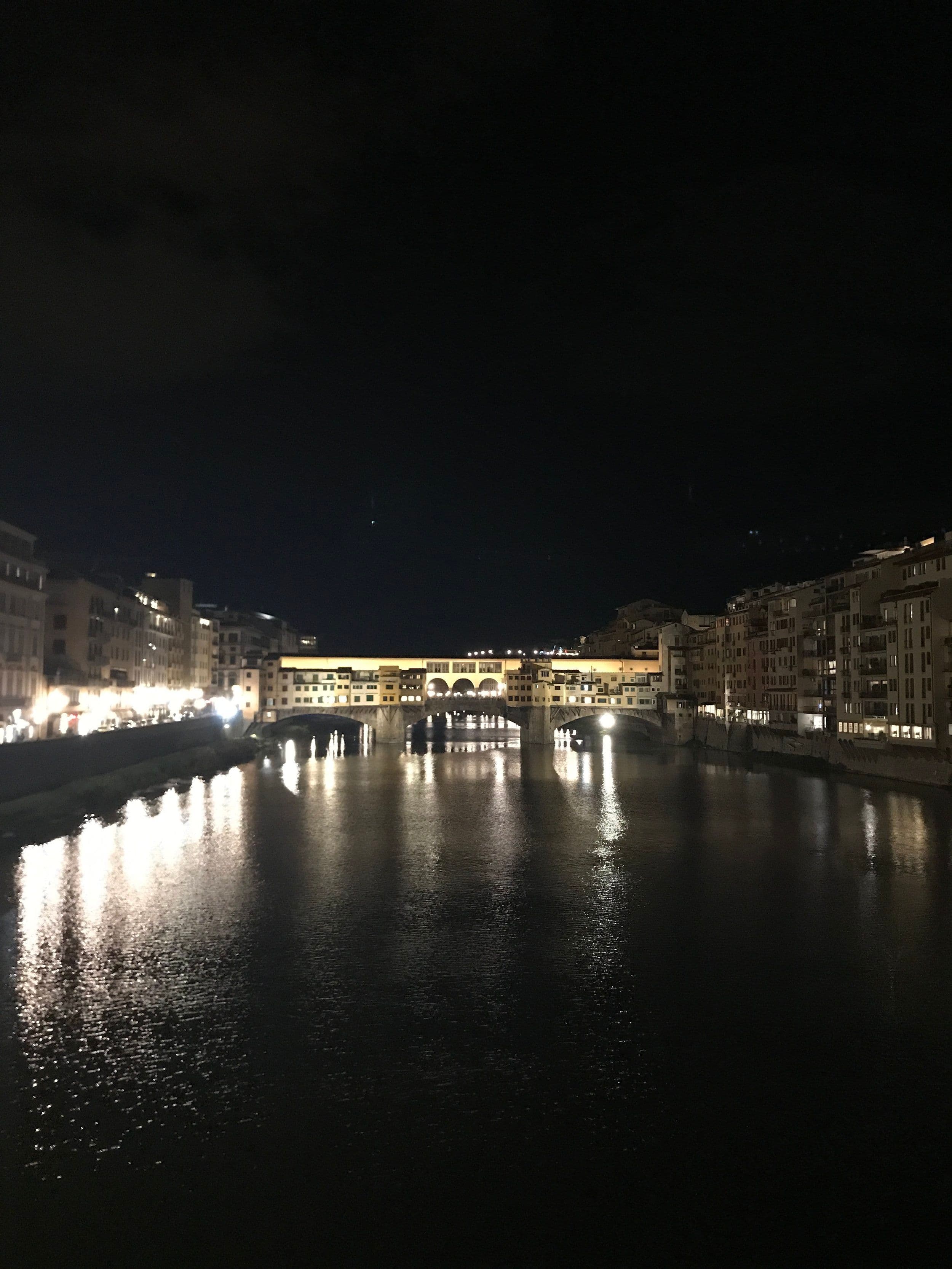 The Ponte Vecchio is magnificent at night. This picture doesn't do it justice
After that, we headed to the hotel.
We checked in, laid on the bed (or two single beds pushed together to make one double bed more like it) and started thinking about food. Since the hotel was in not-so-prime-of-a-location and we were quite tired by that point we decided to order food. Deliveroo in Florence brings freshly made pasta straight to your room so what's not to like.
If only they brought us cutlery as well so we didn't have to eat with a plastic cup fashioned as a pasta-scooping device.
That was a rather eventful and full-on, yet super exciting day. More on how we spend our time in Florence, where to get the best steak and pasta in the next blog.
For now, arrivederci!