February 2, 2019
Dinner at Nocturnal Animals Birmingham
Nestled amidst the hustle and bustle of Bennett's hill is the hottest new spot in town. Nocturnal Animals is an 80's inspired cocktail bar and restaurant that offers one of the swankiest dining experiences in Birmingham.
Axl and I have wanted to go for a while, having heard some good reviews and always being up for a new gastronomy experience so eventually we booked a table and went.
We were greeted by a friendly host who took our coats and lead us to our table. The ground floor is the cocktail bar and it was quite busy as you'd expect for a Friday evening. The dining suit is situated downstairs which I didn't particularly mind as it was a lot quieter and felt more intimate. The settings are infamously upbeat and very instagram-friendly. The staff is young, friendly and approachable and the music was, well retro, to fit in with the whole 80's vibe.
This isn't a restaurant where you can order a la carte, but rather it offers two options for taster menu. The standard menu (6 courses for £50) or extended one ( 8 courses for £70). The food sounded incredibly interesting so we went for the latter option.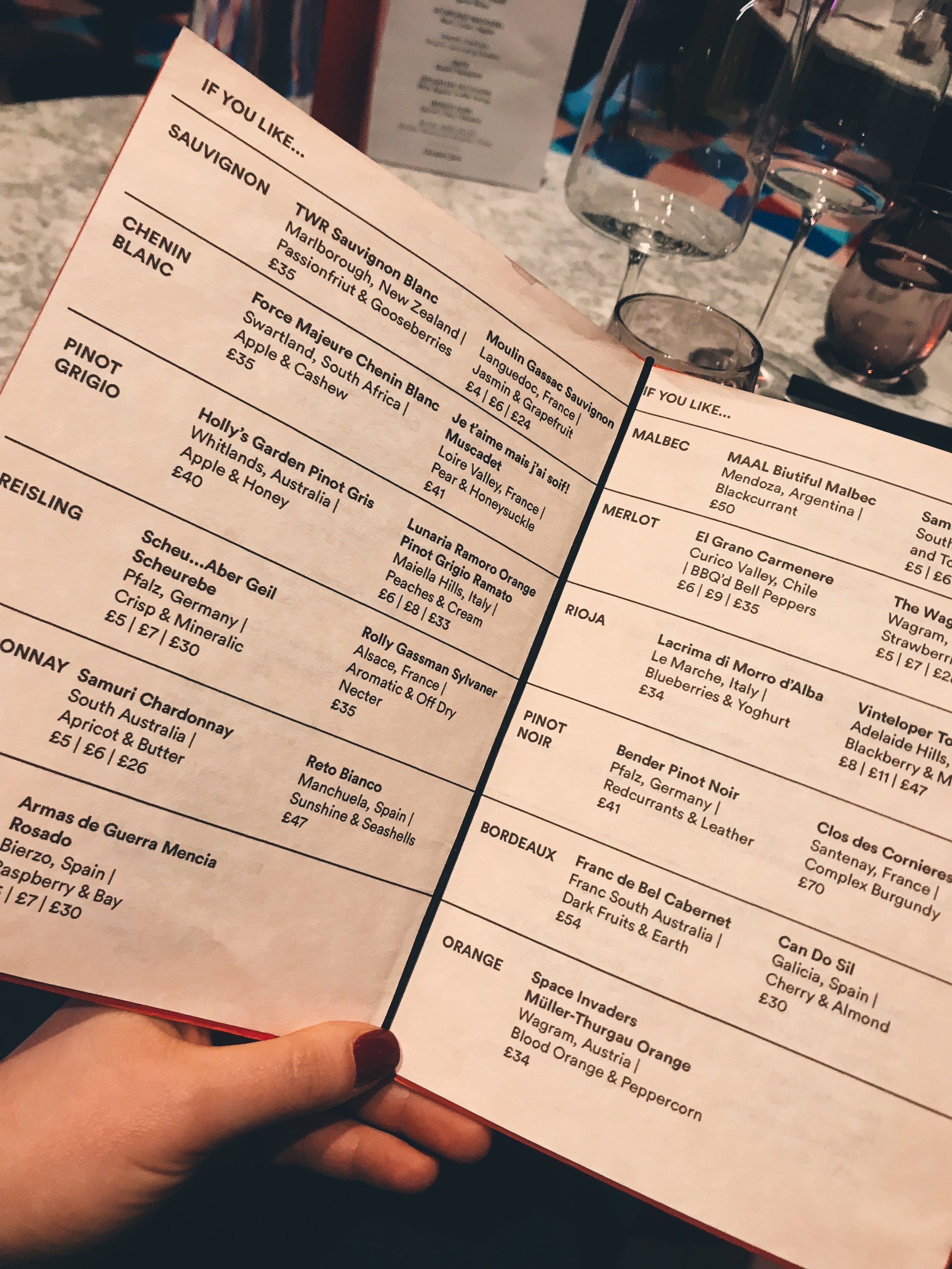 The wine list was quite unusual as well, and the flavour combinations included things like redcurrant and leather, and blueberries and yoghurt. It is impossible to find a wine that will go down well with the food simply because you'd be eating 7 different things but we settled for a bottle of Space Invaders which was a good choice. It was medium-bodied and soft wine, with a zesty blood orange and warm peppercorn aroma.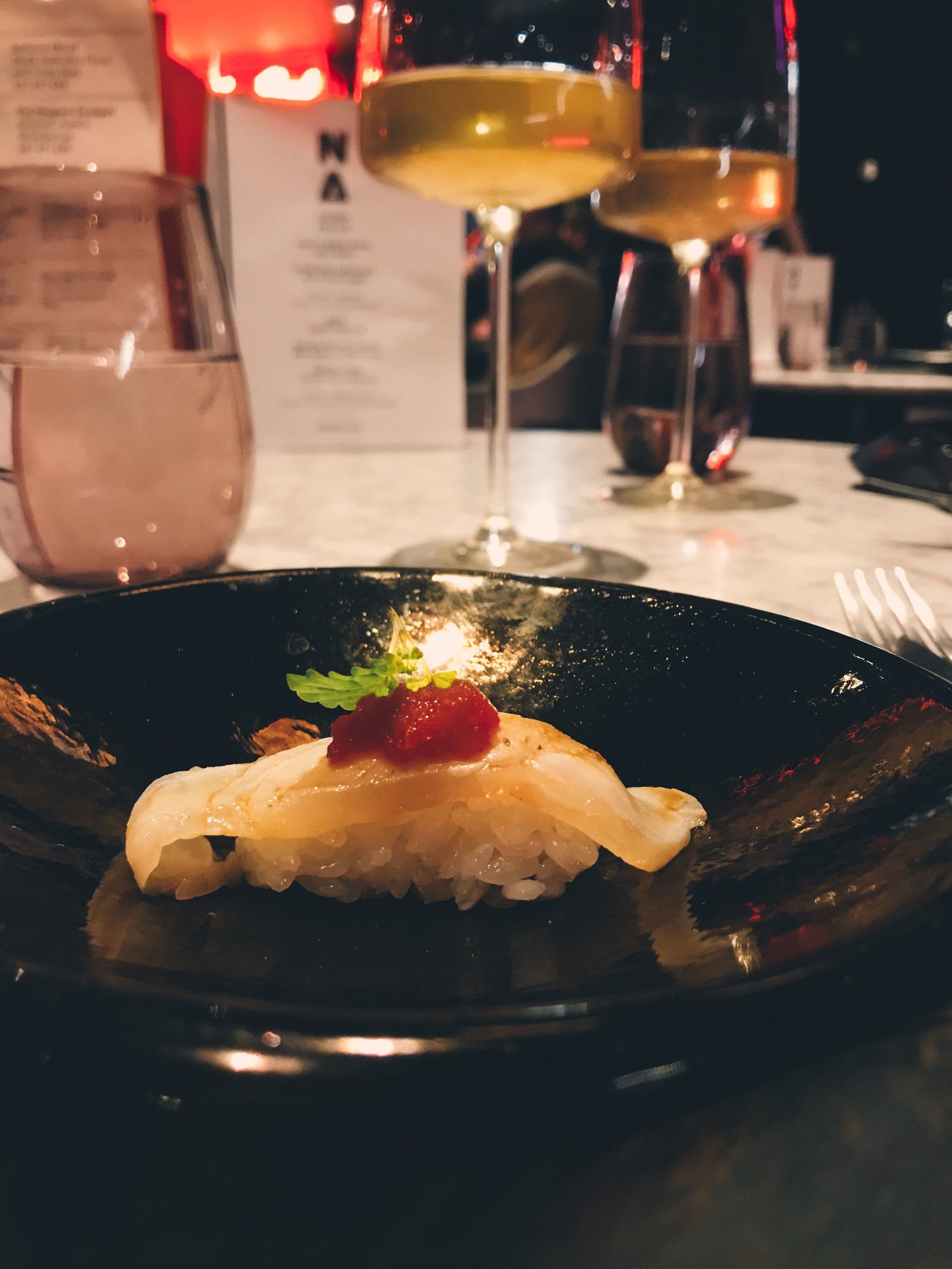 Number 1: Aged turbot nigiri with spicy shiso. It was a subtle start to the meal. Not too fishy, not too spicy, excellent way to introduce us into this culinary adventure.
Number 2: Scorched mackerel with crispy nori, lime coulis and sour apple. This tasted absolutely divine! I was blown away by how well the lime, apple and mackerel complimented each other. All the other dishes were beautiful but the flavour profile of this one was most definitely the one that made the biggest impression on me.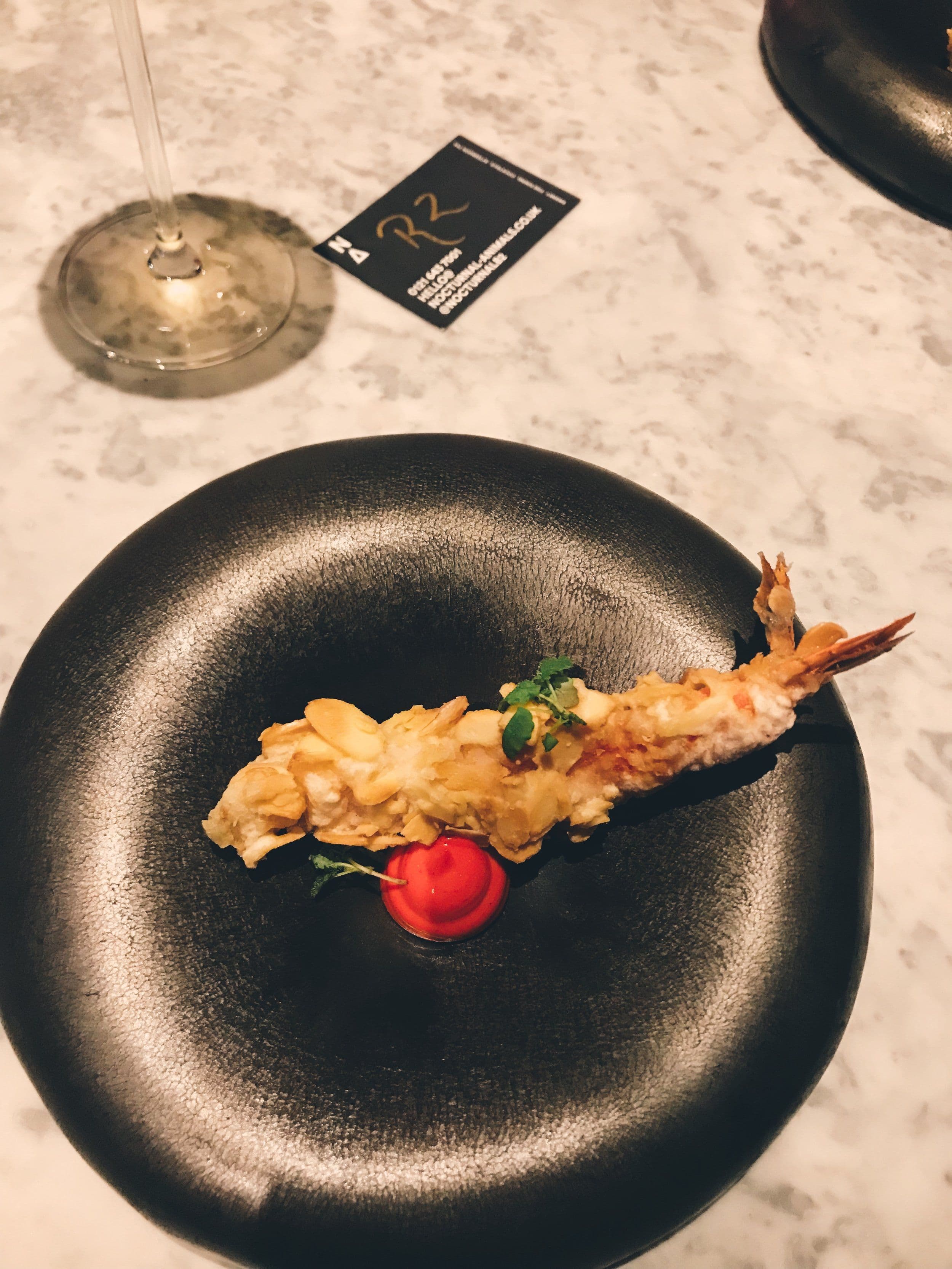 Number 3: King prawn tempura with blanched almonds and gochujang emulsion. The prawn was crispy yet soft and the almonds were very buttery. The emulsion was like a very bright red mayonnaise. I wouldn't say it added much to the course in terms of flavour but it wasn't bad at all. Axl couldn't get over how much it looked like paint! Ha!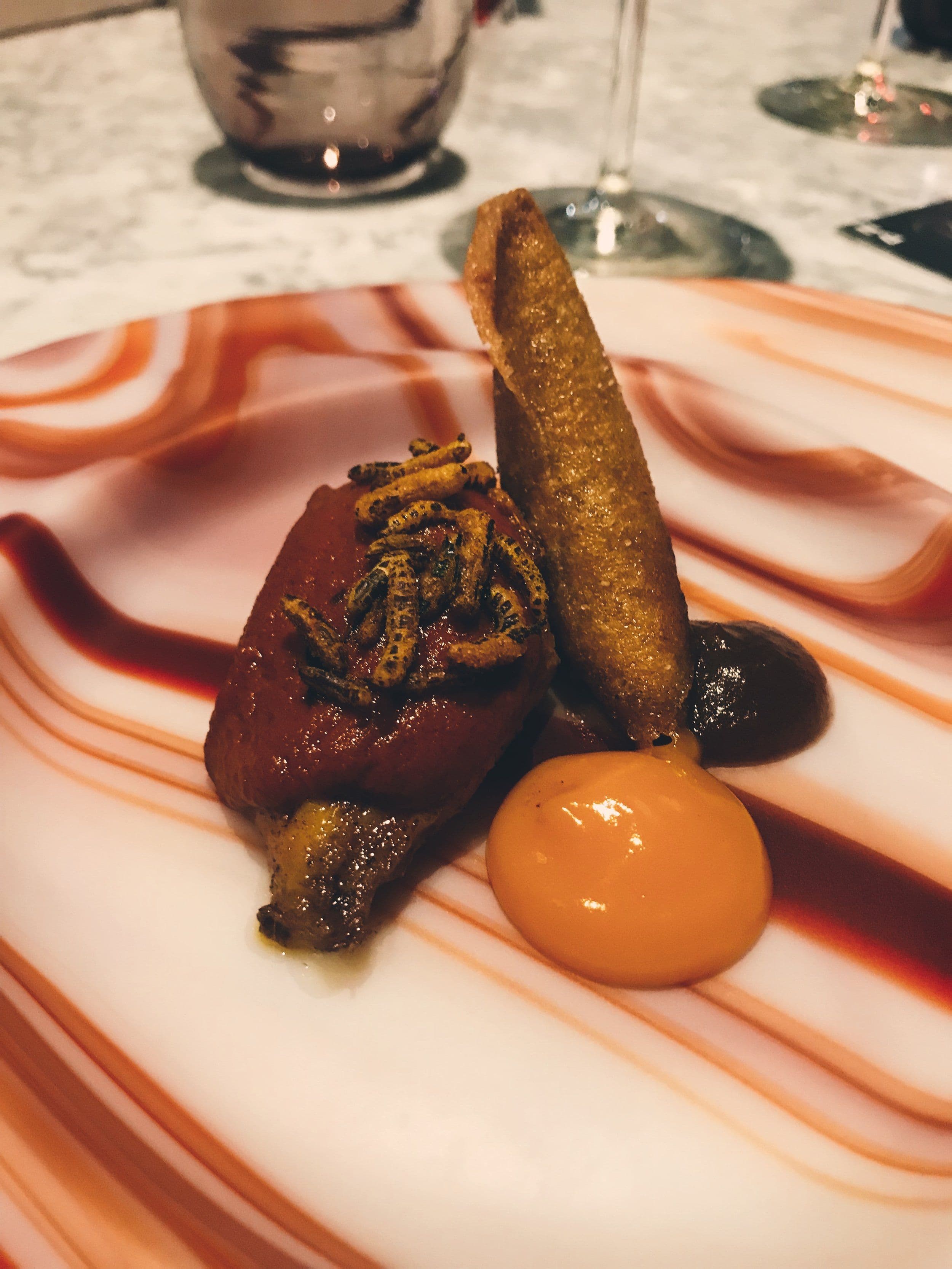 Number 4: NAFB (which stands for Nocturnal Animals Fucking Balti) with quail and tamarind. This course was by far the best! The samosa was crispy, soft and incredibly sweet. I could taste the nutmeg and cinnamon. The quail was succulent and the mango reduction really tied the whole thing together. Axl and I agreed that all the other courses were quite nice so far, this one, we could have a whole meal of just that.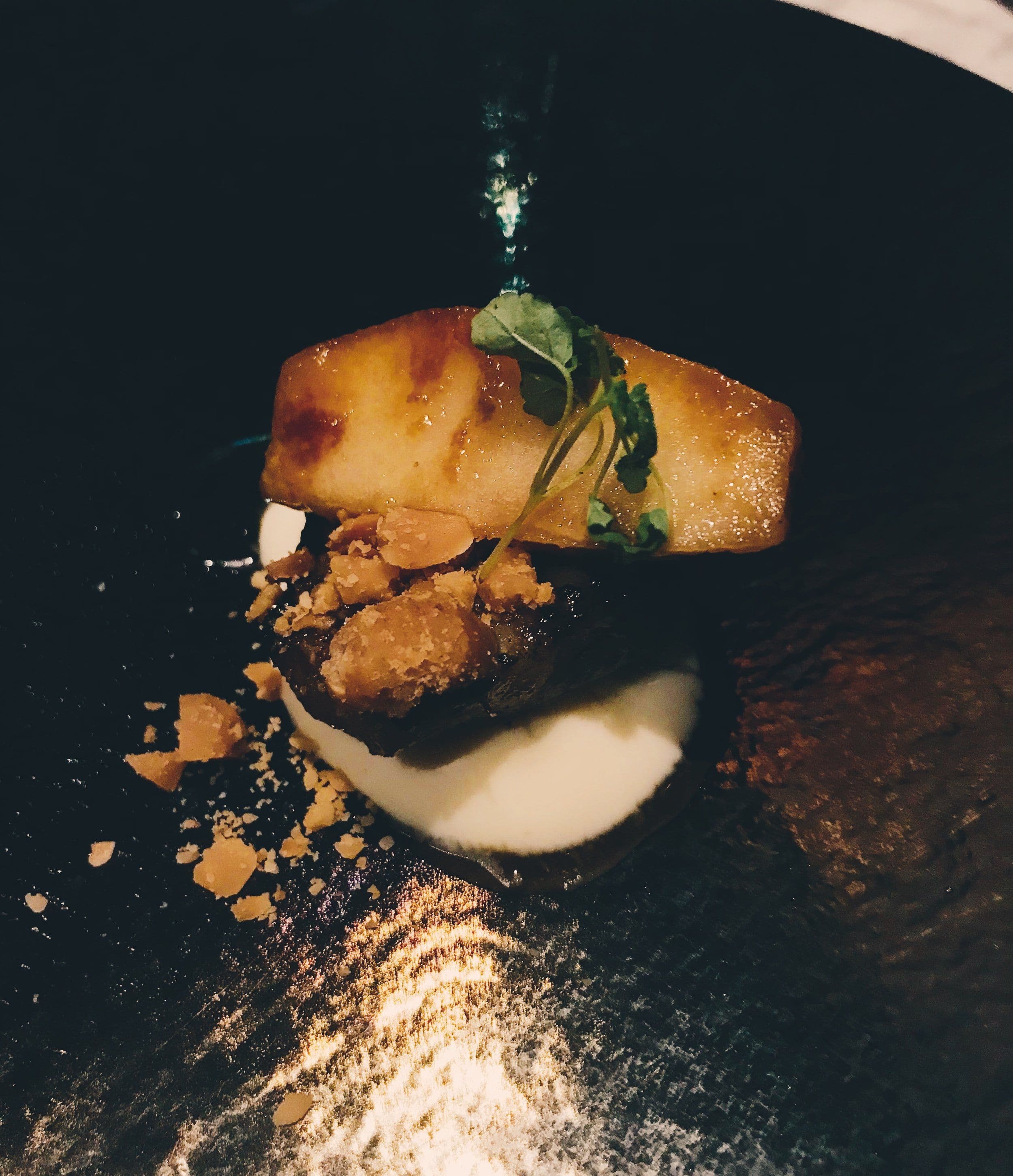 Number 5: Jerusalem artichoke with miso marinated apple and roasted Brazil nuts on a bed of truffle honey. This course was so sweet and tangy but not too sticky and overpowering. The flavours were so beautifully subtle, I had to keep telling myself to chew slower so I can savour each morsel.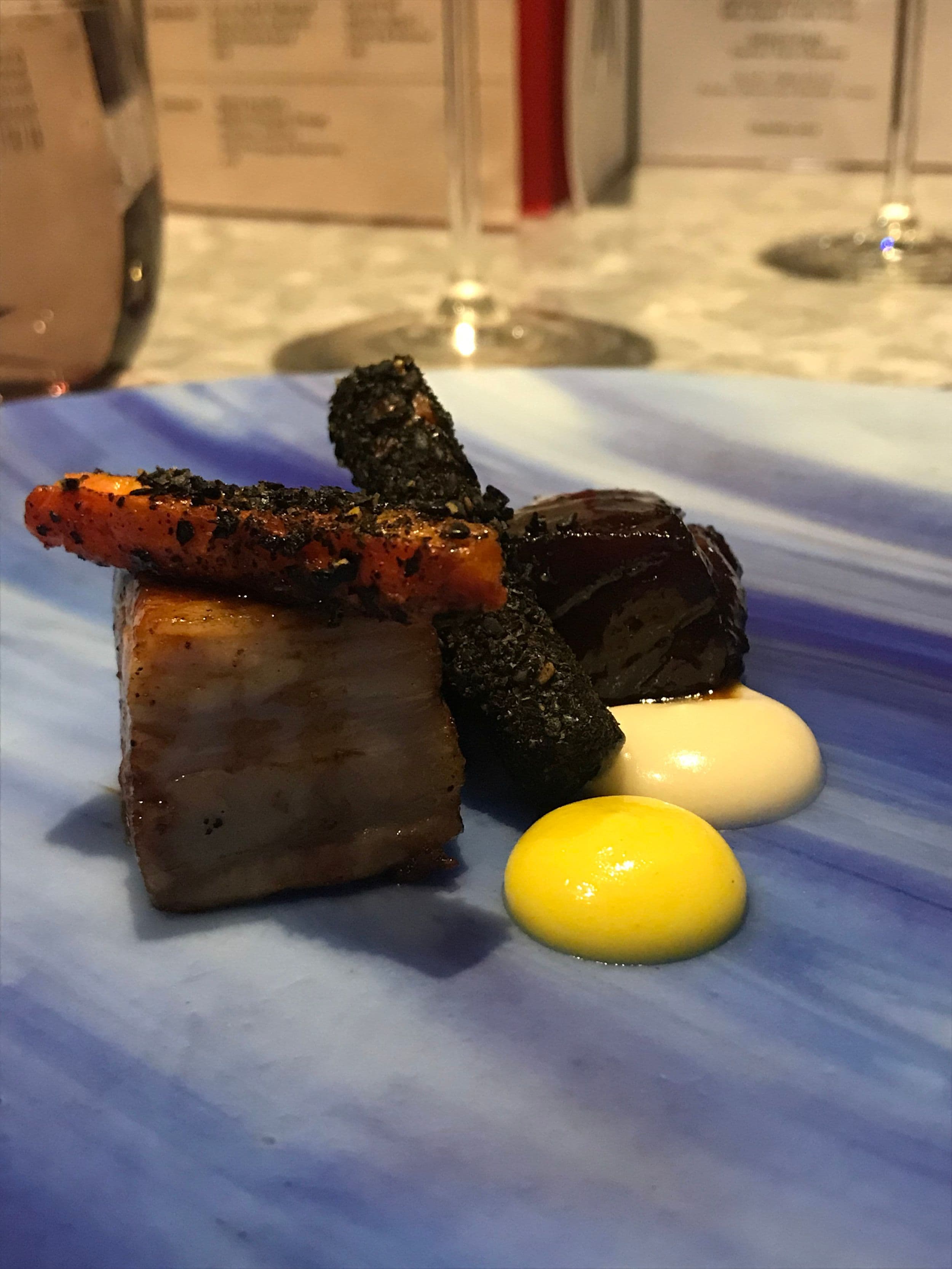 Number 6: Iberico pork, BBQ rib, pickled carrot, yuzu and sesame reduction. The BBQ rib was sticky and sweet, cooked to perfection. The meat was melting in my mouth. The pork was juicy and just the right amount of salty to balance out the rib. As Axl put it 'it tases like pork but I didn't expect it to'. Compared to all the other elements we've had so far, every tasted not as you'd expect it to which was great, but the pork tasted very 'traditional' which was a nice surprise.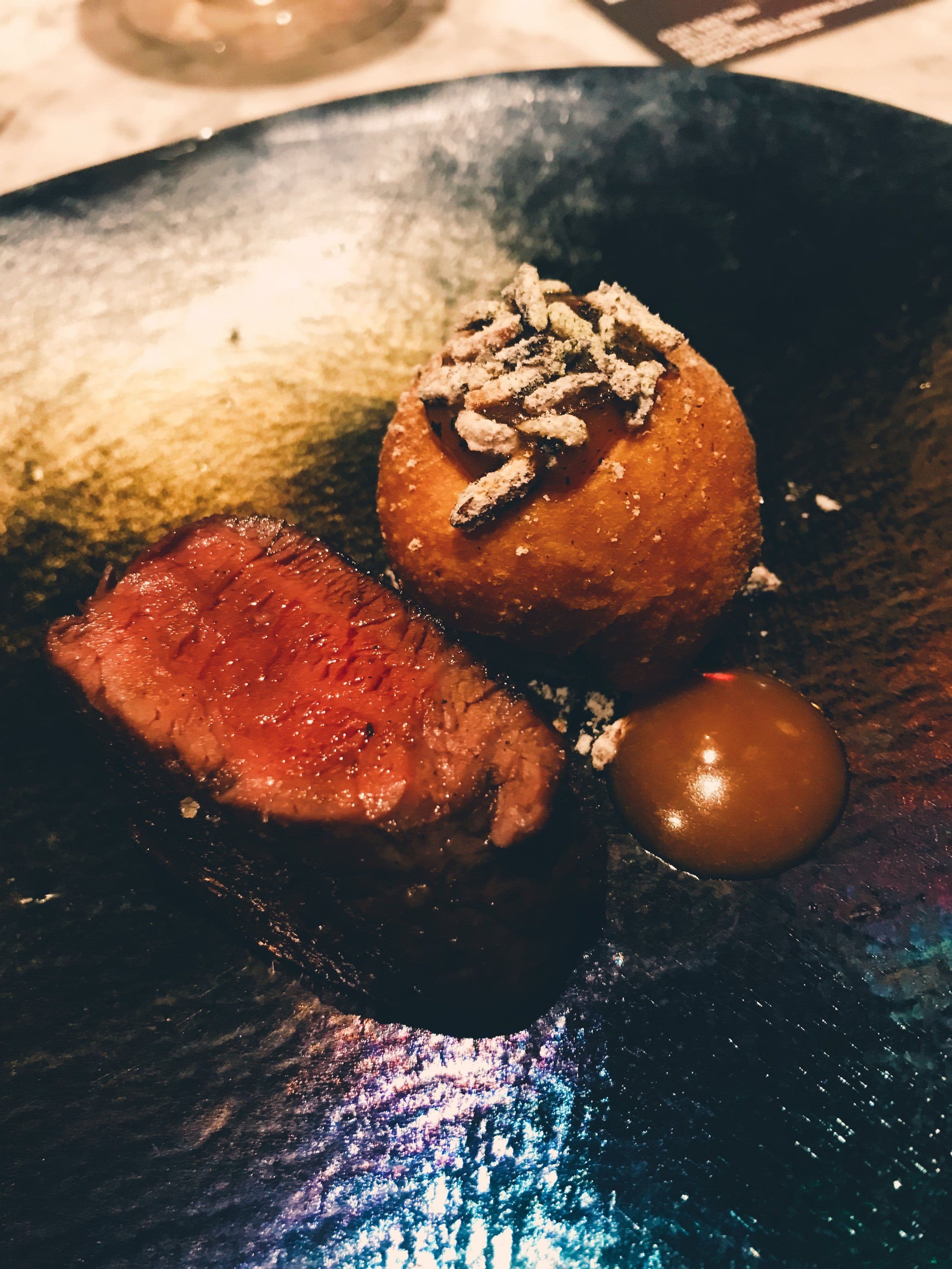 Number 7: 35 day aged fillet, combo, mushroom brioche with truffles and onion. This was probably the item we were most excited about yet it turned out to be the biggest disappointment. To begin with, the menu online wasn't quite the same as what we were presented with at the actual restaurant. The online menu promised 150 day aged steak whereas this menu said the meat has only been aged 35 days. But that' wasn't the issue. The meat just wasn't great. It wasn't bad by any means but it wasn't the show stopper we expected it to be. The mushroom brioche on the other hand was exquisite! A small mouthful packed with flavour with just a hint of tangy truffle. It was delicious!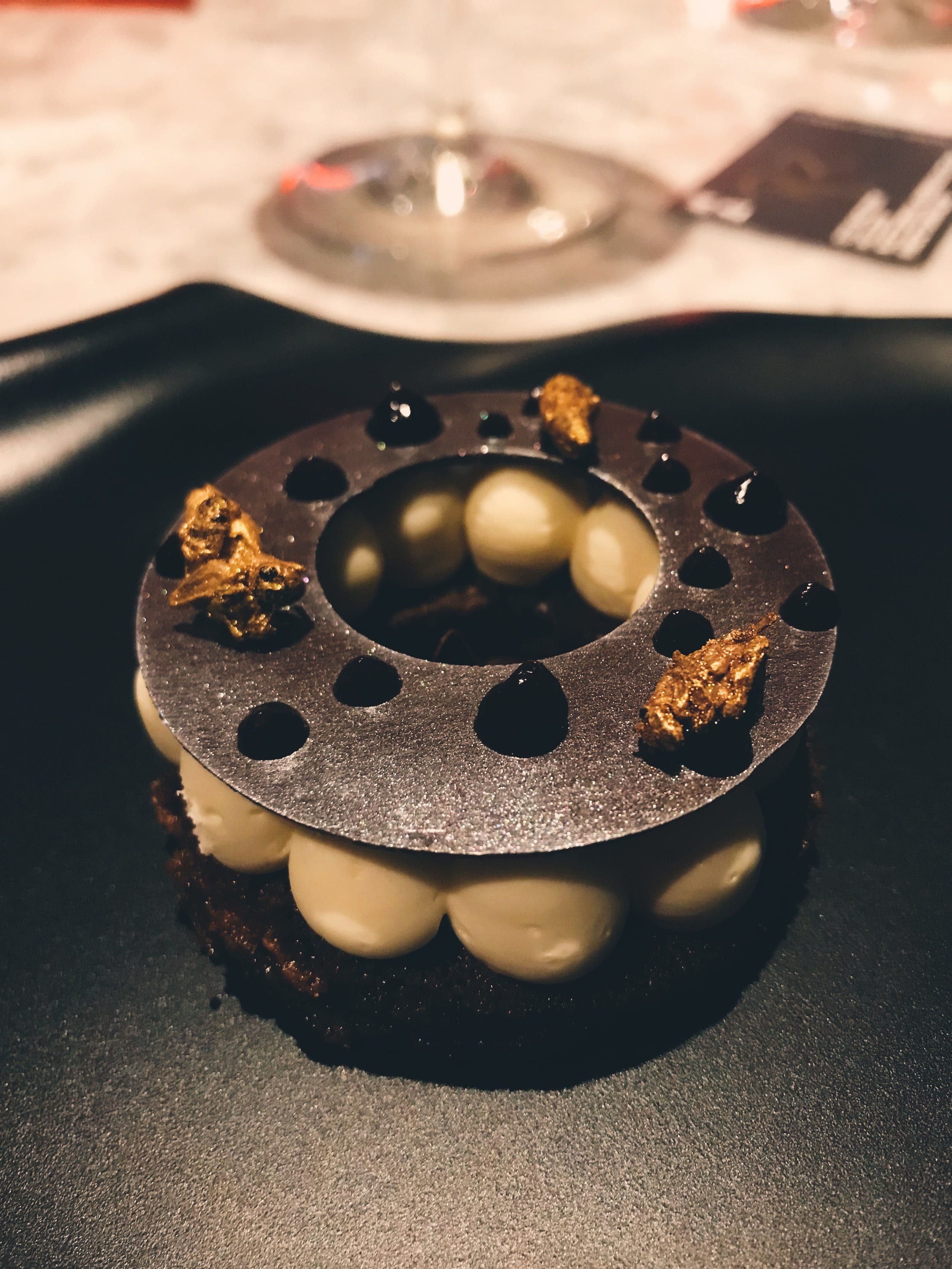 Number 8: Tiramisou - an amaretto soaked cake, mascarpone, dark chocolate and gold leaf wrapped crickets. That is correct, crickets. You see, I always imagined that the first time I ever tried insects would be on our travels in Thailand but there you go. Not everything that goes to plan! The desert was very rich and heavy. After the previous seven courses when it came to the desert, a single mouthful was more than enough. So of course we polished our plates! :P The crickets didn't really taste like much, they just add a delicate crunch when you bite into it.
All in all the meal was marvellous! With that many elements to the course, it would have been unrealistic to expect that we both loved every single dish. The bottom line is however that this was a marvelous culinary experience. The ingredients, the flavours, the colours, the presentation, it all worked together beautifully and clearly showed that someone has put a lot of thought and effort into creating each dish.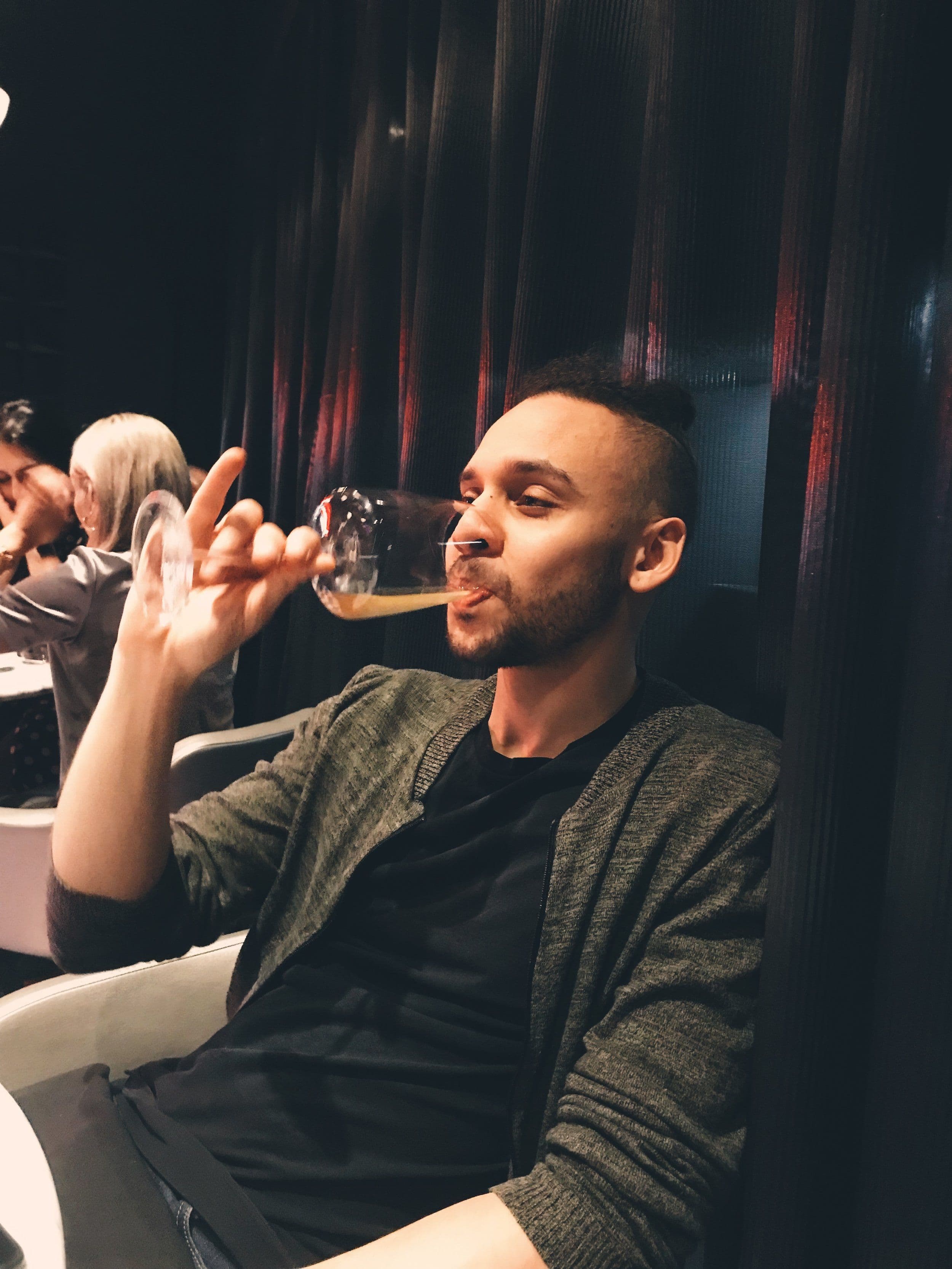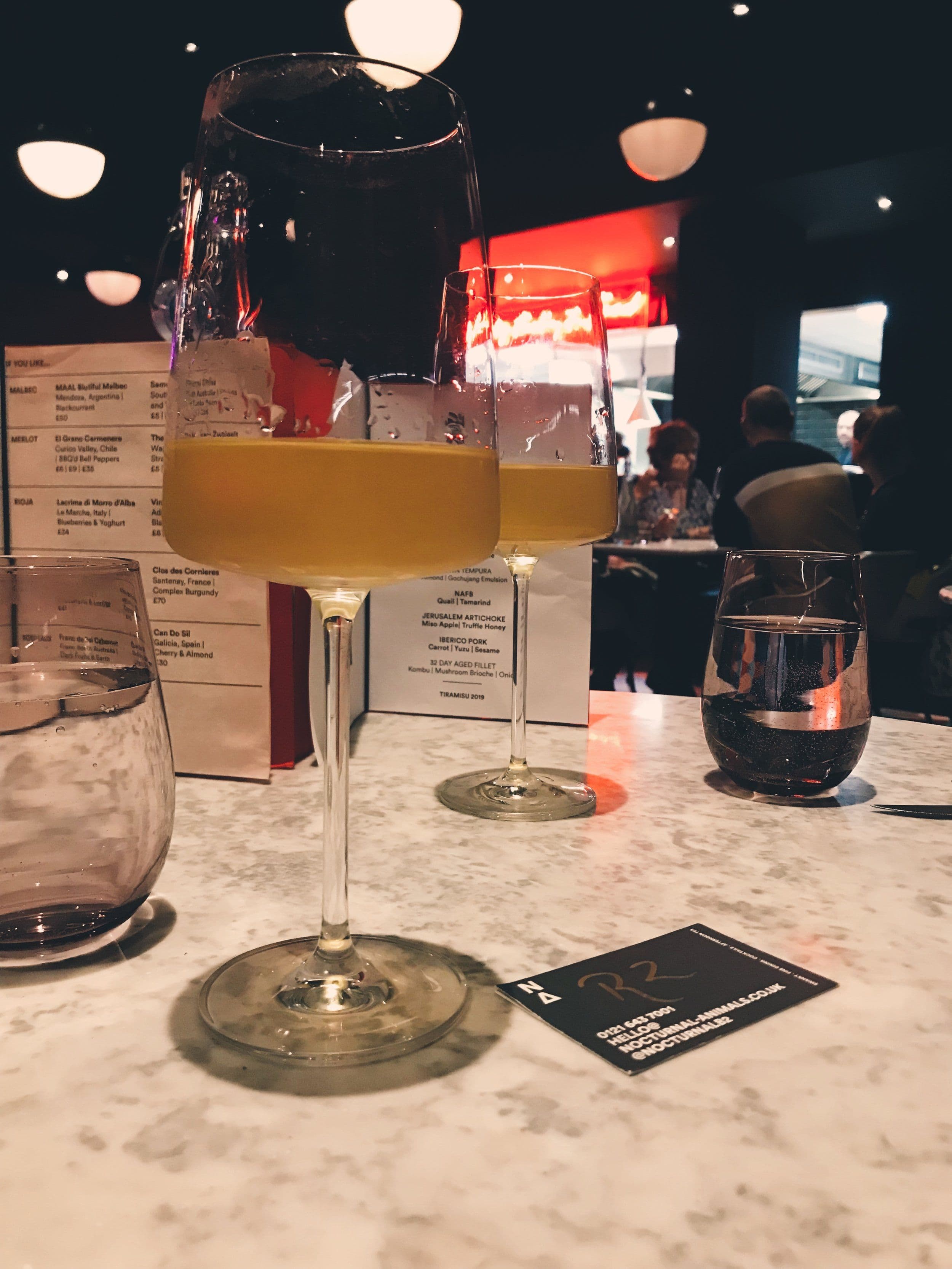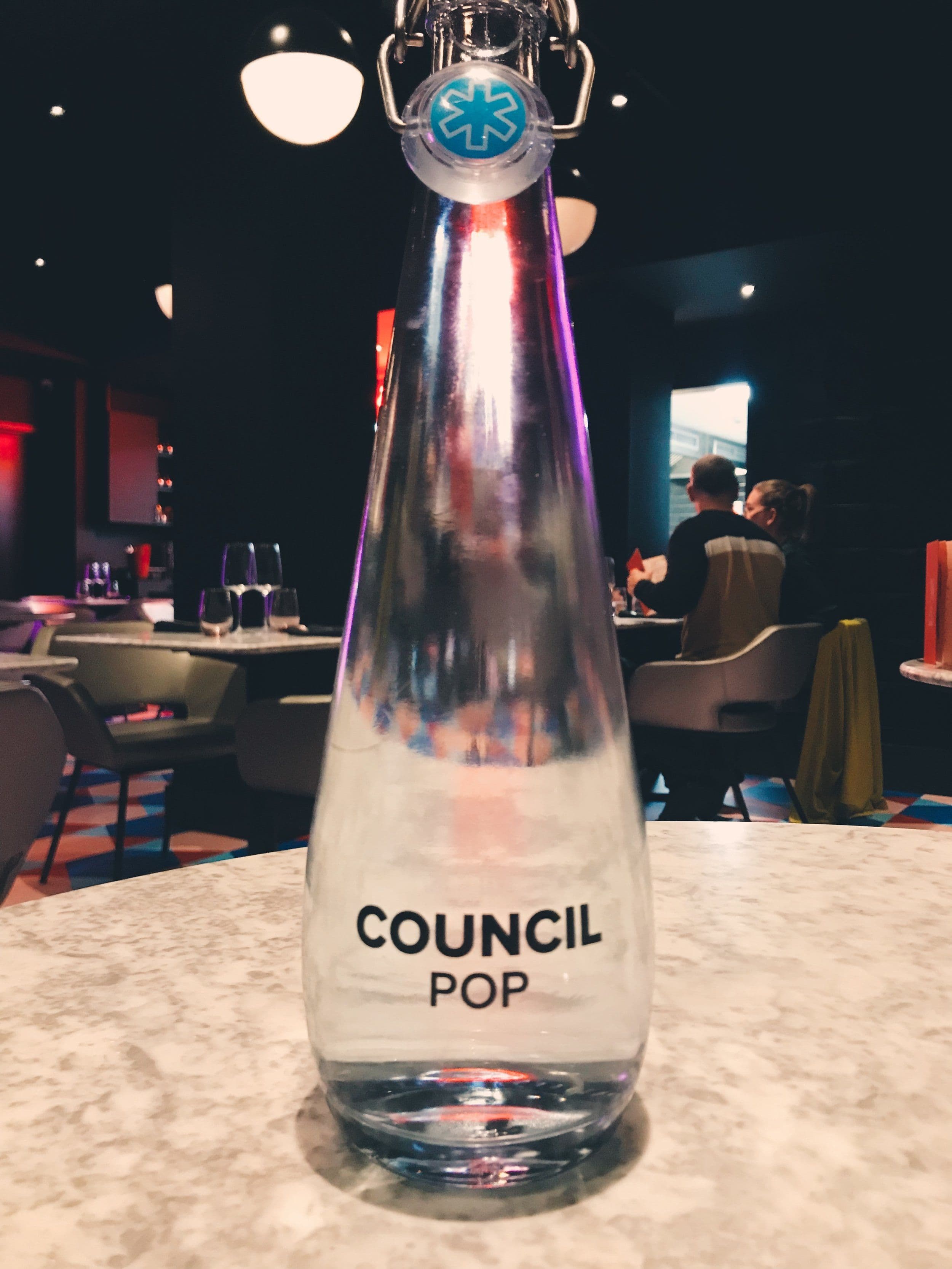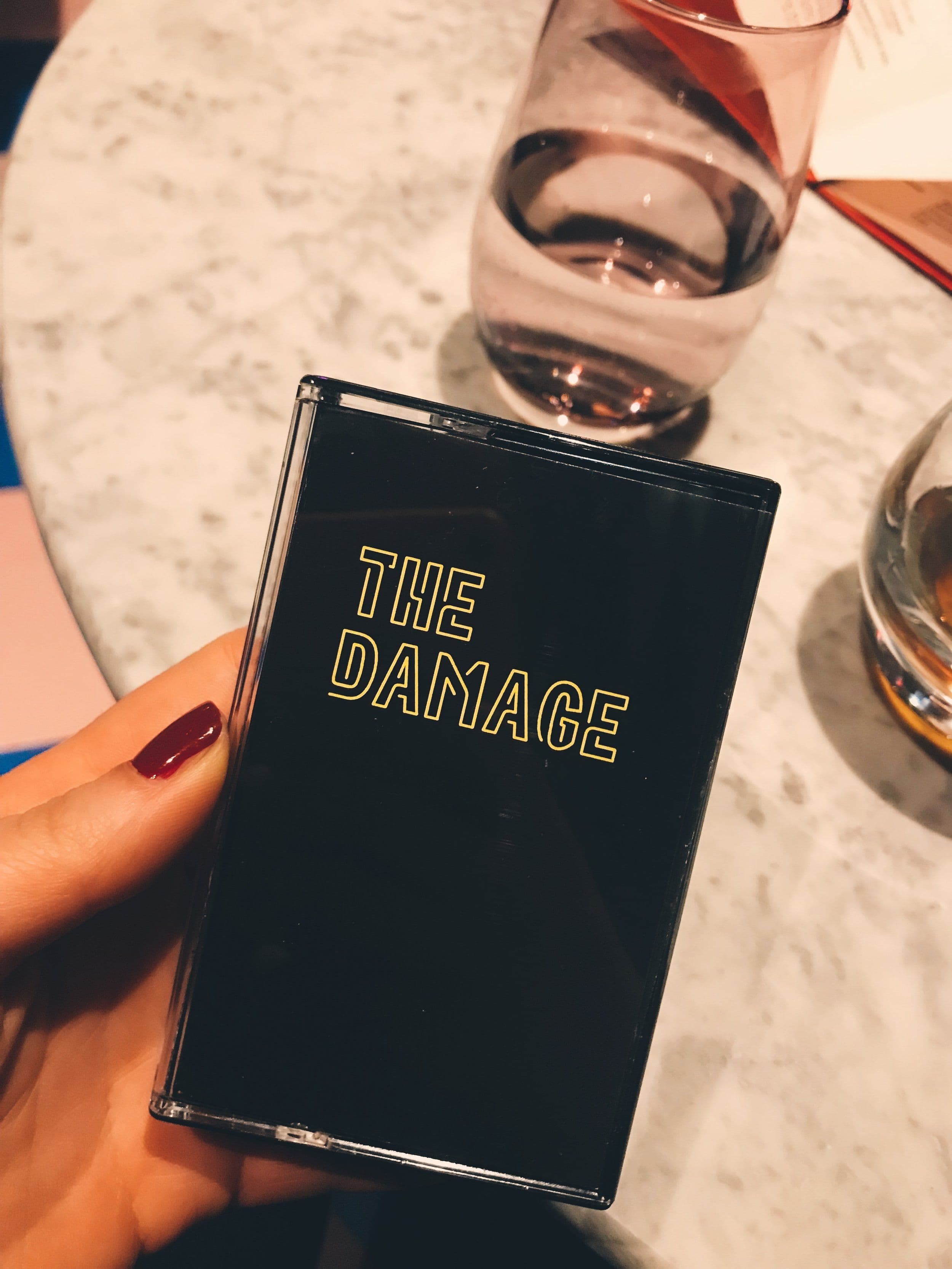 The bill comes in a cassette case which was a nice touch adding to the whole 80's atmosphere.
All in all, I'd say this was a great experience. I keep calling it experience because that's what this is. Nocturnal Animals isn't about going out to grab some food. It's about sitting down and experiencing food with each and every one of your senses and savouring each delicate flavour. I would say if you have a few hours to spare and around £200 then go and give it a try. It is most definitely worth it!